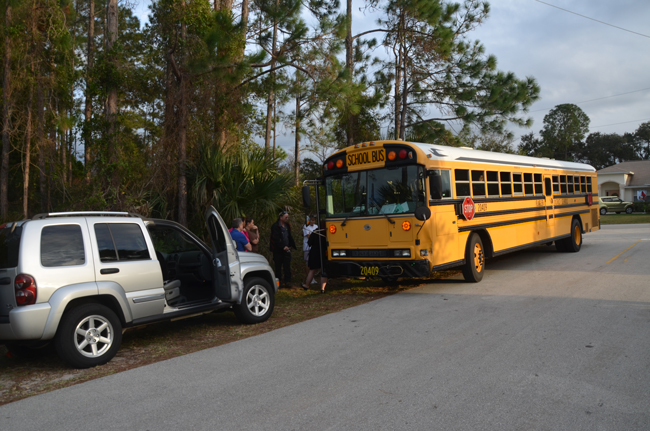 A Flagler County school bus carrying less than two dozen students from Old Kings Elementary School was involved in a minor wreck at 4:30 this afternoon at Colechester Lane and Colleen Court. No one was hurt, though one child complained of a little pain and was picked up by a parent.
Many of the children were transferred to another bus at the scene, and were back on their way home by 5 p.m. Others were picked up by parents who came to the scene, which was being investigated by the Flagler County Sheriff's Office.
The collision took place near the intersection, involving the bus–Number 20409–and a gray Jeep SUV. The SUV's left-front collided with the bus's left-front. Both vehicles were damaged at those extremities, but not seriously. The occupants of the SUV were not hurt.
The children on board the bus were in good humor ("save me from this tragedy," one child jokingly yelled out to a parent who'd come to pick her up) as school officials shepherded them through the transfer, after they waited on the bus for sheriff's deputies to complete a few investigative steps.