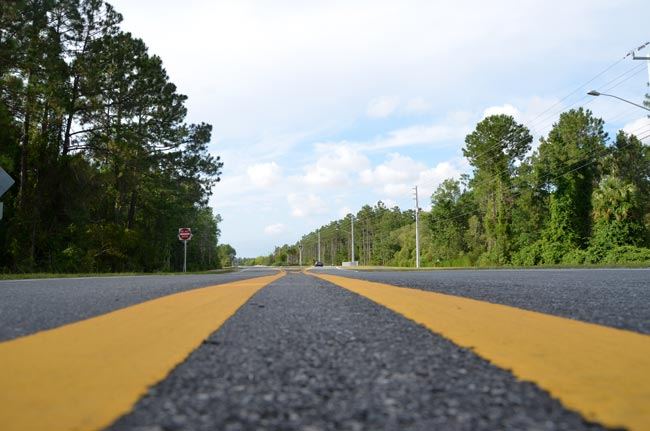 Don't plan on shopping at Walmart on Old Kings Road any time soon. That store, originally promised as a 184,000-square-foot Supercenter since 2007, and as an anchor to commercial development along that portion of Old Kings, is not going to be built any time soon.
"Walmart is pretty typical of many of the private businesses are today is that they have cut back their number of new stores, and this store was one of those that was a victim of that," Palm Coast City Manager Jim Landon told the city council Tuesday evening. "Do we anticipate some day they will do this? Yes. Every time we talk to them it's like it's next year, so in 2010 t was '11, and '11 is '12. We don't really know, because I don't think they really know."
Walmart owns the property, Landon added, "but when they'll go vertical in today's economy is nobody knows."
It's one of many examples of the collapse and lingering consequences of the commercial and residential real estate market, casting doubt on claims that the market is anywhere near a turnaround. The city is left holding two bags: an empty expanse for which it diverted Old Kings Road, and the millions it paid for that road on an assumption, now failed, that it would make the money back.
The stretch of Old Kings from State Road 100 to Town Center Boulevard closed from February 2009 to May 2010, when it was expanded to four lanes and diverted around the Walmart property, at a cost of $6.3 million. The city was originally going to issue bonds for the project. That plan imploded when the economy did. (GoToby has details here.)
"The improvements that are already completed in the southern portion of Old Kings Road is a special assessment district. The property owners have agreed to tax themselves a greater amount than the rest of the community to pay for those improvements," Landon said. That's partly true: property owners would be paying for the project, if they were there. But there aren't enough property owners to assume the costs, and the properties have been devalued so much that tax assessments would have to be raised considerably to make up for losses.
Instead, the project was paid for with money out of the city's water utility fund. It's essentially a loan–or a shell game–until the city can issue bonds again, particularly with the rest of the four-laning of Old Kings Road, up to Palm Coast Parkway, in mind.
That, too, isn't about to happen.
"The value of the property is the collateral for the bonds that would be issued to make them improvements, and there aren't any bond holders out there willing to take property as collateral in today's world," Landon said. "In fact I spoke with our financial adviser just last week, and he almost laughed when I mentioned, OK, is there any update or any good news on bonds that would help make Old Kings Road phase two happen sooner. And after he finished laughing he said it is dead, there are no buyers for those bonds. So the issue that will be in front of us next couple of years is, if the voters approve the half cent sales tax again, is that that portion very likely will have to be resurfaced, versus widened, because it will start deteriorating, and it will need to be resurfaced unless things do turn around with the property values and therefore the bonding capability. As far as the city having the major dollars for that, that just right now is not in the cards."
When the city justified using utility dollars to pay for the project, in January 2009, it did so on the assumption that economic growth would follow. "This is really more of an economic development initiative than anything else at this point, with the economy the way it is," Landon told the council at the time. "This really is an opportunity to see that area start to grow with a more commercial base."
At the time, the city portrayed the road expansion as one half of a guarantee. The other half was Walmart opening by 2011, with 400 to 500 jobs. Only one council member at the time–Bill Lewis–was skeptical about Walmart's guarantee.
Walmart itself has been mum about its plans. The company never responded to a a set of questions about its Old Kings plans, emailed through its communications office. In the first quarter of 2011, same-store sales fell 1.1 percent in the company's U.S. stores, the eighth quarterly drop in a row, which extended one of the company's worst losing streaks in half a century (the company celebrates its 50th anniversary next year). The previous quarter, which included Christmas figures, sales fell 1.8 percent.
Walmart is also facing significant competition–from Target, which has expanded its grocery offerings and discount products and, elsewhere in the country, from Aldi, a giant German retailer that's been opening smaller versions of the Walmart model since 1976. It had been doing so at a rate of 25 stores a year, but this year and next plans to open more than 180 stores. While none is planned for this region (for now), Aldi's rapid expansion, which faces little public opposition because it's more subtle and generates less of a physical impact than Walmart's boxy stores, is undercutting Walmart's plans to turn around its own sales and return to the sort of profitability it once assured shareholders.
In response, Walmart has been opening small, 40,000-square-foot neighborhood stores, and is opening its own first smallest-scale store, called Walmart Express, this very week, in Gentry, Ark. Instead of 100,000 square feet, it's a 15,000-square-foot building. The focus on smaller stores has contributed to the company's delay–or scrapping–of plans for some larger stores.
Addressing restless shareholders, the company on Friday also said it would buy back $15 billion of its own shares–the same amount it bought back last year–to improve returns for shareholders.