Flagler County's oldest road is about to be its newest–at least that mile-and-a-half segment from State Road 100 to Town Center Blvd., which has been closed to traffic since 2009. The four-lane stretch will open on May 1, Palm Coast City Manager Jim Landon projects.
The segment close on Feb. 16, 2009. The $6.3 million project, handled by Palm Coast's S. E. Cline Construction, was scheduled to be completed last February.
The project was paid for mostly with money from Palm Coast's utility fund: your water bills at work. But that's just an advance. Palm Coast had planned to issue $50 million in bonds to pay for that stretch of construction and much more. That plan imploded as Wall Street did in 2008.
Palm Coast had a problem on its hands. Walmart was planning a supercenter near SR100 and Old Kings Road. But to build, the Arkansas-based company was looking for a carrot from the city: Build the road, and Walmart will come. No road, no Walmart.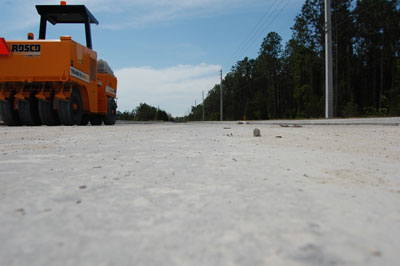 Desperate for jobs despite Walmart's notoriously low wages (as Palm Coast Councilman Frank Meeker put it, "it's not the highest-paying jobs if Walmart goes vertical, but it's jobs"), Palm Coast dangled the carrot by first borrowing the money from its own utility fund, then setting in place a mechanism to pay it back.
Owners along the 1.5-mile stretch of the new Old Kings Road will pay 5 percent in interest costs on the $6.3 million "loan" from the city until Palm Coast is able to issue those bonds. Once that happens, all property owners along Old Kings Road's 6-mile stretch from Palm Coast Parkway to SR 100 will pay a special tax in addition to their regular county, city and school taxes, to finance the repayment of the bonds. Palm Coast would also assume a small portion of the cost.
In sum, construction isn't finished old Kings Road, one of the first arteries to cut through Flagler County going back to the 19th century. It's barely beginning. In Palm Coast's vision of the near future, a $30 million project (itself likely an underestimate) would four-lane the entire stretch of Old Kings Road north through Palm Coast Parkway, to link up with an extension West of Matanzas Woods. That extension would link up with a planned interchange at Matanzas Woods Parkway and I-95. (The interchange would be built with state and federal dollars.)