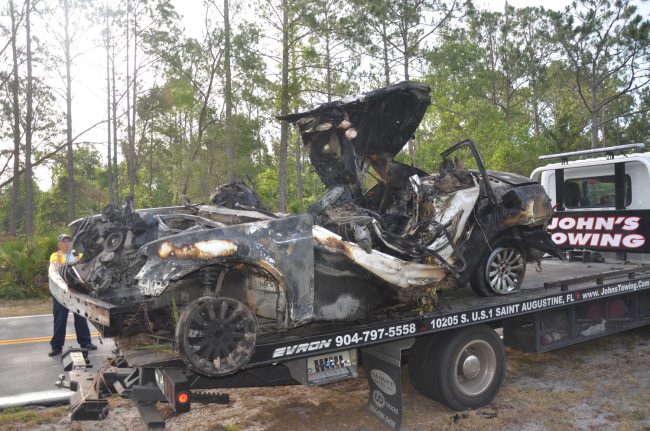 Joshue Rafael Venegas, 30, was killed on Old Kings Road in Palm Coast early this morning (May 21) after his speeding car clipped a pick-up truck then careened off into brush before slamming against a concrete utility pole and bursting into flames.
The driver and two occupants of the pick-up truck were not injured, and the truck sustained minor damage.
The crash took place just after 3 a.m. south of Graham Swamp.
Brad Turner, 36, of Bunnell, was driving his Dodge pick-up south with passengers Angelo Walsh and Shannon Marty, according to Florida Highway Patrol investigators at the scene. Turner told investigators he saw a vehicle driving north swerve into his lane and clip his truck. Turner estimated the vehicle was traveling at anywhere between 80 and 100 mph.
The vehicle, a white Chrysler four-door owned by someone other than Venegas, clipped the left-rear tire of the Dodge, then ran off the road in one direction before swerving back left, or west, and, based on the trajectory investigators reconstructed in bright orange spray at the scene, sped straight into and across brush about 100 feet before striking the concrete utility pole. The vehicle wrapped itself around the pole, exploding in flames that reached high and charred the sides of he pole black.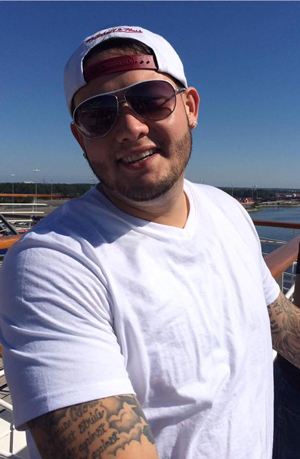 Dispatch notes indicate that the call to 911 was placed at 3:09 a.m., the caller, presumably Turner (the notes by law do not reveal the identity of 911 callers), described the vehicle as going "at a high rate of speed," and that he did not see anyone get out of the vehicle after the crash. The vehicle was on its side and fully engulfed in flames by 3:14 a.m., when authorities did not know if anyone as inside. At 3:49 a.m., two of the fire engines that had responded ran out of water, and moments later a third engine was running out. At 3:45 a.m., a request went out for Air One, the emergency helicopter, to assist. It's not clear whether the helicopter was called in to assist, though there was a concern about haze in the area.
It was not until 3:50 that a lieutenant with Fire County Fire Rescue confirmed a death inside the vehicle. But Air One was nevertheless asked to launch as a search continued for any possible individual who may have been ejected from the vehicle and severely injured. That search proved negative. Air One conducted a search in the surrounding woods, and at 4:22 reported that it was "unable to locate any heat signatures."
The first Florida Highway Patrol unit arrived at the scene at 4:03 a.m. Next of kin notification was made at 9:47 a.m. at a house on Renmont Place.
The Palm Coast Fire Department, Flagler County Fire Rescue and the Palm Coast Fire Police responded in addition to FHP and the Flagler County Sheriff's Office. After sunup two utility trucks from Florida Power and Light arrived at the scene to repair the wiring crossing the utility pole, and a tree-trimming company stood by.
Venegas, whose last known address was on Renmont Court in Palm Coast, had had a few run-ins with the law, including a charge of driving on a suspended license with knowledge, and two years in state prison on drug charges. He was released two years ago, and worked hard to rehabilitate himself. He was employed at a Palm Coast pizzeria. Among his numerous tattoos, which told a story of their own and included a flag of Puerto Rico, a map of Florida, the sign for I-95, two homages to the AK-47, among other images of weaponry, and several Catholic symbols, were verses from Psalm 23, imprinted on his back: "Even though I walk/ through the darkest valley,/I will fear no evil,/for you are with me;/your rod and your staff,/they comfort me."
This story was updated on May 23 with additional details from the 911 Dispatch Center.