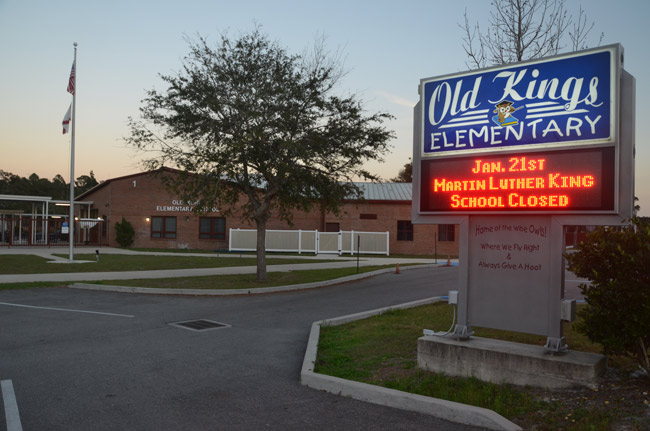 Laura Lauria has a close connection to Old Kings Elementary. Her daughter is a sixth grader there. She's been a member of the School Advisory Council. She is an involved parent. And she's not waiting for the school district to decide when and how to address security concerns she has at her school. She told School Superintendent Janet Valentine that she wanted to have a sheriff's deputy posted permanently at Old Kings Elementary School from now until the end of the school year.
And she paid for it herself, through her company.
The school district received a check from Police Services Inc., an obscure, Ormond Beach- and Bunnell-based company that also does business as BrightAssLights.com, for $11,776, which covers two months' worth of deputies' time, at $32-an-hour, six hours a day, five days a week. Lauria pledged additional installments to cover the rest of the year.
Deputies at the Flagler County Sheriff's Office work the school shift as cops—as Flagler County Sheriff's deputies—not as private security. But not as trained School Resources Deputies, either. They do so by "volunteering" for the overtime the opportunity provides. They do not have authority to go into classrooms and teach students about such things as drug abuse, for example, as SROs do. While their presence is scheduled to be permanent, the individuals filling that presence are not, making the development of much rapport with students—a major selling point of assigned SROs—difficult.
A deputy began shifts at the school Monday (Jan. 14), according to Old Kings Elementary Principal Nancy Willis, who is very happy with the arrangement and also worked out details with Lauria. "I think we're very lucky to have them here," Willis said.
A Unique Arrangement
Many schools and school districts across the country are taking a closer look at their security arrangements. Some are hiring private security or expanding the ranks of their school resource officers (SROs).
One parent buying full-time security for an entire school, and with a pledge to do so for the remainder of the school year, appears to be a situation unique to Flagler County so far. (It may not be, but we've been unable to locate such an arrangement elsewhere). Flagler's case may spur the school district to act faster regarding security: that's one of Lauria's hopes.
But it also raises implications about individuals or companies buying a service for public school outside the prescribed channels, and in this case outside the perimeter of a very detailed contract between the sheriff's office and the school district, outlining how and where SROs are to be used, and with what authority. The arrangement was carried out with virtually no public input or school board oversight, with no input from the school board's attorney, with little transparency, and in the absence of any policy controlling such arrangements. For all its generosity, it also sets one elementary school's security apart from others in the county, in a state where, legally, schools' essential services (including funding) are required to be on a relatively equal footing.
Circumventing the School Board
The arrangement was negotiated between Lauria and the sheriff's office. None of the school board members were aware of it until a few days ago, after the deputy postings began at the school. The school district serves as the fiscal agent: Lauria submitted the check to the district, which then wrote a check to the sheriff's office, Finance Director Tom Tant said. Valentine thought the check came directly from Lauria, not from a company. In her discussions with Lauria, Valentine said, she was never under the impression that the payment would be from a company—and learned of it only on Thursday, after a reporter had inquired about it.
The issue never went before the Flagler County School Board, whose members have only now began learning about it, or about the presence of a deputy at Old Kings. The board met on Jan. 8 and devoted 20 minutes to an update on security district-wide, but that matter was never broached. Andy Dance, the school board chairman, only learned about it Wednesday (Jan. 16), at the end of a meeting he had with Valentine and Deputy Superintendent Jacob Oliva. "The parent stepped forward to donate the money," Dance said, "as I understood to pay for the security guard for the remainder of the school year at Old Kings, that was her wish. She dealt with Ms. Valentine on that." (Dance later said that he may have heard about the deputy issue earlier in the week, but wasn't sure when or from whom.)
Dance knew Lauria from a recent encounter: Lauria had placed a bid on a fund-raising auction for Carver Gym, and won a gift certificate for some landscaping at her house, which Dance provided. Dance didn't know about Police Services Inc. or the nature of the arrangement for a school cop. Winnie Oden, the principal at the district's alternative school and long its liaison with the sheriff's office, also worked out the arrangement with Lauria, but refused to talk about it when asked Wednesday.
She was not alone. Willis would disclose the origin of the money, though the finance department revealed it. Kristy Gavin, the school board's attorney, was also not in the loop.
"All I knew was there was a parent wanting to pay for security, that's all I knew," Gavin said on Wednesday, "and I said well, we'd have to know more information, and I've never been provided with any more information." Gavin had had only one brief conversation about it with Tant, the finance director. "I'm not sure how any of this has been laid out," she said.
Donor's Cageyness
This particular arrangement raises additional issues: Repeated attempts to contact Lauria through her company were unsuccessful, as were repeated attempts to learn about the company bearing the name on the check buying the service. A third-party web site refers to the company as specializing in "vehicle security systems" and "custom emergency lighting products for vehicles and motorcycles."
Jim Levi, who identified himself as a member of Police Services Inc.'s "legal department" (but not a lawyer), would not give further details about the company. He said Lauria had not issued the check of her own, but had appeared "before the board" of the company, which approved the check in the name of the company. But the company has no board aside from Laura and Anthony Lauria. He said he was not authorized to speak for them, but later issued an emailed statement that identified Police Services Inc. as "a private manufacturer of safety minded products for our BrightAssLights.com division."
BrightAssLights.com has the same phone number and Post Office box address as Police Services. The statement said that "many of our company's employees have a vested interest at Old Kings Elementary," and that the hiring of the deputy (referred to as an SRO in the statement) might spur the community "to all come together to put a permanent plan in place and help keep our children safe at school."
Parents and businesses make donations to schools routinely, but the donations are generally channeled through school-based or district-based boards or overseen by policies. Monetary donations for school-based personnel are unheard of. School Board member John Fischer has been trying to set up a fund for teachers, to enable donations that could supplement teachers' salaries or classroom needs, but the idea has been hung up by legalities.
An Offer They Could Not Refuse
District officials, including Dance, board member Colleen Conklin, and Valentine, are welcoming the donation—saying, one way or another, that they could not turn down such a large check—but adding caveats: that the district itself is developing a comprehensive approach form security and analyzing the feasibility of having more cops in elementary schools. They used to be there, but were removed when Don Fleming became sheriff eight years ago, as part of the sheriff's and district's cost-savings.
"You do need to kind of go through this whole process of setting precedent, legal responsibilities and actions," Conklin said, "but again, I think it's a temporary fix, we can't do for one and not do for the other, and we can't let a parent pay for one school while the district pays for the other schools."
Conklin added: "We can't expect one private citizen to cover the costs indefinitely for one school. But it may be a catalyst for us to come up with alternative to solutions for funding."
The district has six school resource deputies divided between the two high schools and the two middle schools. Palm Coast pays for one of the six. The district pays 74 percent of the deputies' cost, with the sheriff's office picking up the balance. When Jim Manfre was first sheriff before 2005—and when deputies were in elementary schools–the sheriff's office picked up the larger share of the cost. But there were three fewer schools then. The district's total cost for SROs this year is $286,572.
The Sheriff's Take
Manfre, too, while supportive of additional security at Old Kings, described the current measure as a "band aid."
"I understand the parents' concern and appreciate their wanting some additional security," Manfre said, "but for it to be cost effective for the parents as well as the school district, we need to have an overall plan for all the elementary schools." Manfre said getting SROs back in the schools was one of his campaign promises. "You have to ask Janet what the schools can afford. I've commented before, we want to be a better partner. When I was a sheriff, the sheriff's department paid 75 percent and the schools paid 25 percent." Manfre said a 50-50 arrangement could be worked out.
"SROs in the elementary schools I think need to be had," Valentine said during the board meeting earlier this month, when she was already aware of Lauria's initiative. "We know people are willing to volunteer, we know people want to help us come up with solutions to this. As soon as we get our plan in place, you agree to that full plan, then we're going to move forward on how we're going to fund it."
Inevitably, Dance said, the board will have to make choices between the added cost of security and other priorities, including academic initiatives.
Meanwhile, Back In the Schools
When Oden updated the board on security last week, she said the district's safety team had met with the command staff of the new sheriff, established a clear chain of command at each school, and was preparing presentations to be delivered at each school (what those presentations would consist of is not clear). Teams of school staff and cops would also be visiting schools to analyze vulnerabilities (without telling schools ahead of time that they're coming). Oden also spoke of the color-coded system (four colors) that will define security conditions at any given school.
"The most important thing when you talk about safety is that there has to be really uniformity in your words and your actions," Oden said, "so that all the players involved in the situation come to understand what these words mean, there's standardization, and I think we've really done a good job with that." Oden spoke repeatedly about transparency to the board, but would not answer a reporter's questions about the arrangement she had helped work out at Old Kings, as the district's liaison with the sheriff's office.
Other districts meanwhile are wrestling with similar issues, and approaching those issues in a variety of ways. Last week the board of education in Danbury, Conn., contracted with a national security firm to install private security guards at all its elementary schools. On Tuesday, the Lee County school district in Florida added 10 school resource officers to its ranks, to patrol the district's 45 elementary schools on a rotating basis. Tuesday evening, the Plano, Texas, school board, which oversees 55,000 students, voted to hire armed, private security guards to patrol 71 school campuses, at a cost of $2.7 million, all from the district's savings.
But The Hillsborough County school board turned down its superintendent's $3.7 million plan to add armed guards at every elementary school by next year. "There were two armed officers on the campus of Columbine," School board member Candy Olson said. "Ronald Reagan had at least four police officers and a whole bunch of secret service agents, all of whom were armed, and he was shot." The board was willing to keep talking about the issue, however, but insisted that it would not be pressed into making a hasty, knee-jerk decision on security.