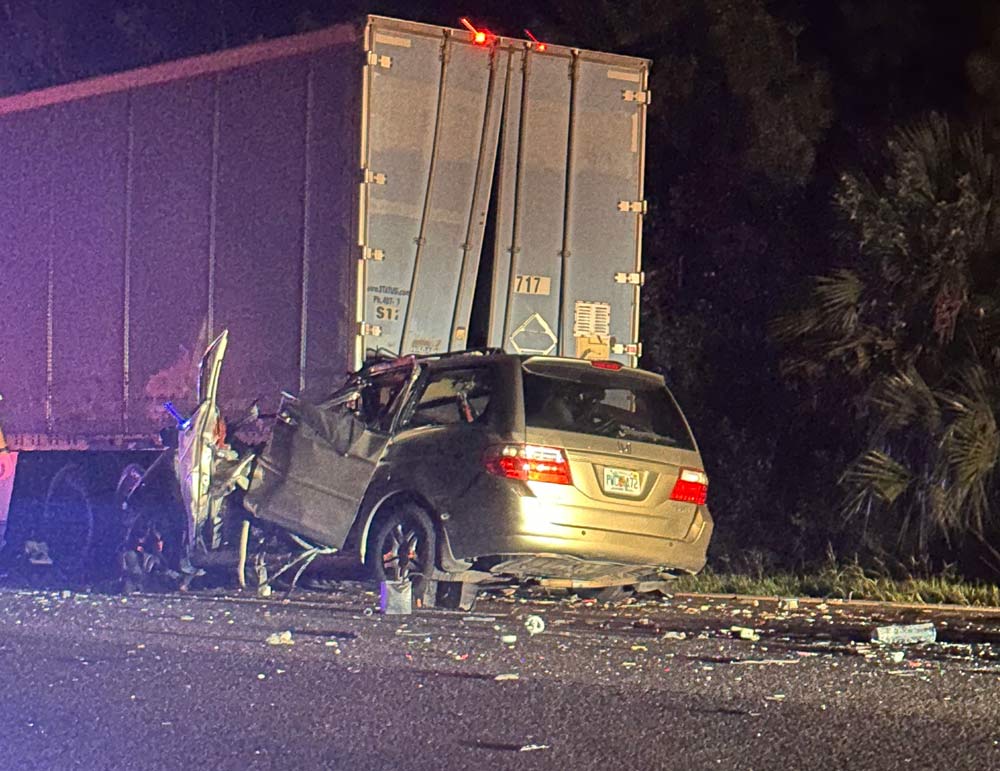 A 43-year-old Palm Coast man lost his life Wednesday night in a rear-end crash as traffic was stalled on I-95 because of an earlier traffic crash further ahead.
The crash was reported to Flagler County's 911 center at 10:25 p.m. when a witness reported that a minivan crashed into and went under a semi truck that had been stopped in the northbound lanes of I-95, near mile marker 282 (around the Old Dixie Highway interchange).




The Florida Highway Patrol reports that traffic had been stopped because of another traffic crash in the same area: a car had run into a semi truck that caused the semi to overturn on its side on the State Road 100 Bridge. That crash clogged both northbound and southbound lanes. The driver of the car was injured.
John's Towing, the Bunnell company, was summoned by the Department of Transportation to clear the scene as a Rapid Incident Scene Clearance: the semi, which was loaded with produce, was put back on its wheels. Authorities had to fix damage to guardrails and asphalt.
That first crash caused traffic to back up for miles. Some five miles south, the Palm Coast driver "failed to stop" and collided with the rear of a semi, according to FHP. The entire front end of the driver's minivan went under the truck, according to 911 notes.
The driver of the minivan, who was the only occupant of the vehicle, was pronounced deceased at the scene. The 30-year-old driver of the truck, from Lauderhill, was traveling with a 73-year-old man from West Palm Beach. Neither was injured.
John's Towing also cleared the scene in the second crash, as it was categorized under FHP's towing rotation. The Flagler County Sheriff's Office, Palm Coast Fire Department and Flagler County Fire Rescue responded to the scene. It was at least the ninth fatality on Flagler County roads this year, and the first since the death of a motorcyclist on June 29.
I-95 northbound was shut down at Old Dixie Highway. The highway was not reopened until early Thursday morning.