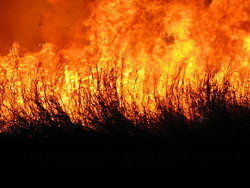 Update, April 19:The county announced that the Old Brick Road fire was out.

A brush fire covering about 300 acres by this afternoon (March 28) started in an isolated area of Old Brick Road, north of Espanola, pretty much in the middle of nowhere, Saturday afternoon–while Flagler County firefighters were responding to the plane crash and ensuing brush fire at the Flagler County Airport.
The brush fire, referred to as a "muck fire" by firefighters because it started underground, possibly because of a lightning strike days ago, started overground as a 30-acre fire Saturday. By late Monday afternoon it had burned an area 10 times as large, according to authorities, although the Division of Forestry back-burned 120 of those acres: a back-burn is a controlled burn that attempts to burn the area ahead of the active fire, thus eliminating the fire's potential fuels. By the time the two fires meet, the hope is that the original fire would have nowhere to go. It doesn't always work, but it's a common tactic.
The fire Monday afternoon was 30 percent contained. Firefighters were expecting to be there longer. The fire is nowhere near dwellings or damageable property, though smoke is expected to drift over inhabited portions of the county.
Monday's rain was too brief and too light to affect conditions, or lift the ongoing burn ban in the county. Monday's lightning storm may also have triggered more muck fires that may not emerge for another day or two or more as conditions remain generally very dry and rife for brush fires.