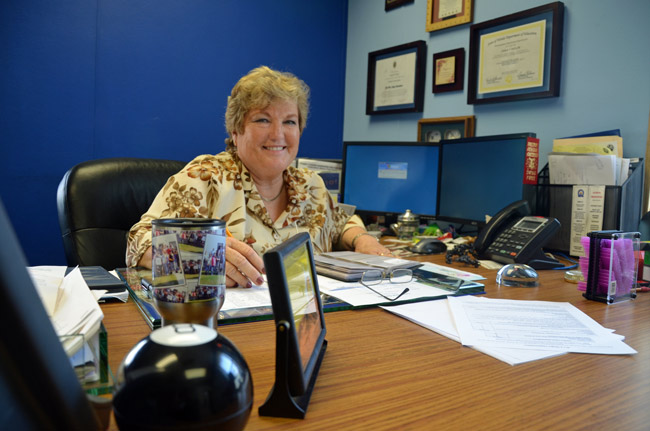 Winnie Oden and Carla Taylor both started their careers in Flagler County schools almost simultaneously 22 years ago at Old Kings Elementary—Oden as a specialist who worked with struggling students, Taylor as a media specialist. They both rose through the ranks to become principals. Taylor has led Pathways, the district's alternative school, for over four years. Oden has been principal at Buddy Taylor Middle School (named after Taylor's late husband) since 2005.
The district is moving both in June. Oden, who was paid $90,200 last year, will become the principal at Pathways. Taylor will be an assistant principal at Flagler Palm Coast High School—FPC's sixth assistant principal—in charge of the school's at-risk students. Taylor's salary was $82,000 last year. No one has been chosen yet to fill Oden's position at Buddy Taylor. That job will be posted.
Oden has been in charge of the district's school deputies for several years, keeping abreast of related issues, School Superintendent Janet Valentine said. "She can bring a new, fresh perspective at Pathways and how we're going to help make these kids successful," the superintendent said. Oden is also in the state's Deferred Retirement Option Program (DROP), which requires retirement within four years.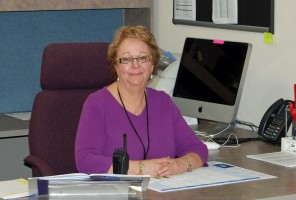 But a move to Pathways is not generally seen as a step up, even though some of the administrators who've filled the job eventually took to it. Administrators in the district can and occasionally are moved at the district's will, and those who get moved around will put the best face on it even if they're not  necessarily overjoyed. In this case neither administrator volunteered for the new assignments.
"I'm looking forward to it. I'm excited with the change," Oden said Tuesday afternoon. "I love Buddy Taylor.  I'm leaving good friends, I'm leaving a strong faculty, I'm leaving competent people. That school will continue doing well." Oden said her philosophy of working with children has always been about second chances: "Everyone is entitled to a second chance, everyone is entitled to a second opportunity," an approach that fits well with Pathway's mission.
The school, often and unfairly seen as a dumping ground for the district's problem students, is a world on its own behind the Flagler Palm Coast High School campus. Four high school teachers, two middle school teachers and a small administrative staff are in charge of 67 students (the number fluctuates) who are assigned there after getting in trouble at their home schools. They have to attend Pathways a minimum of nine weeks before earning their way back to their home school.
"I love what I'm doing, I love these kids," Taylor said, speaking in her office with affection about students she doesn't like to refer to as problem students, but rather as students who've made mistakes or been dealt a bad hand. "But I'm looking forward to working with the at-risk kids at FPC."
The high school was docked a grade—from A to B—because of the performance of students in the bottom quarter. The state's standardized testing and the degree of improvements a school can show for specific groups of students from year to year largely define a school's grade, and school grades define the schools' (and the district's) reputation. The district is placing added emphasis on lifting the scores of at-risk kids, which, year after year, have dragged FPC's grades down. That's extra pressure on Taylor.
It's also a risky move for the district, because FPC already has five assistant principals. The position will be paid for with Title I dollars—that is, federal funding the school qualifies for because of its at-risk population. "Nobody is going to be leaving at this point," Valentine said of the other five assistant principals, and Jacob Oliva, the principal, will be staying on, she said.
Taylor has also been an assistant principal at Matanzas High School and a principal at Wadsworth Elementary, and spent a brief time at Academies of Excellence, the precursor to Heritage Academy, the charter school now facing shut-down by the district because of poor performance in its last two years.