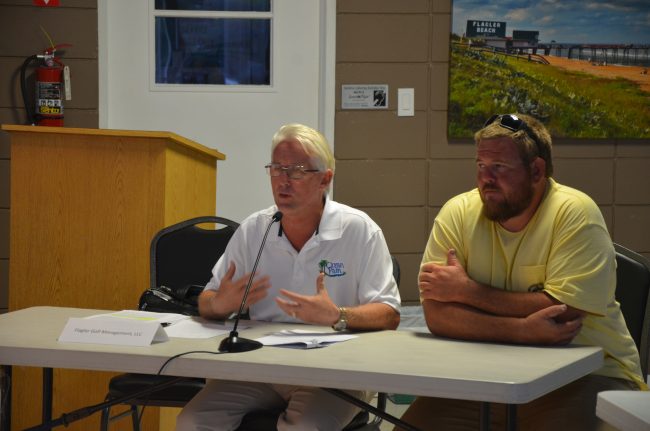 Flagler Beach City Commission Jane Mealy had a message for the full house at a commission workshop this afternoon on the future of the city's struggling Ocean Palms Golf Course at the south end of town: it's not closing.
But it happens to be closed for the past six weeks and will remain closed at least until next year.
City Manager Larry Newsom, who's previously signaled that he may advertise for new golf course management, put it this way: "Regardless of who is responsible for what, we need to make sure we have a functioning golf course." The question is to get there again with the same management team that leased the nine-hole golf course from the city and started running it again in June 2016, after the course had grown into a jungle from disuse for almost a decade.
After a relatively smooth year of operations, there's been since late summer many issues between the city and Flagler Golf Management, led by Terry McManus, a West Palm Beach developer, and more precisely between the city and McManus's local management team–Duane McDaniel and his son Craig. So the city commission and administration organized this afternoon's workshop, bringing together the commission, the city administration, McManus, the McDaniels, Cline Construction and the firm engineering the drainage project.
McManus sought to reset the relationship with the city, owning up to errors, misunderstandings and a habit until now of letting the operation run with few agreements written on paper. That's led to a scramble for clarity. He also sought to put the problems in perspective: the golf course has had its issues, but he said it's also been "kicked in the teeth" in its brief rebirth by two hurricanes and a massive drainage re-construction project on the golf course, by the city.
That combination of storms and major city construction for a new drainage system on and through the golf course has seriously hampered the course's operations that the managers could no longer keep it open and make money. The construction was not a surprise to course management, which knew of the coming construction and took part in seven of nine meetings with the general contractor. But it was not prepared nor was told ahead of time of the breadth of construction, and to what extent it would interfere with its operations.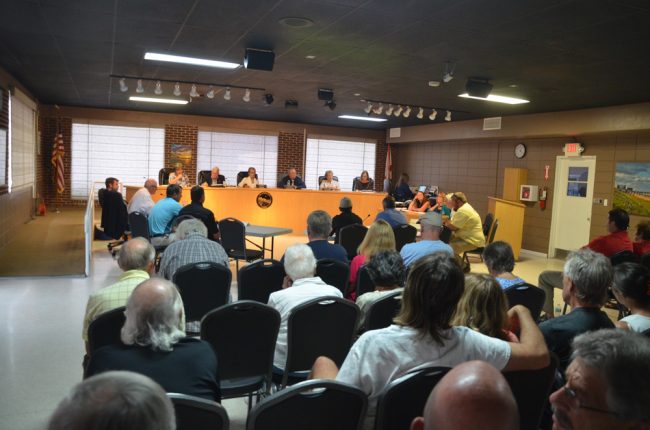 The course shut down in late September as disagreements and conflicts with the city administration grew. The city had agreed to compensate the course managers for some of their revenue lost to construction, and did so by almost $20,000 for June, July and August. But the city felt it owed the course nothing for September or October, because the course's business fell more as a result of the storm than as a result of construction. At least that's how the city saw it. The golf course managers don't see it that way. Construction has mostly been the culprit, in their view, as it will through December.
That's where matters stood today, an impasse today's workshop was intended to end.
It did so up to a point. It's not clear how much the city will compensate the Flagler Golf Management for the lost months of September through December. Newsom said it could run up to $44,000. Mealy was not interested in deciding on a figure today until the commission has a written proposal submitted to the city, with a realistic figure the commission could take action on possibly at a special meeting.
But McManus said the course will not open until next year regardless even as he promised that if matters are resolved, "this is going to be a homerun for everybody for a long, long time," in his words.
Again and again, McManus said the issues were the result not of malice or intent but of missteps, lack of documentation and misunderstandings. He also blamed his local team: "People in my organization may have wrongfully shot off at the mouth and offended people," he said, though he himself didn't shrink from directly challenging commissioners' interpretations of events, at times questioning the credibility of the city's version of events or turning the tables on its interpretation of the lease agreement.
He had no objections to the design and ultimate goal of the big drainage project, saying it will turn the golf course into a far better property than it was. At the same time, he objected to being held responsible for such things as irrigation breakdowns due to construction.
---
"Nobody up here is going to compensate you for bad business," the mayor said.
---
For all McManus's push-back, much of it through long and decibel-heavy disquisitions to commissioners, city officials also sought to make a difference between a business impacted by things out of its control and a business poorly run. The city's official overseeing the construction project said the restaurant has been very poorly managed to the point of being "a killer for a business," and has no reason to be closed even for the next two months. Craig McDaniel conceded that there's been issues with the restaurant, saying its management has turned over a couple of times.
Mayor Linda Provencher went further. She said there'll be no resistance to fairly compensating the course for revenue lost due to construction. But, she told McManus, "Nobody up here is going to compensate you for bad business." She added: "You're not here all the time, in fact you don't even live close by," implying that he should take responsibility for the consequences of his distance from the business, and she stressed that and not having a restaurant open is bad business.
In the end, McManus pledged to be much more hands on, the pay the course's rent and utility bills ($1,263 is owed in utilities, 2,043 is owed in rent for last year, another $2,645 for this year), to take over accounting responsibilities, and to put everything in writing. "You have my word that that will be complied with, now going forward, completely, and by myself personally," he said of accounting matters.
McManus also got support from commissioners, among them Joy McGrew, who told her fellow-commissioners that they should look at the course "as an investment for your taxpayers." She said that just as the city would not let one of its parks go to pot, nor should it let the golf course fail. "It is an investment that we own, we could either let it go back to a piece of trash or back to an non-functioning piece of property, like it was before," or work out a different approach with course management.
That, in essence, is where matters stood at the end of today's workshop: not complete clarity, but substantially less murk.
Eric Cooley, a business owner, said "responsible business practices" have to be stressed, noting that it is still the golf course manager's responsibility to carry business-interruption insurance, not the city's responsibility. He cited his own business–7-Eleven in Flagler Beach–which he leases, and is responsible for such insurance. And, he noted, no such thing as a "proposal" is necessary from the golf course, when it comes to compensation, if the golf course provides a clear, documented profit and loss statement that provides a clearer number. (But that would still not answer the matter of what would be owed the course for the months it is closed, if anything.)