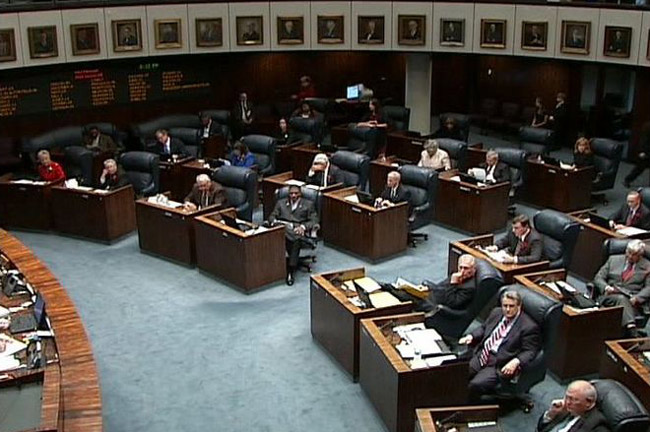 Citing noise and chanting earlier in the day, the Senate Sergeant at Arms on Tuesday denied Senate viewing gallery access to a group loosely defined as Occupy Tallahassee.
The decision by Sergeant-at-Arms Don Severance caused a flurry of activity in the afternoon as a group occupied a space just outside the Senate press gallery for a few hours after session adjourned for the day.
The sergeant, who is charged with maintaining decorum in and around the 40-member chamber, said earlier that he had informed group members that their behavior was disruptive and would not be allowed.
"I told them that I wouldn't allow them to be disruptive in the chamber," Severance said. "They quieted down for a while then got louder again."
Earlier Tuesday, the House sergeant-at-arms restricted access to that chamber's gallery to accommodate family and friends of returning lawmakers and special guests on the first day of the 2012 legislative session and the annual State of the State speech.
"It's messed up," said Daniel Walford, an Occupy Tallahassee participant from Tampa. "We are not a group but individuals and it's not unlike anybody else who wants to sit in. We wanted to listen and learn."
Some group members said they were denied access to the afternoon public floor session despite not having been part of earlier activities that included singing and chanting outside the House and Senate chambers. Instead, they said they were lumped in with more disruptive participants primarily because of their age and attire.
'It's social profiling, simple" one protestor said Tuesday afternoon..
Richard Benam, a volunteer attorney for ACLU Florida said he met with Severance, whose reasoning for barring the group, Benam said, was "generic and unsatisfactory."
More than two dozen individuals, who temporarily camped outside the Senate chambers, left willingly shortly before 6 p.m. The Capitol complex is closed down to visitors after business concludes for the day, according to Capitol Police policy.
Senate President Mike Haridopolos, R-Merritt Island, said following the incident that the chamber has taken great steps over the years and during his tenure to allow public attendance
"We've given people a voice. But if people want to dedicate to just being disruptive, I think that's a whole other matter,:" Haridopolos said. "We'll let them in in the next session, but if they're going to be disruptive, like any other person that's being disruptive, they'll be asked to leave and probably people who want to do the same will be asked to leave."
–Michael Peltier, News Service of Florida