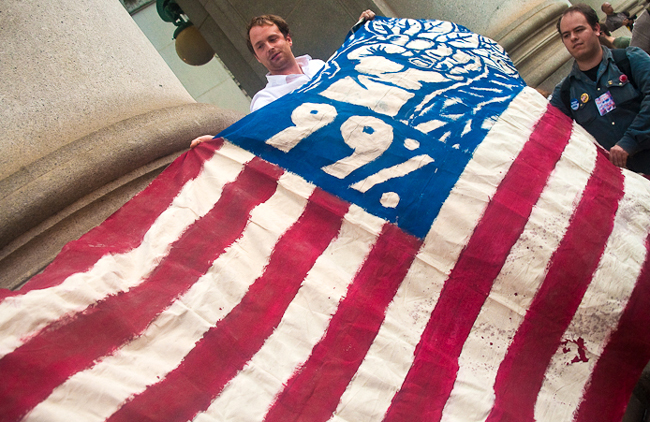 Occupy Wall Street is coming to Belle Terre Parkway, hitched on the wings of Florida's Awake the State movement.
From 3:30 top 5:30 this afternoon, what has become the traditional spot for demonstrations in Palm Coast–the intersection of Belle Terre Parkway at Palm Coast Parkway, on the Kohl's department store side of the street–will, organizers hope, be teeming with demonstrators brandishing signs in defense of middle class values, defined by one of the organizers as "People getting up and having the ability to go to work, make an honest wage, work toward retirement and be treated with respect and dignity when they're working and when they're retired."
That's Katie Hansen speaking. She's the president of the Flagler County Education Association, the teachers union, which–like other unions and progressive organizations in the state–is at the center of today's demonstrations. It's not an Occupy Flagler production per se. Awake the State is a grass roots organization created by Progress Florida, Florida Watch Action and America Votes to counter Gov. Rick Scott's budget cuts and what the organization describes as "the assault on our middle class families," through such tactics as union-busting, opposition to health care reform and "balancing the budget on the backs of hard-working Floridians." Teacher unions have been a backbone of the movement, which had its first demonstration in Flagler, at the same spot as today's, last March.
Occupy Flagler, just created as part of the national Occupy Wall Street movement, is joining the movement. "We decided to team up with them for a first event, because we're still new," says organizer Geraldine Hochman-Klarenberg, who was at the center of the Flagler delegation to an Occupy Jacksonville demonstration on Oct. 8 and an Occupy Daytona Beach demonstration two weeks later, which drew as many or more than the 250-some people who turned up for Occupy Jacksonville.
"The main concerns are about—in simple terms, the future, what's happening in terms of Medicare Medicaid, in terms of schools for our kids," Hochman-Klarenberg says. "Everybody who turns up at these meetings seems very worried about the direction the country is taking." The local Occupy Flagler group began as a MoveOn.org chapter, which it still is. As time went by, worries broadened to taxes, the debt, the economy. "We didn't manage to pin down one single thing to focus on because there seems to be a general uneasiness about the place where we are at this point in time."
Others joining the demonstration in Palm Coast today include members of the local Democratic Party ("We are involved," Democratic Executive Party Chairman Dan Parham said, "I have put the word out for those who want to support it that they can support it"), firefighters' unions and possibly police unions, though that last hasn't been confirmed.
Last year the Awake the State movement was focused on two things: a proposal (that has since become law) to institute a merit-pay system and all but eliminate tenure for teachers, and another, which also became law, to force public employees to contribute 3 percent of their pay to their state retirement fund, essentially breaking a contractual agreement with employees, which had precluded such contributions. The law is being disputed in court.
This year, the focus is on restoring "middle class values," a new twist on the old "family values" formula that puts a more concrete meaning behind the word values: Families that politicians ostensibly appealed to under the old "family values" banner have, in fact, been carrying an increasing and at times crippling burden as a result of stagnant wages, unemployment, debt loads and a staggering increase in health costs, particularly for those who are insured, as premiums have risen at three times the rate of inflation, eating into wages and standards of living. Organizers this year are focusing on redistricting, which is giving voters a chance in 2012 to have a voice in every single senate and house race in the state. "That's the key to why we're doing the rally: people need to understand that the power lies with them," Hansen said. "If they don't get informed and get involved, things aren't going to improve."
Occupy Wall Street throngs have only grown since the very first such demonstration at Manhattan's Zuccoti Park on Sept. 17. Demonstrations have been considerably smaller in smaller towns, but the movement has been drawing strength by the number of such demonstrations across the country, and now across the world: organizers focus less on the number of demonstrators at each individual event so much as on the continuity of the protests and their mere existence, spilling out from what had been a relatively small gathering that Sept. 17. It's also difficult for many who would demonstrate to do so when they're holding down jobs or having little time to keep up with the where and when of such things.
"For a large part, I suspect a lot of people are so busy surviving, a lot of people work several jobs, I know this sounds very lame but they don't have the time to look for these things, they don't have the time to get out there and protest," Hochman-Klarenberg said, though a plurality of Americans are behind the Occupy Wall Street movement. "Maybe, just maybe, I don't know, this is an untested theory, many people have the feeling that it makes no difference."