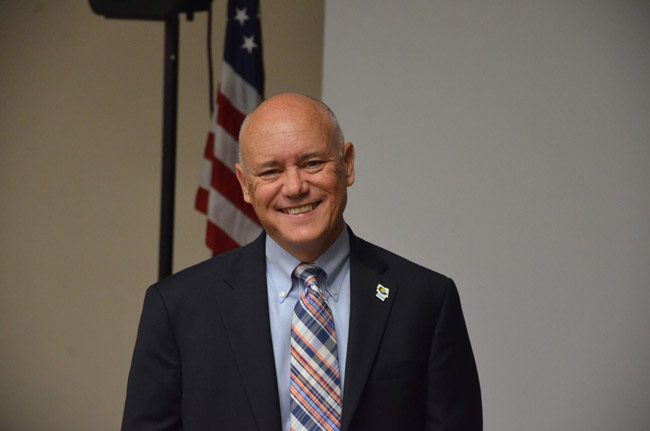 Flagler County Commissioner Donald O'Brien was named to the Board of Directors of the Florida Association of Counties, the statewide organization that advocates and lobbies at the Legislature on behalf of Florida's 67 counties, with a focus on home rule and preservation of revenue for government services.
The association's board of directors has 46 members, with 40 members named from each of the state's senatorial districts, and six members named as at-large members. O'Brien is an at-large appointee. He was elected to the County Commission in 2016, defeating 24-year incumbent George Hanns. O'Brien has since forged an independent path on the commission, focusing on stricter financial oversight but also proposing concrete alternatives–whether it's cutting the budget or finding new money for beach restoration.
"I had told some of the leadership that I wanted to step up" for a greater leadership role on the association board, O'Brien said.
"I think it helps give us more stature with our representatives, Hutson and Reenner, that they see we're involved in a statewide organization." Flagler is represented by Sen. Travis Hutson and House Rep. Paul Renner, whose ears are generally more attuned to voices that represent sizable interests. "FAC is very well respected in Tallahassee," O'Brien continued. "There's a lot of policy-writing that goes on with FAC, so to the extent that I can participate with that and possibly get our voice heard on things even more, that's a big part of it."
For example, the association played a significant role helping Flagler and other counties keep a 2014 law on the books that preserves local authority in regulating short-term vacation rentals. That fight is likely not over. As for what specific initiatives O'Brioen intends to bring to the association's attention, he said he would have a clearer answer after the group's initial policy meeting.
O'Brien also serves as a policy leader on the Finance, Tax and Administration Policy Committee for the association. The committee sets the legislative and policy priorities for FAC with respect to statewide or regional financial, taxation and administrative policy proposals. The committee also participates in the lobbying efforts with state and federal officials in support of the policy proposals.
O'Brien is also on the Board for the Audit and Finance committee, which is responsible for financial oversight of FAC itself.
"Your commitment to public service and your leadership role in the community are valuable assets to the Association and the people of Florida," Karson Turner, president of the Florida Association of Counties and a Hendry County commissioner, was quoted as saying in a release issued by O'Brien's office last week.
In July, O'Brien and fellow-commissioners Greg Hansen and Dave Sullivan graduated from the association's Certified County Commissioner Program, a voluntary program of study designed to enhance skills relevant to the duties and responsibilities of county governance. It requires the completion of 45 hours of course work, taught by a team of university faculty, government officials, and professional speakers over a period of 12-18 months. Commissioners Charlie Ericksen and Nate McLaughlin are alumni of the Program. (The county administration in July issued a release about the commissioners completing the certification, but it did not issue a release about O'Brien's nomination to the association's board. A spokesperson explained that the administration found out about O'Brien's appointment through his own release, and since it'd already been issued, there was no need for an additional one.)