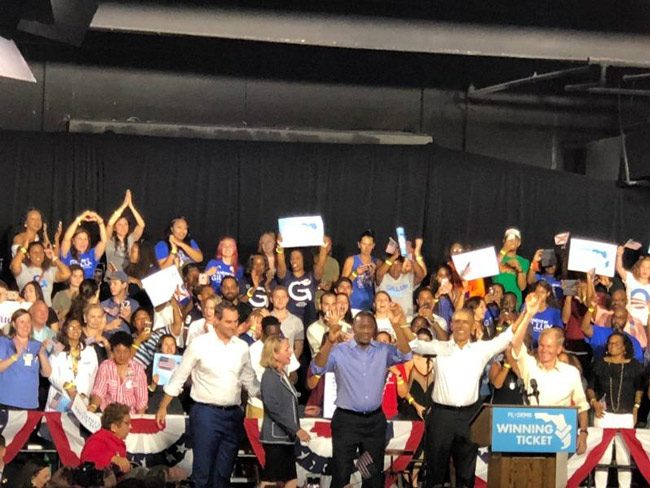 Eschewing the racially charged rhetoric and divisiveness that have dominated campaigns in Florida and throughout the nation, former President Barack Obama relied on a message of hope Friday as he urged a crowd of supporters to vote for Democratic gubernatorial candidate Andrew Gillum and U.S. Sen. Bill Nelson.
"Don't get anxious or freaked out. Don't throw up your hands in despair. Don't boo," Obama, appearing onstage with the top-of-the-ticket Florida Democrats, told the crowd, which responded with "Vote!"
The former president's trip to the Sunshine State was sandwiched between two appearances in Florida by President Donald Trump, who held a rally Wednesday in Lee County and is scheduled to appear Saturday night at another rally in Pensacola. Trump is trying to boost support for Republican gubernatorial candidate Ron DeSantis and outgoing Gov. Rick Scott, who is seeking to unseat Nelson.
With more than 4 million mail-in and early-voting ballots already cast, and as tension between candidates ramps up before Tuesday's election, Obama chided Republicans' "repeated attempts to divide you with rhetoric designed to make us angry and make us fearful."
Some of the harshest attacks have been leveled at Gillum, who is the mayor of Tallahassee.
DeSantis and Trump have focused on an FBI inquiry into Tallahassee government, with the president calling Gillum a "stone-cold thief" and DeSantis repeatedly saying that he's "the only candidate that isn't the subject of an FBI investigation." Gillum, meanwhile, has steadfastly maintained that he is not the subject of the federal probe.
Over the past week, Trump also has stoked fears about illegal immigration as he travels the country to support Republican candidates. The president has said he wants to do away with what he calls "birthright citizenship" in which children have citizenship because they were born in the U.S., though their parents entered the country illegally. Democrats, constitutional scholars and many Republicans say the process is enshrined in the Constitution and the president doesn't have the authority to make the change.
Speaking to a Miami crowd that appeared to have similar numbers of white, blacks and Hispanics, Obama decried "racial and ethnic and religious division that pits us against one another" and "makes us believe that order will somehow be restored if it just weren't for those folks that don't look like us."
"In four days, Florida, you can reject that kind of politics. In four days, you can be a check on that kind of behavior. In four days, you can choose a bigger, more prosperous, more generous vision of America, an America where love and hope conquer hate, an America where we the people, whatever we look like, whoever we love, however we choose to pray, however our ancestors came here, we can come together to shape our country's course. That's what Andrew Gillum stands for. That's what Bill Nelson stands for. I'm hoping that's what you stand for. That's what you can do when you vote on Tuesday," he said.
During his hour-long speech at the Ice Palace Film Studios, Obama was repeatedly heckled by members of the audience, including by several people escorted out by security guards.
The former president, however, took the interruptions in stride.
"Why is it that the folks that won the last election are so mad all the time?" he asked, eliciting a roar of approval from the crowd. "When I won the presidency, at least my side felt pretty good."
Obama also bemoaned "positive spin" used by politicians, pointing to himself as an example when he tries to take credit for washing the dishes at home.
But, growing more serious, Obama complained that too many elected officials and candidates "just repeatedly, baldly, shamelessly" are "making stuff up."
He pointed to Trump's reaction to a caravan of people from Central America headed to the Mexican border. Trump has ordered 15,000 troops to keep the immigrants from entering the U.S., something Obama called "a political stunt" in advance of Tuesday's election.
"They make stuff up, but the problem is too often we fall for it," he said, likening the public to the "Peanuts" comic strip's Charlie Brown, who was repeatedly tricked by Lucy when she yanked away a football at the last minute as he prepared to kick it.
"She'd pull the ball away and he'd fall on his back. But he kept on doing it every time. Don't be Charlie Brown. Don't fall for the okey-doke. Don't be bamboozled. Don't be hoodwinked," he warned. "When words stop meaning anything, when truth doesn't matter, when people can just lie with abandon, democracy can't work."
He lambasted people "at the highest levels" for being dishonest.
"And the only check on that is you," Obama said. "On Tuesday you can vote for a politics that's decent, and honest, and lawful and tries to do right by people."
Obama's message resonated with Cedric Dawkins, a 50-year-old Miami resident who is in marketing and public relations.
"The most important issue, I feel, is that facts matter," Dawkins said, objecting to "untruths and falsehoods" being used against Gillum, who is trying to become the state's first black governor.
"Andrew Gillum is the best candidate for the state of Florida, because of our diverse population," said Dawkins, who is black.
–Dara Kam, News Service of Florida