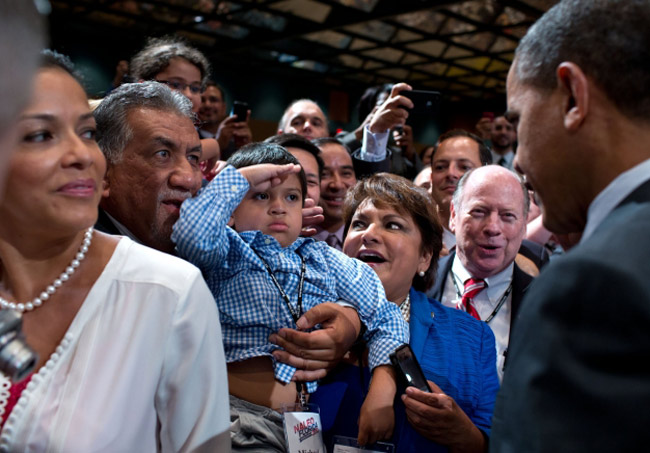 President Barack Obama is maintaining a lead over Republican challenger Mitt Romney in Florida in the latest Quinnipiac University poll, fueled by a big lead among Hispanic voters, who prefer Obama over Romney by a 56 to 32 percent.
The lead is surprising on two counts: Florida's Hispanics have traditionally voted Republican. And talk of a Romney-Rubio ticket, floated by the Romney camp to test that possibility, was calculated to swing the state's big Hispanic population Romney's way–a swing that would theoretically affect November's outcome in the fierce contest for Florida's 29 electoral votes. A very substantial Obama lead among Latino voters would make Marco Rubio's effect on a Romney ticket less appealing.
The poll released Wednesday takes into account Obama's declaration on June 15 that younger undocumented immigrants will no longer be deported. Latinos reacted enthusiastically to the new policy. In Florida, Hispanics supported the initiative by 58 to 33 percent, while 46 percent (against 40 percent) said Obama would do a better job on immigration, overall, than Romney would. The results of the poll also take into account Romney's talk on immigration in Orlando last week. That announcement did not have one overriding policy proposal, and was more notable for Romney's more conciliatory tone on immigration than it had been during the primary season, when he repeatedly suggested that undocumented immigrants should "self-deport."
The latest Quinnipiac poll is part of a trio released this morning, focusing on swing states. Obama's lead in Ohio is now 47-38, an improvement over a March poll that had Obama leading Romney 47-40 (at the time Rick Santorum was still in the race). Obama's lead in Pennsylvania is 45-39, also an improvement over March's 45-42.
It would be almost impossible for Romney to win the election without winning Florida, though it is easier for Obama to win if he doesn't hold Florida–as long as he wins Ohio and Pennsylvania.
"President Barack Obama has decent margins over Gov. Mitt Romney in Ohio and Pennsylvania and a smaller advantage in Florida," said Peter Brown, assistant director of the Quinnipiac University Polling Institute. "If he can keep those leads in all three of these key swing states through election day he would be virtually assured of re-election."
Brown added: "The president's overall margin is built on his big lead among women, younger voters and African-Americans. In Florida, on the heels of the president's order that will prevent the deportation of some younger illegal immigrants, he holds a big lead among Hispanic voters. The horse race numbers reflect the general view of voters that they like the president better. Obama has a net favorable view among Ohio voters and he is viewed evenly by those in Pennsylvania and Florida, while Romney's favorable/unfavorable ratio is negative in all three states."
In Florida, Romney still leads 50-35 percent among white voters. Obama leads 85-6 percent among black voters. The president had a 47-40 percent lead among women, with men evenly split. But another darkening prospect for Romney–and a brightening one for Obama–is the recent surge in independent support for Obama, who now holds a 44-37 percent lead in that category.
Last week's Florida poll story is below.
Seesawing Continues as Obama Retakes Florida Lead; Sen. Bill Nelson in Trouble
June 21–Florida is turning into a microcosm of President Obama's fortunes as he counts the days (138 of them, to be precise) until Nov. 6: he's up one day, down the next, but neither surging nor plummeting. The latest Quinnipiac University poll, released this morning, has Obama in a favorable 10-point switch over Mitt Romney. Obama erased a six-point deficit in the last poll, when he was trailing 41-47, in late May. He's taken a four-point lead, 46-42, thanks in large part to independent voters. In late NMarch, Obama was ahead by seven points.
The deciding factor is key: whoever controls independents in Florida will win in November, as Democrats and Republicans have, by overwhelming margins, already made up their mind. The number of registered independents is surging in Florida, well ahead of Democrats (who have the overall plurality) and Republicans. The latest poll was conducted between June 12 and June 18, so it doesn't entirely reflect reactions to Obama's executive order ending the deportation of young, undocumented immigrants. He made that announcement on June 15. More tellingly: it comes after the June unemployment report, which was a significant disappointment as job creation hit its lowest figures in a year and unemployment inched up again.
Also notable: the last poll, when Obama was behind, was taken just after the president's clumsy declaration of support for gay marriage, which did him no favor in a state notorious for its homophobic tendencies. The effects from that announcement appear to have evaporated.
Trend-wise, the news is less reassuring for Sen. Bill Nelson, Florida's last remaining statewide elected Democrat. Nelson, hoping to win his second re-election, is running ahead of Republican Connie Mack IV by just four points, 43-39. It's the same margin as Obama's, but the trend and nature of the race is very different: an incumbent senator in the state would normally have a more comfortable lead. Nelson has yet to manage one. In May, Mack had a one-point lead. Mack hasn't won the Republican primary yet, but he might as well have: he wins 41 percent favorability from those polled. His opponents, including Former U.S. Sen. George LeMieux, Tea Party favorite Mike McCalister and U.S. Rep. Dave Weldon, each are in the single digits.
"At this point, the Republican Senate nomination is Congressman Connie Mack's to lose," said Peter Brown, assistant director of the Quinnipiac University Polling Institute. "In politics, anything is possible and we still have two months to go until the Senate primary, but it would take a major change in public opinion for one of the other candidates to stop Connie Mack. And the projected November election between U.S. Sen. Bill Nelson and Mack looks like it could go down to the wire."
Nelson isn't quite in the dog house: voters give him an anemic 47-32 percent job approval rating. Just 46 percent say he deserves another term. Mack has a 34-22 percent favorability rating, with 42 percent saying they don't know enough about him to form an opinion. (Here's a hint, from a Mack posting on his Facebook page: "I'm proud to receive the endorsement of Attorney General Pam Bondi, who is working hard to repeal ObamaCare! Thank you, Pam!") Nelson took over the seat Mack's father, also called Connie, vacated when he retired in 2000.
In the presidential race, Obama's lead reflects the coalition that elected him four years ago, Quinnipac numbers show. He carries women 49-39 percent, African-Americans 91-5 percent and voters 18 to 34 years old, another key demographic–if those voters actually turn up at the poll, as they did in big numbers in 2008–55-28 percent. Obama also leads 48-41 percent among voters 35 to 54 years old. Romney carries white voters 50 – 37 percent and voters over 55 years old 48-43 percent in a state where the elderly vote, often synonymous with tea party and other right-wing elements, have a dominant voice.
But it's among independents that the shift is most pronounced. On May 23, independents were favoring Romney 44-36 percent. It's now 46-37 for Obama. Obama also carries Democrats 88-4 percent (no surprise), while Romney takes Republicans 91-5 percent.
Floridians still give Romney the edge 48-44 percent on the economy yet split 45-45 on who would create more jobs, a curious dichotomy that suggests skepticism about Romney's own jobs record: television ads have been running in Florida markets pointing out Romney's dismal job-creation record when he was governor of Massachusetts for one term (2003-07). And voters believe Obama would do more "to advance the economic interests of middle class Americans" by 49-44 percent.
"At this point, Romney is not well-defined in the minds of many voters, especially those in the middle," Brown said. "his movement reflects that uncertainty among voters who are up for grabs." That. too, does not augur well for Romney, whose name recognition has not been an issue, and whose positions, such as they are, have been on display throughout the Republican primary debates.
A few other notable findings in the Florida poll: military households disapprove of Obama's job performance by 59-39 percent. Born-again evangelicals disapprove, 74-24 percent. Obama's likability remains at significant highs: overall, 76 percent find him likable, including 57 percent of Republicans, 81 percent of independents and 72 percent of military households. Comparatively, only 66 percent of evangelicals find him likable.
Romney's likability contrasts sharply with Obama's: just 60 percent find him likable overall, mostly on the strength of Republicans (84 percent). Only 60 percent of independents but 77 percent of evangelicals find him likable. He does well among the rich, too: while fewer than 60 percent find him likable in households making $50,000 or less, his likability rises to 75 percent for households making more than $100,000 a year.
Quinnipiac University surveyed 1,697 registered voters with a margin of error of +/- 2.4 percentage points from June 12-18. Live interviewers called land lines and cell phones. The survey includes 698 Republicans with a margin of error of +/- 3.7 percent.
Other recent polls:
An Associated Press poll released today shows Obama winning by 3 percent nationally. Rasmussen Tracking has Romney winning by 4 percent. Gallup has Romney up by 2, Bloomberg has Obama up by 13. Real Clear Politics's composite polling has Obama up by 2.1 percent nationally, with Obama ahead in Ohio by 1.8 percent, in Florida by 1.8 percent, and in Virginia by 3 percent.