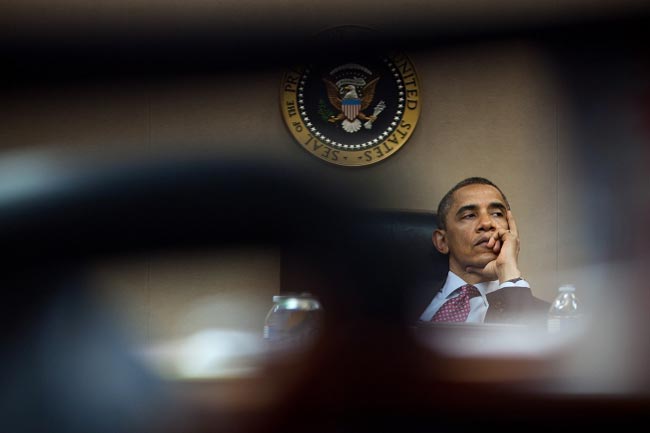 Two days ago President Obama was caught talking candidly to outgoing Russian president Dimitri Medvedev, unaware that a microphone was on. "This is my last election. After my election I have more flexibility," Obama told the Russian president, sounding confident that he would win the election in November.
The latest poll numbers in three swing states, including Florida, vindicate Obama's confidence.
According to Quinnipiac University polls released today, Obama tops Mitt Romney in Florida by a comfortable 49-42 margin. He also beats Santorum by 50-37 percent. In Ohio, Obama beats Romney 47-41, and Santorum 47-40. The race is closer in Pennsylvania, where Obama beats Romney 45-42, which remains within the margin of error, but Obama beats Santorum in Santorum's home state, 48-41, further suggesting that a Santorum nomination would signal almost certain defeat for Republicans in November.
"President Barack Obama is on a roll in the key swing states. If the election were today, he would carry at least two states. And if history repeats itself, that means he would be re- elected," said Peter Brown, assistant director of the Quinnipiac University Polling Institute. "But the election is not today. It is seven months away. Two months ago President Obama and Gov. Mitt Romney were in a statistical tie in Ohio and Florida," Brown added.
He continued: "The biggest reason for the president's improving prospects probably is the economy. Roughly six in 10 voters in all three states think the economy is recovering. Moreover, voters blame the oil companies and oil-producing countries for the rise in gasoline prices and only about one in six voters blame them on President Obama. Although the lead Romney had over Obama in trial matchups late last year has disappeared, he remains the stronger of the two major GOP contenders. Voters in Pennsylvania still see Romney as better able than the president to fix the economy and both Romney and Obama are stronger than Sen. Rick Santorum on that measure in each state.
Obama's numbers in Florida have see-sawed. In January, Obama and Romney were tied, 45-45, in a head-to-head contest in Florida. Weeks earlier Romney had actually led Obama, 46 to 43. The primary battle between the Republican contenders has bloodied them in voters' eyes, downgrading their electability to Obama's advantage. But those advantages tend to vanish once a party picks its nominee and the two contenders engage in the head-to-head battle in earnest.
Obama's overall job approval has improved somewhat in Florida, to 47 percent, with 49 percent disapproving. But 50 percent of respondents say Obama deserves to be reelected.
Voters describe candidate positions on these issues as important in their vote:
The economy – 90 percent "extremely important " or "very important;"
Unemployment – 81 percent;
The 2010 healthcare law – 78 percent;
The federal budget deficit – 76 percent;
The war in Afghanistan – 67 percent;
Gas prices – 66 percent;
Immigration – 55 percent;
Women's reproductive health issues – 48 percent;
Social issues such as abortion and gay marriage – 39 percent.
The economy is in a recession, 68 percent of voters say, but 57 percent say it is beginning to recover. Romney would do a better job on the economy, 48 percent of voters say, while 45 percent pick the president, but Obama tops Santorum 50 – 39 percent on this issue.
Oil companies are most to blame for gas prices, 32 percent of voters say, while 23 percent blame oil-producing countries most; 18 percent blame Obama and 16 percent blame supply and demand.
Florida voters oppose 54 – 36 percent releasing oil from the Strategic Petroleum Reserve to curb rising gas prices.
"Despite the focus on social issues such as same-sex marriage and women's reproductive health, these issues are lower priorities for the voters," Brown said.