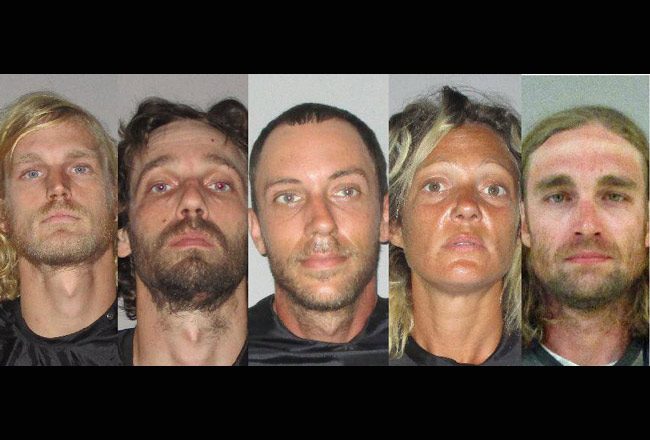 The house and some of the residents at 135 Oak Lane in Flagler Beach are well known to law enforcement. To neighbors, too: they've been the subject of drug busts and arrests before, including last April, when Timothy Paytas was arrested. Wayne Paytas Jr. has twice been sentenced to prison terms on drug charges. He finished his last one in November 2016.
Early Thursday morning, Wayne and Timothy were arrested again. So was Brandon Paytas. So was Nicholas Nock, So was Dierdre Tilelli, Timothy's girlfriend. All were arrested in a bust at the Oak Lane house carried out by the Flagler County Sheriff's Office and the Flagler Beach Police Department after 6:30 a.m.
It was the culmination of what the sheriff's office described as a two-month investigation by its Special Investigations Unit and Flagler Beach police after the residence was the focus of multiple complaints of heavy traffic and suspected drug activity at the house in the close-clustered residential neighborhood in the triangle between John Anderson Highway and State Road 100, just before the Flagler Beach Bridge.
Cops found numerous hypodermic needles and a metal spoon with white residue ("people who used illegal drugs intravenously," arrest reports in the case state, "will use a spoon with a small piece of cotton as a filter to collect the liquid form of their narcotics. They will then put the tip of the needle into the cotton and suck up the liquid form of the narcotics into the needle before use.") Also found were 26 Trinelix pills, a prescription anti-depressant and five Gabepentin, also known as Neurontin and used to treat epilepsy and nerve pain, among other uses. Prescriptions were not provided. Suboxone, a highly addictive narcotic, was also found in the house, as was hydromorphone.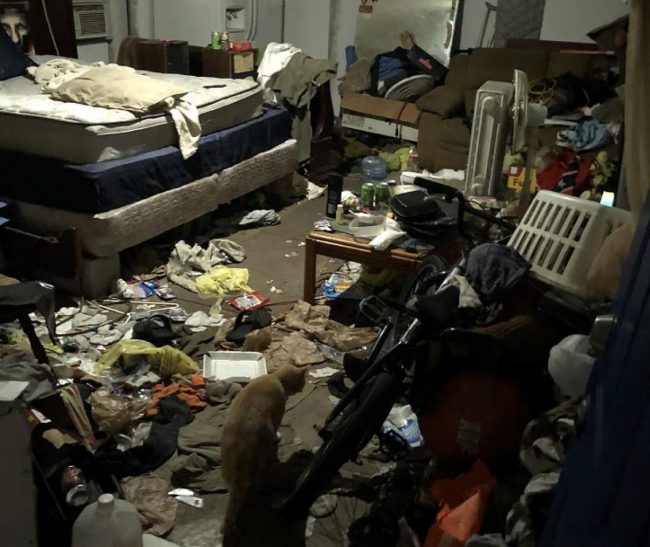 A yellow glass smoking pipe with burnt pot was found in a dresser drawer as were pot seeds. And additional drug paraphernalia was found in a golf bag.
The residence was littered with used hypodermic needles, according to a sheriff's office release. During the execution of the search warrant, signed by Circuit Judge Dennis Craig, Flagler Beach Code Enforcement had to respond to the scene due to the deplorable living conditions and possible safety hazards. Images of the interior released by the sheriff's office show indescribable filth. There were pets in the house as well. Their fate is not clear.
Here's how the charges shook out: Wayne Paytas Jr, 30, was charged with Possession of Drug Paraphernalia, Possession of a New or Legend Drug, and Possession of Cannabis. Brandon Kyler Paytas, 26, was charged with Possession of a Schedule V Controlled Substance, Possession of Drug Paraphernalia, and Possession of Cannabis. Timothy Ryan Paytas, 28, was charged with Possession of Drug Paraphernalia. Deidre Janeth Tilelli, 39, was charged with Possession of a New or Legend Drug and Possession of Drug Paraphernalia. Nicholas Nehemia Nock, 31, was charged with Possession of a Schedule II Controlled Substance and Possession of Drug Paraphernalia.
By Friday, Brandon and Timothy Paytas and Tilelli had all been released, all three of them on their own recognizance. Wayne Paytas was still being held on $1,500 bond, and Nock on $3,000 bond. Nock and Brandon Paytas face felonies, the others all face misdemeanors. But the investigation is ongoing and further charges may yet follow, the sheriff's office notes.
The house is supposed to be off limits until brought up to code. The problem had been going on for several years, with neighbors recalling two previous drug raids. "It looked like a McDonald's drive-through," is how one neighbor described the traffic activity at the house before Thursday's raid. "There were always fights breaking out, arguments" with neighbors, requiring the response of law enforcement, a neighbor recalls.
The Department of Children and Families removed a child from the house some years ago, after the second raid on the house, when Wayne Paytas ended up convicted for his second prison term. The child, now 11, was placed with a grandmother.