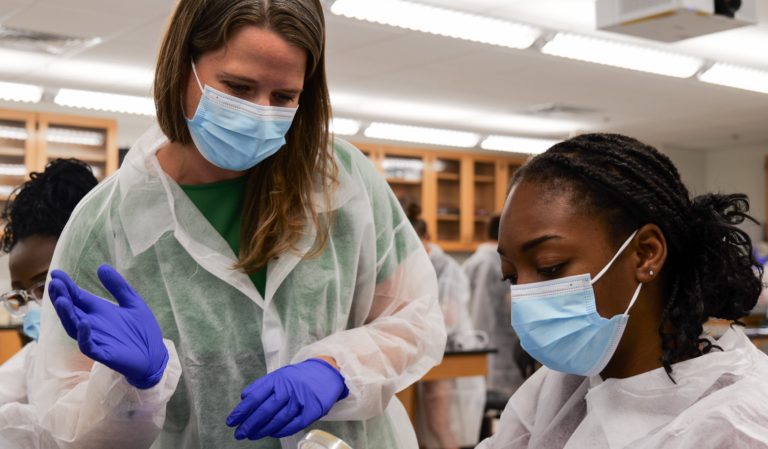 Assistant Biology Professor Jean Smith, PhD, has been awarded a $502,998 grant from the National Science Foundation. This is a new funding source for the NSF, and with only 62 grants awarded, Smith is the only grant recipient funded in the state of Florida.
Smith is a molecular biologist whose research focuses on the genetics and cell biology of fungal cell-cell fusion. A Florida native, she received her BS in Molecular and Cellular Biology from The Johns Hopkins University and her PhD in Molecular Biology from Princeton University, followed by a postdoctoral fellowship at the University of North Carolina at Chapel Hill.




"As an early-career faculty member at Stetson, I aim to teach rigorous, student-centered courses that give students a strong fundamental biology base for success in future endeavors, to advise students, so they can be successful at Stetson and identify their best future path, and to set up a vibrant research lab that will identify the mechanisms of cell fusion and introduce students to research," Smith said.
This is the largest single-investigator grant from NSF awarded to a pre-tenured faculty member at Stetson.
Vibrant Research Lab
The grant will help to create a robust research lab by funding the purchase of reagents and specialized equipment, such as a microscope to allow for genetic manipulation of yeast, as well as allowing time and energy to complete high-caliber research that uncovers the mechanisms of cell fusion. The work will be performed by Smith, along with undergraduates majoring in Biology or Molecular & Cellular Biology through course-based research experiences and year-long independent research opportunities.
Currently, undergraduate students in the Biology Department complete the data acquisition for their senior research projects during one semester in their senior year. However, molecular research can require a longer learning curve, so Smith often encourages students to begin research earlier as independent study courses.
As this may prove to be challenging for the student, and not provide the faculty member with the course support or funds needed, this grant will now provide a powerful solution, allowing four selected students to officially begin research in their junior year.




The students will develop their projects and begin collecting data in their junior spring semester, complete eight weeks of full-time paid research over the summer, and finish their projects in the fall. This model offers a unique full calendar year of research work and experience, and the grant will fully support both Smith and the students throughout the process.
The funds will also allow Smith to hire a laboratory technician to aid in the daily upkeep of the research space and projects that Natural Sciences faculty now do on their own. As many students who completed college during the COVID pandemic are also searching for more hands-on experiences, these funds will provide a Stetson graduate with a paid opportunity to further hone their skills as a lab tech before moving on to their chosen career.
In addition, Stetson students will gain extraordinary practice genetically manipulating yeast and performing cutting-edge microscopy techniques to aid in the understanding of cell fusion in yeast. While many people think of yeast only as an ingredient in bread, yeast cells have many of the same genes and proteins as human cells. This means that uncovering the mechanisms of fusion in yeast can provide insight into fusion processes in humans, such as those required for fertilization, muscle development and more.




Stetson President Christopher F. Roellke, PhD, commended Smith for her efforts to secure the grant.
"We are incredibly proud of this remarkable achievement by Dr. Smith," he said. "Stetson has made a strong commitment to our thriving Biology Department and this grant will open invaluable opportunities and experiences for our students, allowing them to become even more competitive as successful graduates."
Smith will commit two months of work on the project each summer over the course of three years. "While acquiring this grant will have a significant impact on my development as a teacher-scholar over the three years it is funded, it will also allow me to continue to improve and to develop a research lab that will excite students and help to build the next generation of scientists," she added.