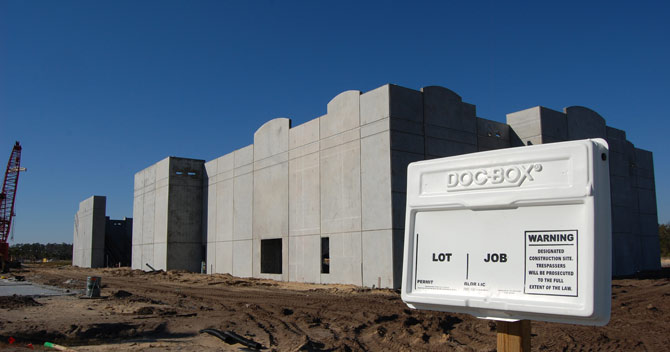 DeLand-based Epic Theatres broke ground on a 48,000-square-foot multiplex cinema in Palm Coast's Town Center on Sept. 9, 2009, seven months after securing building permits–and several months after Epic gauged the anemic economy's effects on 16-screen movie complexes the company opened in April and May in Cleremont and St. Augustine.
Either the economy isn't stopping moviegoers from forking over $10–the price Epic charges in St. Augustine–to get its Twilight and Avatar fix (numbers suggest it isn't) or Epic didn't want to run the risk of letting its building permits lapse in August 2010 without progress on its Palm Coast project–or worse, keep paying taxes–$62,525 in 2009–on its 18.5-acre property without generating a cent from it (Epic bought the tract in 2007 for $523,000. It was assessed at $1.97 million in 2009).
Soon after the Christmas lights went down in Town Center, the frame of Epic's cineplex went up.
The Incredible Hulk
Joggers, drivers and dog-walkers through Town Center can now see the hulking prefabricated walls of Epic's future 2,500-seat venue rimming rooflessly around the foot-thick foundations, each pane almost big enough to accommodate a movie screen. There'll be 14 of those when it's all done, with stadium seating, rocking seats facing wall-to-wall, curved screens, and the obligatory mega-cup-holding armrests to accommodate prefab loads from the theater's gourmet eateries. Remember: movie theaters make their money from those concessions, not ticket sales; they want you all comfy as you consume their empty calories.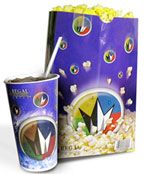 (Here's a quick Debbie Downer flash for you: A medium-sized popcorn and medium soda at Regal Theaters, the nation's largest movie chain, pack the equivalent of three Quarter Pounders garnished with 12 pats of butter, or 1,600 calories and three days' worth of saturated fat, thanks to coconut oil, according to the Center for Science in the Public Interest. Bonus downer: Eating an 8-ounce bag of Reese's Pieces is like eating a 16-ounce T-bone steak and a buttered baked potato. Can we expect Epic Theatres to be more nutritionally conscious?)
The movieplex is scheduled to open in fall 2010, slightly past the summer's high season. Russell Crowe's "Robin Hood" and "Sex and the City 2" are slated for release in May, "Toy Story 3" and "Twilight: Eclipse" for June.
Can Palm Coast Support a Cineplex?
Looking more locally, the question will be whether Palm Coast can, after years of trying, sustain a movie theater, let alone a 14-sceen screamer, even though Flagler County has been without a theater since 2007.
Palm Coast Showcase Cinema III in St. Joe's Plaza on Palm Coast Parkway closed in December 1998. Kenneth Pierce and his wife Eunice then bought the small, three-screen theater, decorated it with Pierce's collection of lunch boxes and toys, and reopened it as Picture Show III, maintaining a relatively loyal, small customer base for a few years. But by February 2007, the Pierces were ready to retire, their box office take too small to compel them otherwise. The movie-viewing public may by then have become too accustomed to large screens and La-Z-Boy seating.
The movie-going business, at any rate, is thriving, recession or no recession. Ticket revenue in North America crossed the $10 billion threshold for the first time, with nine days to go in the year. Hollywood.com estimates that sales will be up 9 percent over 2008 and that attendance will rise 5 percent. But when adjusted for inflation, the record year remains 2002 (with sales of $11.21 billion), and total sales in 2001, 2003 and 2004 exceed those of 2009. Figures suggest, however, that the DVD-Tivo-Blu-ray-Netflix-Facebook revolution has yet to dim the attraction of seeing movies in big theaters on immense screens and, yes, in the company of hundreds of strangers.
Cineplex Boom
U.S. Movie Screens, 1995-2009
| | |
| --- | --- |
| 2009* | 38,990 |
| 2008 | 38,834 |
| 2007 | 38,794 |
| 2006 | 38,426 |
| 2005 | 37,740 |
| 2004 | 36,652 |
| 2003 | 35,995 |
| 2002 | 35,836 |
| 2001 | 35,173 |
| 2000 | 36,280 |
| 1999 | 37,131 |
| 1998 | 34,168 |
| 1997 | 31,865 |
| 1996 | 29,731 |
| 1995 | 27,843 |
*Figures for 2009 are through March. Source: National Association of Theatre Owners
Cineplex developers are obviously taking notice. In mid-December 2009, Hollywood Theaters ' 14-screen cineplex in The Pavilion at Port Orange became the first movie theater to open in Volusia or Flagler counties since 2002. (First show: "Avatar," on four screens, in 3D. The theater's grand opening is slated for March 2010.) Epic itself isn't slowing down. It's opening 26 more screens over the next two years in DeLand (at International Speedway Boulevard and Spring Garden Avenue) and Deltona (at Interstate 4 and State Road 72). Cobb Theaters is planning a cineplex at Daytona Live!, the entertainment and retail cash-trap across from Daytona International Speedway. It's a national trend: there were 39,000 movie screens in the country as of March 2009, according to the National Association of Theatre Owners, up 11 percent over 2001, yet overall attendance since 2001 is flat despite the good showing of 2009.
So it's a fair question–when a recent showing of the "New Moon" sequel to "Twilight" drew just one pair of eyeballs on a Sunday afternoon at Regal's theater in Ormond Beach–whether Flagler and Volusia counties can support that many new screens, all of them offering more or less the same 12-pats-of-butter equivalent in comfort and amenities.
Even empty and skeletal, and despite the artless facades of prefab concrete, the emerging cineplex in Palm Coast's Town Center is beautiful, being a projection of imagination or vice versa. It will be a hub of activity and thrills–if Palm Coast and the county manage to support it. It was clever to situate it within hookie distance of Palm Coast High School. But the combined student bodies of Palm Coast High School and Matanzas High School a few miles away wouldn't be able to fill the theater's 2,500 seats, and it's not as if the next-two biggest concentrations of human souls (at the hospital and the assisted living facility) are much into dating and DiCaprio. It'll take some habit-changing and clever marketing, and a good many good movies, to ensure that Epic's Palm Coast theaters grab their share of the cineplex saturation, and keep it, if Epic intends its beautiful structure from reverting back to an empty hulk robbed of all imagination.