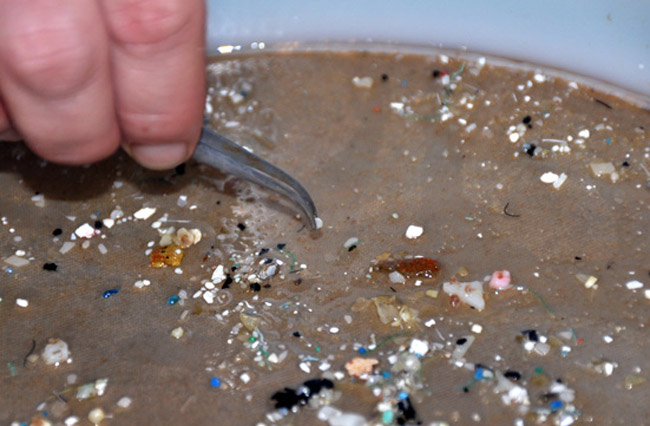 With Daylight Savings Time resuming tomorrow morning, and warmer weather right around the corner, thoughts turn to getting outside more to enjoy the natural beauty of northeast Florida. Flagler County's beaches draw locals and visitors like hummingbirds to flowers.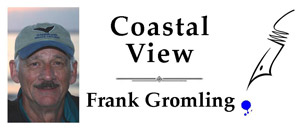 Sportsmen in search of fresh fish take their boats onto the Intracoastal Waterway, and some travel out Matanzas Inlet to the ocean for the man-made reefs offshore.
No matter the destination or purpose, anyone connected with the ocean needs to know that a huge garbage mass, the North Atlantic Garbage Patch, exists in the Atlantic Ocean over an area between 22 and 38 degrees north latitude—roughly equivalent to the length between Cuba and Maryland, and east to the Azores Islands. It corresponds closely with the ocean's currents (North Atlantic Gyre) and encompasses most of the famed Sargasso Sea, an important area for ocean species traveling between continents.
Sadly, this floating garbage dump consists mostly of plastic items and, even more sadly, humans put them there. The Atlantic Ocean, like most oceans, is thought to be able to "digest" just about anything it encounters, but there's one thing it can't handle well – manmade plastic products from the modern world's throw-away society. About 80 percent of the plastic in the oceans is from land-based activities (landfills, rivers, floodwaters, industrial outfalls, storm water drains, untreated municipal sewage, beach litter) and the balance from marine-based activities (fishing, shipping, tourism, offshore mining-extraction, illegal dumping, derelict gear).
Surprisingly, the plastic pieces in the Atlantic are generally very small, no larger than the size of a pencil eraser. Scientists learned that, while plastic is not biodegradable, it is photodegradable. Floating at the ocean surface, plastic begins to decompose much quicker than originally thought, creating a virtual soup of tiny pieces to be swallowed by birds, fish, and marine mammals.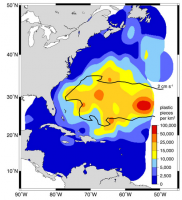 One major complication in this whole dilemma is that plastic contains a host of toxic chemicals known as carcinogens (cancer-causing), plus plastic absorbs other organic pollutants in the water (DDT, PCBs) which can affect animal hormones. This leads to the question about the potential effect on fish-eating humans.
What can be done about this mess? Can it be cleaned up? Realistically, probably not. U.S. and European governments say it is impossible to clean up some two million square miles of ocean. So what can be done? The focus today is on preventing plastic from entering the ocean ecosystem. Educating consumers to be more responsible is the message put forth by governments and conservation organizations worldwide.
As a practical matter, plastics are an integral part of American society today. In fact, the plastics industry makes some seemingly credible claims on its website about what would happen if plastic products did not exist. It seems to me that the answer, therefore, has two parts:
• change our lives in simple and effective ways to limit the amount of plastic required by today's on-the-go society; and,
• take proper action to dispose of plastic and similar products.
Here are some things we all can do to keep plastics and other litter out of the oceans:
• Volunteer for beach, river, highway cleanup efforts.
• Put trash in a secure, lidded receptacle.
• Properly recycle everything you can.
• When boating, bring your trash back; ask your marina to handle waste properly.
• Don't buy stuff you don't need; choose items that use less packaging.
• Inform/inspire friends and co-workers to help stop marine debris.
• Bring your own containers instead of using disposable bags.
• Re-use bags whenever you shop.
• Drink from a re-usable bottle; stop buying bottled water, etc.
• Put cigarette butts in ashtrays, not on streets, sidewalks, or beaches.
• Repair products rather than replacing them.
• Write to companies/visit local businesses to encourage them to reuse, recycle, and generate less packaging.
• Tell Congress what you think should be done about ocean pollution.
The brief video at the foot of the article, by 5Gyres.org, highlights many of the points we've shared here.
Have a great week. Talk with you next Saturday.

Frank Gromling is the owner of Ocean Publishing in Flagler Beach. Reach him by email here.