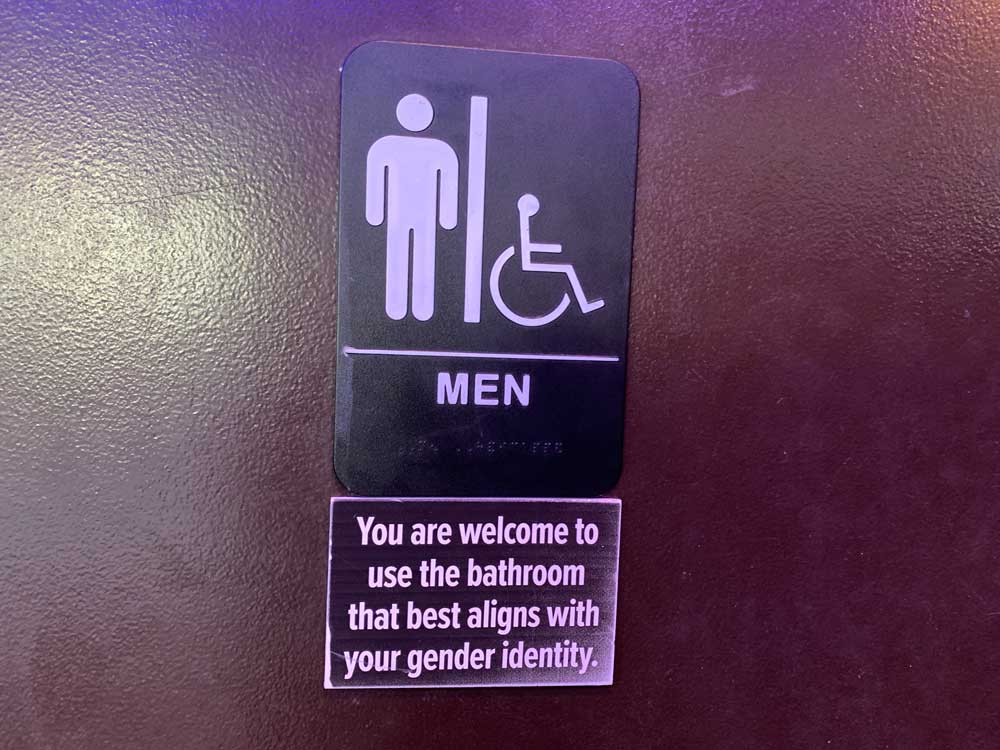 A group of transgender and nonbinary people on Friday filed a federal lawsuit challenging a new Florida law requiring people to use public restrooms that align with their sex assigned at birth, asking a judge to block enforcement before an upcoming march in Orlando.
The lawsuit, filed in the federal Middle District of Florida, alleged that the restroom restrictions are discriminatory and violate free-speech rights.




The case is the latest in a series of challenges to laws and rules approved by Gov. Ron DeSantis' administration and the Legislature targeting trans people and the LGBTQ community.
Friday's challenge centers on a law (HB 1521), passed this spring, that applies to the use of restrooms and changing facilities at schools and "public buildings," such as airports, state and local-government buildings, prisons and jails. People who use restrooms or changing facilities that differ from their sex assigned at birth and refuse to leave when asked to do so could be charged with criminal trespass.
"This view of sex and gender causes irreparable harm for transgender, gender nonconforming and certain intersex people (TGNCI people) because this community's identities may differ from their sex assigned at birth. When TGNCI people walk, talk, dress or use an affirming restroom, they communicate their gender identity in a way that society can understand," the plaintiffs' lawyers wrote.
The law "would ban this conduct and perspective and force TGNCI people to adopt the state's view of sex and gender instead," they argued.




According to the lawsuit, an estimated 1,000 people are expected Oct. 7 to attend the National March to Protect Trans Youth in downtown Orlando.
"Plaintiffs have sincere concerns about their ability to exercise their protest and expressive conduct rights as they traverse the state of Florida from Oct. 2, 2023, through October 8, 2023. Some Plaintiffs plan to use a restroom that aligns with their gender, which exposes them to arrest. Others wish to avoid that risk and plan to use non-affirming restrooms. Some will forgo multi-stall public restrooms altogether due to fear and discomfort," said the lawsuit, which names numerous law-enforcement officials in the Orlando area as defendants.
Other defendants include Florida Department of Transportation Secretary Jared Perdue; Thomas Draper, chief of operations for the Greater Orlando Aviation Authority, which oversees Orlando International Airport; and Alex Martins, chairman of the University of Central Florida Board of Trustees. March organizers plan to spend several hours on the university's campus.
The lawsuit seeks to protect participants in the march and other trans and nonbinary people, said Zee Scout, an attorney with the Center for Constitutional Rights who represents the plaintiffs.
"It is farcical to believe that any trans, nonconforming, intersex person or queer person would feel safe right now, not only in the city of Orlando, but throughout the state of Florida, due to this law," Scout said Friday during a news conference announcing the lawsuit.




Along with the bathroom restrictions, the Republican-controlled Legislature this year approved a measure that prohibits doctors from prescribing puberty blockers or hormone therapy for minors and imposes new restrictions on medical care for transgender adults. A federal judge blocked portions of the law, but the state is appealing. A separate "drag-show" ban passed this year and signed by DeSantis bars venues from admitting children to what are called "adult live performances." The state also is appealing a federal judge's ruling that blocked the law from being enforced.
The laws "are part of a three-year push by Florida legislators and elected officials to remove TGNCI (transgender, gender nonconforming and certain intersex) perspectives and TGNCI people from civil society," the lawsuit, filed by attorneys with the Southern Legal Counsel and the Center for Constitutional Rights, said.
The lawsuit pointed to "public statements" from lawmakers and other officials and argued the comments "irrefutably demonstrate" the bathroom restrictions were "designed to target and demean the existence of TGNCI people and exclude them from accessing sex segregated facilities in accordance with their gender."
The legal challenge also alleged that the law "impermissibly burdens" plaintiffs' rights to engage in speech.
"When TGNCI people use an affirming restroom or facility, they engage in symbolic speech because they communicate to the world and all who perceive them that they are their chosen gender, even if that gender differs from their sex assigned at birth," the plaintiffs' lawyers argued.




Florida is among numerous GOP-led states that have targeted transgender people and the LGBTQ community. DeSantis, who is running for president, frequently elevates the issue and has framed the laws as aimed at protecting children and women.
But Christynne Wood, a 67-year-old trans woman who is a plaintiff, called the restroom restrictions "fascist and absurd."
"You have nothing to fear from me being in the proper restroom. You have nothing to fear from me standing next to me in a public gallery. And how dare the state of Florida tell me that I can't use the proper restroom because I was born with a certain medical condition," she said during Friday's news conference.
–Dara Kam, News Service of Florida