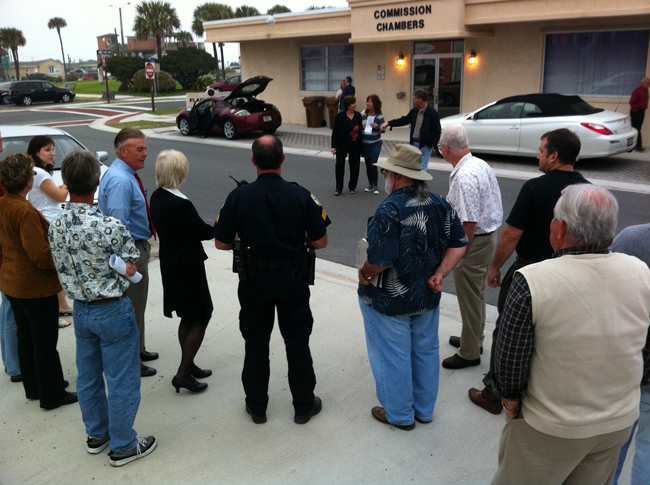 It's not entirely clear what the exercise achieved. The short of it is this: the noise ordinance in Flagler Beach is not about to change, and music-rich restaurants and residents are kindly asked to work together toward a solution that would preclude legal changes.
As always with the Flagler Beach City Commission, there's the long of it, too, and it is this: For about half an hour Thursday afternoon, commissioners trooped out of their chamber –twice—and stood across the street as City Clerk Penny Overstreet blasted Kid Rock from her car stereo and a city cop measured the noise level on his Quest Technologies decibel meter. It read 73.6, and stayed in the low 70s when the cop moved a block down the avenue. It fell to 67 when he took a reading a block north of the blasting. The music may not have had much to do with it: even with the music off, the meter read in the same range.
"Ambient noise," the officer explained. He was surrounded by commissioners and others attending the meeting. By city ordinance, noise levels may not exceed 70 in touristy and commercial zones.
Commissioners then trooped back into their chamber and resumed their workshop. They're trying to figure out how to handle complaints from residents about music at local restaurants, one restaurant in particular: Hurricane Patty's, on the east side of the Intracoastal, which opened last December and features musical acts almost every evening.
Noise levels emanating from Hurricane Patty's have never been measured in excess of city regulations. That hasn't stopped the complaints. There hasn't been many. But there's been enough to catch the ear of commissioners and to hold an inconclusive town hall meeting on the matter last month. The workshop was to give commissioners a better understanding of what differing decibels really sound like, and whether changing the city's noise ordinance was in order.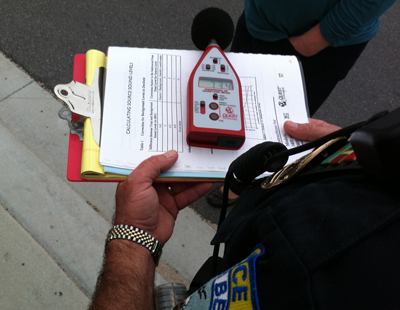 They discovered that decibel levels are not necessarily the issue. Bass levels are. "You can be within the reading but still annoy people, you know what I'm saying?" Commission Chairman John Feind said. "If we could turn the bass down a little bit then I think everybody would be a whole lot happier." No ordinance—and no decibel meter—singles out bass levels. But people feel that bass in their guts, "on the inside," Commissioner Ron Vath said. When they complain about noise, it's often bass sounds they're complaining about.
They also heard from Jason Davis, the entertainment director at Hurricane Patty's, who told commissioner he's in the habit of trudging around the restaurant, even going through people's backyards, a decibel meter in hand, to measure sound levels on music evenings. Last Saturday he had a band there. His decibel meter registered 62 when he was in walking all around the block. He lowered the sound anyway. Then cops showed up. The decibel meter was then reading 54. "We have a business to run. If you give us the law, we will follow it," Davis said. Meanwhile, he said, the restaurant was doing what it could, without compromising the quality of the music inside the establishment, to work with the neighbors "to make peace."
With that in mind, Commissioners decided to do nothing for now. They'll take a record of every complaint that comes in. They'll analyze the complaints and measure them against the restaurant's verified noise levels. They'll enforce the 10 o'clock cut-off of music allowed at 70 decibels (it must fall below 60 after 10 p.m.). And they'll consider tweaks to the ordinance, including possibly looking at changing the 60-decibel limit at 10 p.m. But not until weeks or months from now, if necessary.
Since the workshop was about the noise ordinance, the commissioners also heard from Flagler Beach residents  who have no complaints about restaurants—but plenty of complaints about intolerable, indifferent, incorrigibly yappy dogs. You know the sort. Many neighborhoods have them. They start barking. They don't stop. Cops or code enforcement shows up. The yapping stops for a while. Then it starts up again, if not the same day, then the following day. And it goes on. And on. And on. Janet Powell, a resident on South Daytona Ave., has had enough. She's hard of hearing, and she lives two doors down from the offending dogs—four of them—yet she hears them to the point of being unable to move a chair on her patio without triggering their yappy onslaught. Another neighbor said she had tapes of the dogs yapping for nine hours straight.
Powell asked commissioners for solutions. They suggested dog muzzles. Or calling code enforcement and the police. Powell has called. The problem continues. Commissioners were out of suggestions.