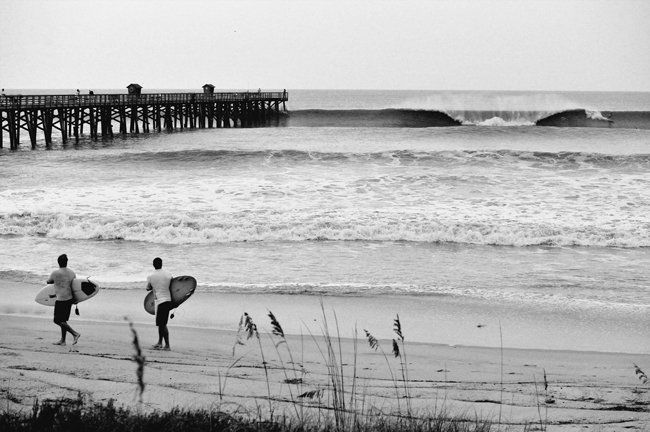 As Tom Gillin describes it, the problem has been around as long as fishing and surfing have been around, if not almost as long as recorded history (there's evidence of surfing as far back as 3000 years ago): where there are jetties and piers, there are surfers, because jetties and piers amplify the quality of surfing. And where there are jetties and piers, there are fishermen, because the same conditions that make for good surfing create eddies that make for good fishing. But fishermen and surfers are the yin yang of beaches: polar opposites connected by the barnacle-rich array of pylons.
And in Flagler Beach, they're at it again.
Fishermen on the Flagler Beach Pier are complaining that surfers are breaking the 150-foot no-surfing zone, preventing them from casting their lines or getting entangled in them. Surfers are saying that the problem, if there is one, is being blown out of proportion.
And Gillin, Flagler Beach's director of parks and recreation, is in the middle of it all, trying to find a compromise before Thursday's meeting before the Flagler Beach City Commission, which promises to bring out fishermen and surfers in force. He's been talking to both sides and seizing on objective representatives from each in hopes of seeing cooler heads prevail.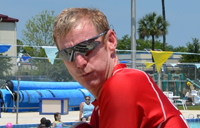 That may be difficult, considering the proposal before the city commission: extend the no-surf zone to 300 feet. Gillin said he spoke with beach officials in Volusia and St. Johns counties, where similar problems have been similarly intractable. But in Volusia at one pier, the limit was extended to 300 feet, though enforcement there is not an issue: the Volusia County Beach Patrol is on duty year-round, and can go out on jet skis if necessary. "We don't have the luxury of being able to do that here," Gillin says.
Surfers, naturally, are incensed about the 300-foot proposal. Fishermen are for it. And for now, the city administration is behind it, because other measures have failed. A few years ago lines of buoys were stretched to demarcate the 150-foot barrier. They were cut. Steel cables were stretched. They were cut. And the tides played havoc with them anyway. Which leaves the invisible 300-foot marker as the latest proposal.
"It's a public safety thing," says Bruce Campbell, Flagler Beach's city manager: surfers getting close to the pier can get hurt against its pylons, by getting caught up in lines and hooks. But a 150-foot limit is already in place to ward off against that. Why would doubling the buffer make a difference? Because, Campbell said, the thinking is that a 150-foot buffer may not be as clear, as cheating will always take place. Cheating will take place with a 300-foot buffer too, he says, but surfers might then encroach down to the 200-foot limit and still leave a wide berth for fishermen.
Surfers don't buy it.
"I don't think the problem is that big of an issue," says Dennis Bayer, the Flagler Beach attorney and an avid surfer. "There's just not that many days that the surf is that good—if you look at it today, there's nobody in the water." Most people comply with the 150-foot limit anyway, he says, but a few people on either side get ill-tempered every few years and revive the issue—or out-of-town surfers who have no investment in a long-term relationship with good local manners break the 150-foot barrier and cause problems.
Bayer says the matter comes up every few years. He was involved in pushing back against a proposal in Flagler Beach as far back as 1998 to extend the no-surf zone to 225 feet back then. The commission backed down. "Surfers who habitually offend the 150-feet zone will habitually offend the 225-feet zone," Bayer said, making the point then that he's making now: it's an enforcement matter. When lifeguards are present, they can alert surfers when they get too close to the pier. But lifeguards disappear after Labor Day. Which leaves it up to police.
From February to October this year, police were called 40 times to deal with surfers breaking the 150-foot barrier. At least that's the documented number. They likely dealt with the matter more often. They issued eight citations between April and October. Citations are $35 for a first offense, and $50 for a second offense.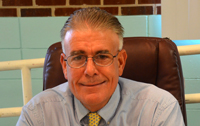 This year has been particularly rife with conflicts because the surfing has been very good and the fishing has been very good. Late summer and early fall's severe storms off the coast of Florida swelled up the surf. That, in turn, intensified the piling of sandbars that takes place around the pier, creating excellent swells and, in turn, the sort of eddies where fish like to hang-out, making conditions ideal for surfers and fishermen. "There's always a couple of guys who think they have to get closer to the pier to get the wave, because depending on the swell direction sometimes the best waves are right by the pier," Bayer said.
Commissioners, Gillin said, will be looking for a compromise. "I think they just want solutions, what's happening at other places, what works at other piers, what would be a compromise that would be acceptable to the surfers, what would be a compromise that would be acceptable to the fishermen." But they've been down that road—or wave—before, only to retreat from more stringent regulations. Surfers will tell them that the 150-foot barrier is the compromise. Fishermen will say that it's not enough. Surfers will claim fishermen already virtually have the pier to themselves but for a few exceptions that can be taken care of with better enforcement. Fishermen will say they're paying money to get on the pier to fish, and their rights are being encroached.
And so on.
A.J. Neste, the Flagler Beach photographer, is a fisherman and a surfer. He sees both sides. Fishermen don't want to hook surfers. But surfers, he said, "are not surfing there to aggravate the fishermen. They're there to catch the waves."