Anthony Capitola, 30, of Pine Haven Dr. in Palm Coast is in the Flagler County jail on $47,500 bond and four charges, including assaulting a law enforcement officer, following a foot-chase and a scuffle with a sheriff's deputy around Privacy and Princeton lanes in Palm Coast Monday evening.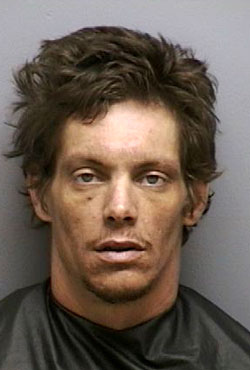 A Flagler County Sheriff's deputy was patrolling in the P-section around 9:30 p.m. when he stopped a vehicle at Pinetree and Pinelynn drives after the vehicle didn't completely stop at a stop sign earlier. Capitola, who was driving by himself, told the deputy that he had a hardship license allowing him to drive to the store, from where he was just returning, after dropping off a friend.
The deputy—Daniel Weaver—asked Capitola to get out of his vehicle, put his hands on the trunk and comply with a pat-down. Capitola refused. Weaver ordered him to put his hands behind his back to be arrested over the driver's license violation. Capitola's response: "That's not going to happen." He tried to run off. The deputy grabbed him by the shirt. Capitola allegedly turned around and allegedly tried to punch the deputy in the face. Instead, Capitola's right forearm struck the lower left side of the deputy's face, according to the deputy's report. The two wrestled, the deputy muscled Capitola to the ground, Capitola allegedly shoved the deputy by the chest, got up and began running.
Weaver's attempt to fire a Taser dart into Capitola's back failed. The two ran through the neighborhood until the deputy caught up with Capitola behind a residence, but even when the deputy took out his firearm and ordered Capitola to the ground several times, Capitola ran off. Catching up with him again, the deputy faced Capitola with his fist raised, ready to fight. The deputy took his nightstick to Capitola's legs, hitting them five or six times until the nightstick fell out of the deputy's hand, when Capitola tried to run off again.
Weaver took out his Taser again and plunked a charge into Capitola's lower back. "Ok, ok, that's enough," Capitola pleaded, but, according to the deputy's report, still would not comply with the order to place his hands behind his back. The deputy fired another charge, at which point Capitola complied.
There was no mention of shots fired in the deputy's report. A transcript of dispatchers' exchanges indicates that at one point there had been a report of shots fired.
Capitola, who'd been booked into the jail on May 5 on a charge of violating his driver's license restriction and a charge of possessing drug paraphernalia, had listed a Satellite Beach, Fla., address, that time. On Monday, his address was listed as 40 Pine Haven Drive in Palm Coast. He faces four charges: assault on a law enforcement officer, resisting arrest with violence, violating his driver's license restrictions, and attempting to escape.