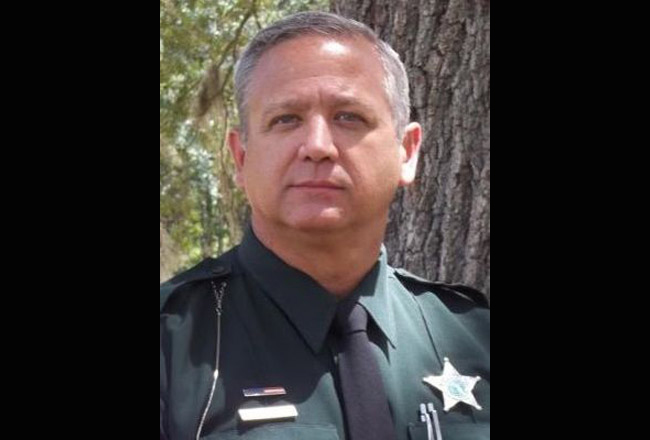 A North Florida jury on Thursday acquitted suspended Liberty County Sheriff Nick Finch of official misconduct and falsifying public records in a case that roiled gun-rights supporters and reached Gov. Rick Scott's office.
Scott, who has been under fire from Second Amendment backers since he suspended Finch on June 4, quickly reinstated the sheriff Thursday afternoon.
The criminal charges and suspension came after a Florida Department of Law Enforcement investigation concluded that the sheriff released a local man, Floyd Eugene Parrish, who had been arrested for carrying a concealed weapon, and that Finch destroyed or altered records of the arrest.
But a jury in the rural community west of Tallahassee reached a verdict within 90 minutes to acquit Finch, 51, who was engulfed with hugs and handshakes from family members and supporters who crowded the courtroom. .
The case drew widespread attention because of Finch's claim that he was defending the right to bear arms when he came to the jail on March 8 to order Parrish's release.
"It was his belief in the Second Amendment that prompted Sheriff Finch to release Mr. Parrish," said defense attorney Jimmy Judkins in closing arguments. "It's a way of life over here for people to own guns."
But Assistant State Attorney Jack Campbell argued that Finch was "a politician" who owed Parrish's family a favor for helping to elect him. Finch was elected in November 2012 in a close race, narrowly defeating the incumbent.
"The Parrish brothers — their support in the campaign led to a get-out-of-jail-free card," Campbell said.
Campbell said Finch requested the paperwork on Parrish's arrest when he visited the jail to release him and that the documents subsequently disappeared.
"He's using the Constitution to cover up his criminality," Campbell said.
Judkins told the jury the state hadn't proved what happened to the documents beyond a reasonable doubt.
Campbell said Finch could have ordered Parrish's release by phone, but instead came to the jail to take the paperwork with him.
"What he wanted to do that night, he couldn't do on the phone," Campbell said. "We have a sheriff who was trying to hide the truth."
According to an FDLE affidavit, a Liberty County deputy arrested Parrish during a traffic stop for the felony charge of carrying a concealed deadly weapon — a loaded semi-automatic pistol that was found hidden in his right-front pants pocket.
The case came to FDLE's attention through the deputy, who kept copies of the paperwork until he found a fire-rescue job in Jackson County and resigned from the sheriff's office.
Judkins argued that Finch "didn't have any relationship" with Parrish. He said Finch was trying to avoid "creating felons out of people who are minding their own business and not being a threat to society."
"(Finch) made a policy decision that he's not going to charge people with gun violations because of the distinct possibility that every now and then, one of y'all's going to make a mistake," Judkins said. "And he doesn't want to create a convicted felon out of an innocent citizen."
But State Attorney Willie Meggs, who was in the courtroom while Campbell prosecuted the case, stood behind the charges.
"We thought we established a case," Meggs said. "The verdict should have been guilty on both counts."
–Margie Menzel, News Service of Florida