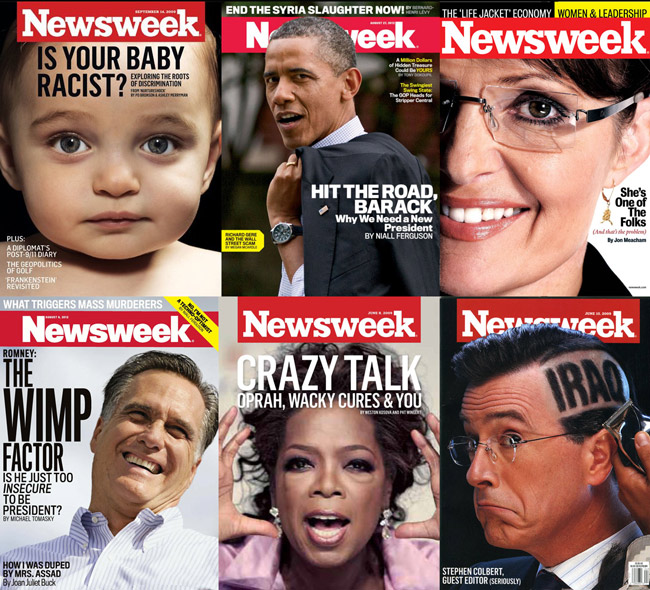 A little less than two years ago–in January 2011–Palm Coast Data announced a rare bit of great news: Newsweek had signed on with the company to take care of its subscription fulfillment. It was a major victory for the struggling company, once Palm Coast's largest private employer, whose revenue has fallen by more than half in the last four years, mainly because it has been hemorrhaging business as magazines have either lost circulation or ended their print runs altogether. Many have moved to web-only editions. Many have gone out of business.
Newsweek, the second-largest newsweekly in the United States (after Time) brought what was left of its subscribers (1.5 million, down from 3.2 million in 2001) to Palm Coast Data. "We look forward to providing Newsweek the very best in e-commerce innovation, traditional fulfillment services and, of course, value as we prepare for a long-standing relationship," said Palm Coast Data's Mike Taschler, the company's executive vice president at the time. Taschler stepped down nine months later. And the relationship with Newsweek lasted all of two years.
In 2010, Tina Brown, who founded the Daily Beast website, and Sidney Harman, the auto magnate, acquired Newsweek from the Washington Post for $1. Brown merged it with the Daily Beast.
Today, Brown announced that the Dec. 31 issue will mark Newsweek's last print edition, after 79 years in print.
"It cost $42 million a year to print, manufacture, distribute, manage the circulation of Newsweek, before you've even hired one writer, or one intern," Brown said in a conversation on Beast TV (see the video below). A chunk of that $42 million went to Palm Coast Data to manage the circulation. "That's an enormous albatross. It's the truth. And we felt that the more important choice was to protect the journalism, to protect the content, to protect the photography, the ideas, the marketplace of ideas. That's really where we wanted our focus to go, as opposed to the constant battle with the bricks and mortar aspect of that business."
Earlier this month the the Pew Research Center's latest study on news consumption found that "the proportion of Americans who read news on a printed page – in newspapers and magazines – continues to decline, even as online readership has offset some of these losses. Just 23 percent say they read a print newspaper yesterday, down only slightly since 2010 (26 percent), but off by about half since 2000 (47 percent). The decline of print on paper spans beyond just newspapers. The proportion reading a magazine in print yesterday has declined over the same period (26 percent in 2000, 18 percent today)."
Circulation of local newspapers has suffered, declining more than 20 percent since the middle of the last decade, and forcing close to 200 newspapers to end free access to their websites and put up so-called pay walls that require readers to have paid subscriptions, or face blank screens. The Daytona Beach News-Journal just adopted such a pay wall, mostly to preserve its base of print subscribers.
Employment at Palm Coast data peaked in 2008 at just over 1,000. The company has refused to disclose its employment numbers since. It has gone through several rounds of layoffs, and has been working on adapting new business models, including in digital media. The end of Newsweek's print edition doesn't necessarily mean the end of its relationship with Palm Coast Data, since the 2011 agreement included, according to the company, " front-end processing, email and telephone customer service, Internet services, mailing services and detailed reporting." The internet services were not specified, but given the Daily Beast's broadening emphasis on the web, those opportunities, while significantly scaled back from the benefits of a print edition, would be Palm Coast Data's.
So Brown's statement today is double-edged for Palm Coast Data: "It is important that we underscore what this digital transition means and, as importantly, what it does not. We are transitioning Newsweek, not saying goodbye to it. We remain committed to Newsweek and to the journalism that it represents. This decision is not about the quality of the brand or the journalism—that is as powerful as ever. It is about the challenging economics of print publishing and distribution.