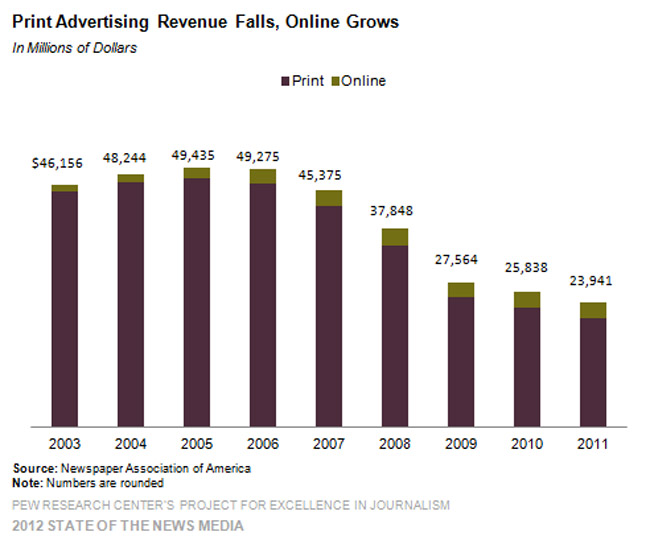 The good news: more people want news in whatever format they can get it, but increasingly chase after it through electronic and especially portable devices such as iphones and ipads. The bad news: there's less money to pay for the gathering of news as news organizations see their revenue continue to decline. From the Pew Research Center's State of the News Media 2012 report: "New research released in this report finds that mobile devices are adding to people's news consumption, strengthening the lure of traditional news brands and providing a boost to long-form journalism. Eight in ten who get news on smartphones or tablets, for instance, get news on conventional computers as well. People are taking advantage, in other words, of having easier access to news throughout the day – in their pocket, on their desks and in their laps. […]
The problems of newspapers also became more acute in 2011. Even as online audiences grew, print circulation continued to decline. Even more critically, so did ad revenues. In 2011, losses in print advertising dollars outpaced gains in digital revenue by a factor of roughly 10 to 1, a ratio even worse than in 2010. When circulation and advertising revenue are combined, the newspaper industry has shrunk 43% since 2000.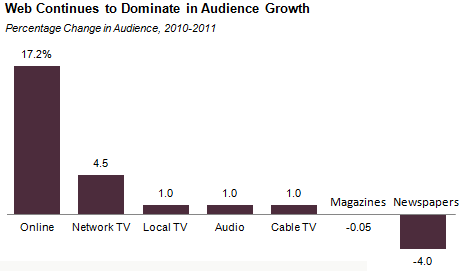 "The civic implications of the decline in newspapers are also becoming clearer. More evidence emerged that newspapers (whether accessed in print or digitally) are the primary source people turn to for news about government and civic affairs. If these operations continue to shrivel or disappear, it is unclear where, or whether, that information would be reported. In sum, the news industry is not much closer to a new revenue model than a year earlier and has lost more ground to rivals in the technology industry. But growing evidence also suggests that news is becoming a more important and pervasive part of people's lives. That, in the end, could prove a saving factor for the future of journalism.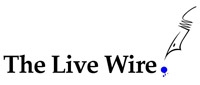 "[…] Two numbers symbolize the intensifying challenge and opportunity the digital world poses for the news industry: In 2011, social media giant Facebook grew to 133 million active users from 117 million in the U.S.1 And in the final months of the year, tablet ownership in the U.S. nearly doubled, to 18% of Americans. Each is a threat and a promise. Facebook and other social media are additional distributors of content, but they are also are rivals for advertising revenues. The new tablets, smartphones and other mobile technologies represent new ways to reach audiences, but they are also a new wave of new technology that news companies need to react to. Even as traditional media institutions continue to struggle to find a sustainable model after more than a decade of declining advertising revenues and digital upheaval, the new wave threatens to shift the media landscape out from under them once more. […] At the same time, Facebook, along with other tech giants such as Google, Apple and Amazon, have also become major rivals for advertising and other revenues. Even as digital ad revenues are expanding rapidly, news organizations are struggling to grab their share. Five large tech giants now take in more than two-thirds of all digital ad dollars—and the number is rising fast. […]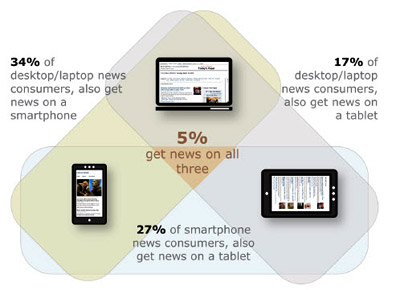 "The online news audience is enormous. The top 25 news sites in the U.S. recorded 342 million average unique monthly visitors in 2011 – up 17% over the prior year, according to Nielson Online. […] In late 2010, the internet surpassed print newspapers as a source for international and national news, and that gap is growing. Four in ten Americans reported getting "most of their national and international news" from the Internet, according to a December 2011 survey by the Pew Research Center for the People & the Press. Less than two in ten respondents said the same for newspapers. Only television remains more popular; six in ten Americans reported getting most national and international news from television. The mix for local news is somewhat different. In a study conducted in the spring of 2011, PEJ and the Pew Internet & American Life Project found that among all adults, newspapers (in print and online) are the most turned-to medium for more topics than any source. Television remains the most popular source for a few widely followed topics, particularly weather and traffic. But among those online and especially younger adults, web-only sources, such as search engines and non-legacy sites, are growing. Of those online, 79% said the "the internet is the first or second most important source for 15 of the 16 local topics examined." If the websites of legacy sources such as newspapers and television stations were added in, the numbers would be even higher."
From Time: ""Our analysis suggests that news is becoming a more important and pervasive part of peoples' lives," PEJ Director Tom Rosenstiel said in his findings. While desktop and laptop computers remain the primary source of obtaining digital news, mobile devices are causing Americans to consume more news and for longer periods of time. The report points out more consumers are using tablets and mobile devices to read news, and are seeking out content directly from news sites or applications — a boon for traditional news organizations looking to strengthen relationships with consumers. "But it remains unclear who will benefit economically from this growing appetite for news," Rosenstiel added. That power lies with technology companies who are taking control of the digital ad revenue produced along with an influx of news consumption. Microsoft, Google, Facebook, AOL and Yahoo! generated 68% of digital ad revenue in 2011, the report finds. Tech giants are using their wealth of personal data for targeted ads, a trend the Pew Center said not enough news organizations are seeking out aggressively, and one that will continue to rapidly grow."
The full State of the News Media 2012 report.
More charts: