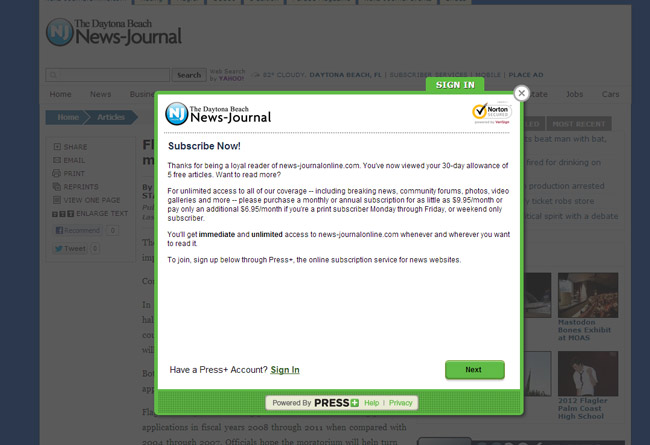 The day the New Orleans Picayune quit printing a daily edition, the Pulitzer prize-winning Patriot-News in Harrisburg  announced it would do the same in January, and the Washington Post bought a major stake in a hospice company, the Daytona Beach News-Journal ended readers' unlimited, free access to its website.
Beginning Monday, readers of the News-Journal's online editions have five free stories a month. After that, they'll see a dark screen block most of the stories, promoting them either to leave the site or to go back to the front page. To keep reading, the News-Journal is charging online readers $120 a year (a little more than a third of the cost of a digital subscription to the Wall Street Journal, and a quarter the cost of a digital subscription to the New York Times). Print subscribers who pay the $234-a-year charge (for subscribers in Flagler County) get access to the digital edition at no additional cost.
News-Journal Editor Pat Rice announced the switch to readers—referred to as "customers"—in a column Sunday, which by Monday was no longer accessible to online readers who'd used up their five clicks. "We can't give away online what costs millions of dollars a year to gather and deliver," Rice wrote.
Circulation at the News-Journal has been falling steadily, and in some years precipitously, since 2007, with Sunday circulation losing a fifth of its readers, weekday circulation losing a quarter of its readers, and daily weekday circulation in Flagler County dropping below 10,000. By blocking free access to the paper's online edition and pushing for digital subscribers, the News-Journal is hoping to increase its overall subscriber base, now that the ABC Bureau of Circulation includes digital subscribers in its overall circulation count.
But, if it's mirroring other newspapers' paywall strategies, it's hoping to stop losing print readers—or stop losing them as fast—in order to maintain the value of its advertising. Print advertising is more expensive than online advertising. Because of overhead, printing and distribution costs, no newspaper can maintain its operations on revenue largely drawn from its online advertising.
The Arkansas Democrat-Gazette was among the early converts to online paywalls, erecting one in 2002. It led few people to subscribe online. But that wasn't its aim. Rather, it preserved its base of print subscribers. In 2006, the last healthy year in newspaper circulation before the housing crash accelerated the industry's decline, the Democrat-Gazette had a daily circulation of 177,000 and a Sunday circulation of 273,000. In March this year, it had a daily circulation of 179,000 and a Sunday circulation of 268,000, a remarkable success in an industry where most newspapers, including the News-Journal, saw circulation declines topping 20 percent in the interim.
Newspapers have learned "the art of change in recent years," Rice wrote. "In particular, as the Internet has evolved, The News-Journal has adjusted resources to deliver news both in print and digitally. Our goal has become to provide you the news in print, online, and on any other platform that is invented in the future." Rice, acknowledging that editors "don't usually write about the advertising side of our business," devoted several lines at the top of his message to readers about advertising, making an explicit pitch: "If you want to find the right car, or the right clothes, or the right furniture, or the right home in Volusia and Flagler counties, advertising in The News-Journal is the best place to start." He did not provide numbers, which have not been encouraging to the News-Journal's bottom line—anymore than most newspapers' numbers have been encouraging across the country.
The April 2012 figures the News-Journal is giving advertisers claim close to 4.5 million page views for the month, down from 5.4 million page views the month before. It claims 689,000 unique visitors for April, down from 722,000 visitors for March. Both figures were up significantly over the previous year. The News-Journal's Flagler page views, however, came in at just 125,600. (For comparison's sake, FlaglerLive in April had 1.7 million page views and 131,000 unique visitors).
The News-Journal draws most of its online readers to its local news' main page (1 million page views), breaking news (787,000 page views), obituaries (362,000) and East Volusia news (275,000).
Daytona Beach, Port Orange, Ormond Beach and DeLand top the list of its top-10 locations where online traffic originates, with Palm Coast in fifth place—and the only Flagler County location—generating just 11 percent of the newspaper's online traffic.
All those figures, of course, are based on the News-Journal's free access. They will inevitably decrease with a paywall in the way—which may, conversely, improve the newspaper's bottom line, at least in the short to medium term, if other newspapers' experience are a guide.
Several large and medium newspapers, including the New York Times, the Wall Street Journal, the Los Angeles Times and the Gannett chain have adopted paywalls. In April, the Nieman Journalism Lab found some 160 newspapers with restricted online access. That figure is increasing steadily, and will increase significantly as the News-Journal's parent company, rolls out paywalls to all its properties.
The News-Journal is owned by Halifax Media, which now owns 31 newspapers in six states, including 15 in Florida. The group's recent acquisitions include the newspapers of the New York Times Regional Group and those of Freedom Communications.
Newspapers' greater focus on managing their online content as a product to sell has had broader benefits. The same day the News-Journal adopted its paywall, AdAge, the trade publication, reported a 4 percent revenue increase for the nation's 100 largest media companies—which now include Halifax Media, parent company of the News-Journal. That revenue totaled $340 billion, but it was also the slowest revenue growth in a non-recession year since 1981, AdAge reported. The growth was fueled by gains in digital media. Revenue in that sector alone grew by close to 20 percent. Without the digital sector, media companies' revenue grew only 2.8 percent.