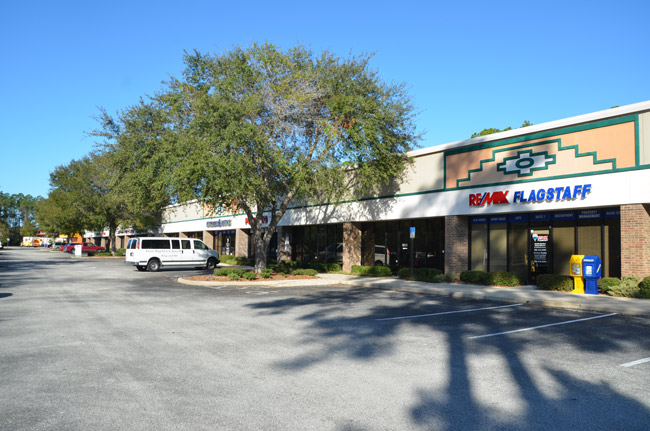 The Daytona Beach News-Journal is re-opening a Flagler County bureau three years after shuttering and selling its State Road 100 location. The new bureau, which will focus on classified and other ad sales but also have a few reporters' desks, will be located in the St. Joe's Business Plaza on the north side of Palm Coast Parkway, west of Belle Terre Parkway, and will open in February.
Physically returning to Flagler is a concession by the News-Journal that the previous owners' decision to close its bureau in September 2008 reduced its presence in a county it covers and sent a message to readers and advertisers that the county could be covered from a remove. Circulation dropped as a result, though almost all newspapers' circulations have been dropping across the country, and closing bureaus and so-called "zoned" editions has been a reflex of newspapers with shrinking revenue from the smallest dailies to national newspapers. The News-Journal has been facing increasingly stiff competition in Flagler, however–from three relatively new radio stations, online sites including FlaglerLive, and the weekly Palm Coast Observer, all of which emerged after the News-Journals closure of its SR100 bureau.
The Observer last week announced that it would be going to a two-day-a-week schedule by April, in direct competition with the News-Tribune, which the News-Journal publishes on Wednesdays and Saturdays for Flagler County readers.
The News-Journal's move is changing that. John Walsh, the Observer publisher, said the Daytona paper's move means that the Observer is now pushing to start publishing two times a week in the second half of February, and "no later than the first week of March."
"They have thrown all they can but obviously they're not going to just give up. We'll see what happens," Walsh said of the News-Journal's latest move. "Good luck. Bring it on." Calls for comment were placed to News-Journal Publisher Ron Wallace and Editor Pat Rice.
The Observer's advertising content has been considerably more voluminous than that of the News-Tribune. The Observer prints 25,000 copies weekly, distributing most of those to residents' driveways in Palm Coast. The News-Journal's weekday circulation in Volusia and Flagler combined dropped by 3,000 in the past year. Its Flagler-only circulation (paid, home-delivery and mail) dropped to 8,839 on weekdays (10,964 on Sundays).
Earlier this month the News-Journal's parent company, Halifax Media, announced the acquisition of the 16 newspapers formerly owned by the New York Times Regional Group. Five of those newspapers are in Florida. Employees throughout the ex-Times properties were required to reapply for their jobs. Michael Redding, the News-Journal publisher until this month (he just announced Wallace as his successor so Redding could focus on company-wide management), has been speaking to company employees to reassure them that cuts aren't the default approach of the new ownership. He's referred to the return to Flagler as one example that outlying bureaus won't necessarily be shuttered.
A few days ago George Pugliese, the manager at Palm Coast Printing in the St. Joe's Business Plaza, saw a landlord scrape off the lettering on Suite 5, the unit next to his, where 30-Minute Fitness used to be located. The landlord told him that the News-Journal would be moving in "any day now."
Jerry Masiello, owner of Landmark Commercial Realty, brokered the deal for the 2,400-square-foot storefront (actually, two storefronts). The office will be less than a quarter the size of the News-Journal's former, 10,000 square-foot bureau on SR100.
Maseillo said the News-Journal's return is only the latest business he's managed to key into the business park, with State Farms taking another storefront and "slow and steady" progress suggesting that the commercial real estate situation in Palm, Coast is not as dire as people may make it out to be. People see shuttered storefronts, or businesses failing, Masiello says, but "90 percent it's the poor management of the business."
The News-Journal will be flanked by the Pugliese's Palm Coast Printing, Kitchens and Baths and further down, Waldhauer Pools, on one side, and a Re/Max real estate office and Benjamin Moore Paints on the other. Further down on the west end of the strip News-Journal employees may have to get used to the occasionally public and very loud spats between the husband-and-wife team that runs a pet grooming store there: this morning their decibel-challenging threats of divorce was spilling all over the parking lot.
The north end of the St. Joe's Business Plaza has a distinctly more professional, less worn down look than its larger incarnation on the south side, where there are a few more empty storefronts and where the now-frequent signature of struggling strip malls–an "Internet Cafe," this one called Lucky Palm Internet Sweepstakes–fills retail space. But the News-Journal will have a more distinctly visible, if smaller, presence than it did in its spacious digs on State Road 100.
Aside from photographer David Massey and News-Tribune editor Aaron London, the former Flagler staff has turned over entirely, replaced by Frank Fernandez, now a reporter–he was the last bureau chief in Flagler before the bureau's demise–Annie Martin and Julie Murphy. The staff reports to Nick Klasne, an assistant managing editor, and include long-time editorial assistant Jacques Estes.
The News-Journal under its previous ownership, when the Davidson family controlled the paper, had more or less treated Flagler County as a step-child, relying for 30 years on the reporting of Frances Edmonson, whose News-Journal bureau was her Bunnell home. When ITT announced plans to build what was, in the 1970s, projected to be a city of 250,000, the News-Journal opened its first SR 100 bureau–in October 1971–by combining Edmonson with one new reporter (Joe Askren). It was a smaller office than the one it would later acquire nearby.
The News-Journal launched the Palm Coast News, an eight-page weekly tabloid, in 1973. It was a frontal assault on the only local newspaper at the time: Jack Clegg's Flagler Tribune. Clegg also owned the Jacksonville Journal and the Jacksonville Times-Union. Reporters who went through the Flagler bureau included Cal Massey, now a managing editor at the News-Journal, and Carl Laundrie, who'd started working for Clegg then headed the News-Journal's Flagler bureau before becoming Flagler County's communications director. The News-Journal bought the News-Tribune in 1981.
At its height in 2005, the Flagler bureau had a staff of 21, including five reporters and a bureau chief-editor.
To Masiello, the News-Journal's move is another sign of renewed business activity in town, belying more dire appearances of unemployment figures or empty storefronts.
"You could look at a space and say, my god, that space is empty, meanwhile there's three letters of intent," Masiello, who's been in real estate in Palm Coast for 20 years, said. Nevertheless, he concedes that he's "never worked so hard to fill a 1,000 square foot place." The days of waiting lists for commercial space are over. At least for now.