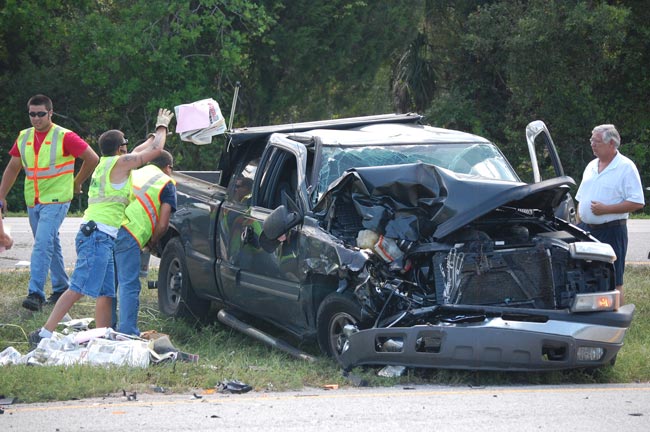 Steve Salyerds, 39, of Palm Coast, an independent dealer with the News-Journal–he distributes newspapers to stores and racks–was driving north on U.S. Route 1 in his Chevy Silverado pick-up Tuesday afternoon around 3 p.m. when he approached an area fraught with wrecks: the vague bend in front of the White Eagle Lounge, near Old Dixie Highway.
Salyerds never saw it coming, he told his father. Another pick-up truck similar to his, driven by Ralph Russo, 71, of Bunnell, was pulling out of the lounge, where Russo said he'd had "two beers, maybe three." Russo was trying to make it to the median to turn left and go south. He never made it. Salyerds never had time to apply the brakes. He hit Russo's truck on the driver's side. "As soon as he hit the grass he started flipping. I think twice, he said," Salyerd's father, Terry Sellers, said. Sellers and his wife got to the scene soon after the wreck.
Salyerds and Russo were both by themselves in their vehicles.
"Never saw him coming, to tell you the honest truth," Russo said.
Russo, who said he's just beaten cancer, said he'd just picked up groceries and stopped "for a couple of beers. But I ain't drunk."
Russo was given an abbreviated field-sobriety test administered by a Florida Highway Patrol trooper, who had him follow his finger. The trooper told Salyerds' parents that Russo passed the test.
Russo elaborated: "Two, maybe three beers, tops. I'm not drunk. I could drink more than that, but I just went shopping. See all the groceries in the back of my truck? I saw some friends of mine here with the bikes, a couple of fellow Marines, stopped and had a couple of beers and left conscious, not unconscious."
The newspapers Salyerds was carring in the bed of his truck were scattered in the median before they were put back in the righted truck. No charges were filed. An investigation continues.