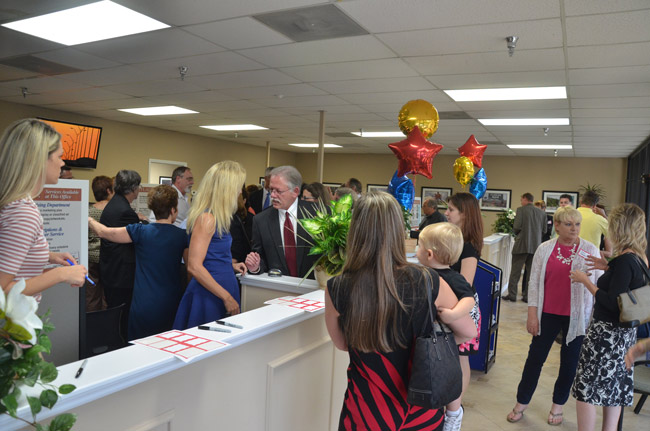 Just two years ago, newspaper publishers were describing circulation drops as avalanches, with year-over-year declines of 8 to 12 percent at many papers, including a nearly 9 percent decline in average daily circulation in 2010 at the Daytona Beach News-Journal. By then, the newspaper industry's total circulation numbers were down to levels last seen in the 1940s, when the nation's population was less than half its 2010 level.
The avalanches are over: the bi-annual release of circulation figures by the Audit Bureau of Circulation this morning shows papers finally holding their own, but mostly on the strength of a variety of electronic editions, which have been folded into the larger circulation numbers since last year as one way to staunch print's losses. Daily circulation increased just under 1 percent. Sunday circulation did better, increasing 5 percent.
The decline, while somewhat slower than in previous years, continued at the News-Journal, however, with average weekday circulation falling to 2.3 percent in the period ending March 31 (compared with the previous year), to 67,560 copies, a loss of 1,643 daily copies. Daily circulation had fallen by 2.1 percent the previous year, and by 10.7 percent the year before that. Sunday circulation fell by 1.5 percent, to 88,194 copies. In March 2011, it had fallen by 3.3 percent over the previous year, and by 8.8 percent over 2009. Overall since 2007, when Sunday circulation was 110,103, the newspaper has seen Sunday circulation fall by 20 percent, and weekday circulation by 25.5 percent.
The average for the six months ending on March 31 is the newspaper's stronger half of the year, as it reflects snowbird readership. Circulation falls significantly during the late spring to early fall months. Those figures are reported in November. Weekday circulation during those months was 61,000 at the News-Journal.
The News-Journal has yet to make a push for digital editions. Its "digital replica" newspaper, never much highlighted, actually lost subscribers in the past 12 months, dropping from 678 to 495. The St. Augustine Record, in comparison, is using its digital replica to mask severe print circulation losses: its overall daily circulation is at 18,680, but almost a quarter of that is digital. The difference matters to advertisers, who place a smaller value on electronic advertising, while newspapers will combine electronic and print circulation figures to project a stronger presence, even though the two mediums are not quite comparable.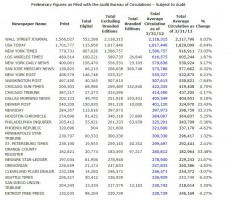 It's not just a local phenomenon: The New York Times is using its digital subscriptions to post what it claims to be a 73 percent circulation increase. In reality, the paper's weekday print edition saw a 4.5 percent drop in circulation, from 816,391 copies to 779,731. But when it started its digital subscription model early last year through iPads, iPhones and other web platforms, at $455 a year, it folded the resulting 777,000 subscriptions into its overall circulation numbers, yielding what ABC now calls a "Total Average Circulation" of nearly 1.6 million. (ABC explains its breakdown here.) Many newspapers are adopting the same pay-wall model–charging subscribers for web access and ending what, until recently, had been a golden age of free web-newspaper access. There's no word yet on the News-Journal's direction along those lines. (Calls to News-Journal Publisher Ron Wallace were not returned by the time this story was first posted.)
"On average," ABC reports, "digital circulation now accounts for 14.2 percent of newspapers' total circulation mix, up from 8.66 percent in March 2011. Digital circulation may be tablet or smartphone apps, PDF replicas, metered or restricted-access websites, or e-reader editions. Branded editions, newspaper-owned products such as commuter, community, alternative-language or Sunday-Select type newspapers, make up 4.5 percent of newspapers' total average circulation, up from 3.36 percent in March 2011." The bureau adds: "Due to the many ways that newspapers now distribute and market their content — metered paywalls, mobile apps, bundled subscriptions, branded editions — ABC cautions against drawing too many direct comparisons of the data."
The Daytona Beach News-Journal is owned by Halifax Media, until last year a small operation with only the News-Journal for a recognizable brand. In late December, Halifax Media bought the New York Times Regional Group's 16 regional newspapers, including five in Florida. There's been talk of Halifax Media buying an additional chain (Freedom papers).
A chart listing all of Florida's major newspapers' March circulation figures, going back to 2008, will post here shortly.