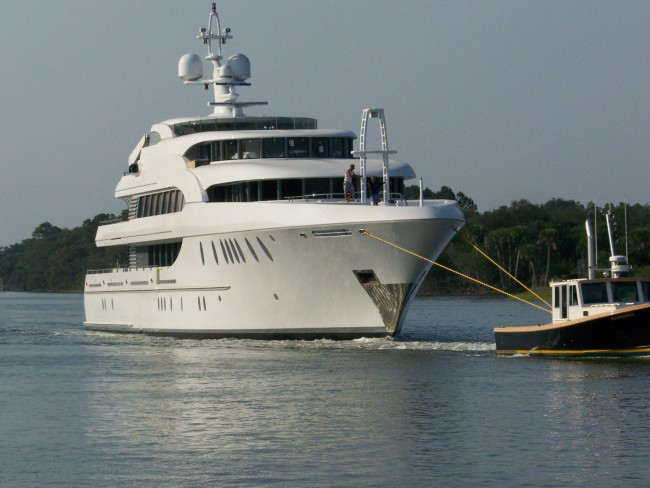 The rumors had been flying about all week that Newcastle Marine was finally to launch its latest mega-yacht from its shipyard in palm Coast on Thursday evening. We called Newcastle Thursday afternoon to check. The Palm Coast office told us that no, no launch was planned: the ship had been moved on the rail only to perform repairs on the track itself. We double-checked, calling the Palatka office. Same story. No launch planned.
Naturally, Newcastle Marine, a 12-year-old company, launched the yacht that night, in as much secrecy as it could muster, sieving the ship between a full moon's tide and the Intracoastal's brackish ink.
Many people weren't fooled, as a flotilla of boats and boatlets reportedly greeted the massive thing launching into the Intracoastal with more force than intended: a critical cable snapped.
The next morning photographer David Pickard was on the Intracoastal, shooting the yacht as it passed on its way to St. Augustine. We're grateful to Pickard and the following shots. If anyone has information about the yacht, its ownership, its destination, its history, please feel free to share.
[nggallery id=84]