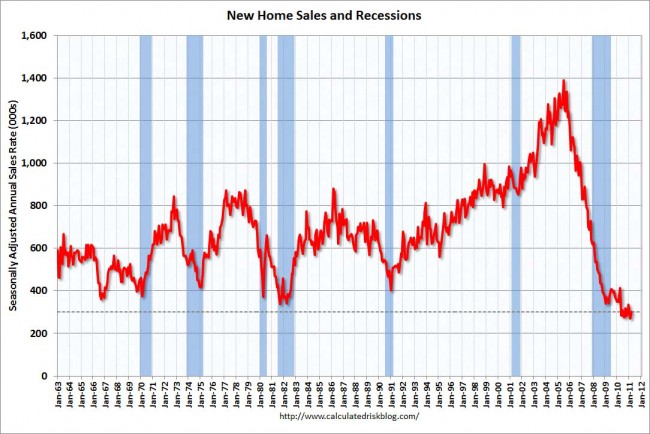 The housing industry is grasping for silver linings and finding little more than dark grays.
In February, the number of new homes sold was the lowest on record, at 270,000. In March, the Census Bureau reported this morning, sales rebounded from that figure somewhat, to 300,000, an 11 percent increase from the previous month, but economists are cautioning against jubilation for several reasons: The Mach level is 24 percent below the June 2009 level, when the recession officially ended. That level is also 22 percent below the sales level of March 2010.
When compared to the previous five recessions, the number looks more dismal still, as average new home sales were up 14 percent at this point, in those five previous recessions, a 38-point spread in the other direction.
In other words, sales of new homes remain mired in record-low territory.
"Unfortunately," Joel Naroff of Naroff Economic Advisors tells the Wall Street Journal, "it is not hard to have a large percentage increase in sales when you are coming off the lowest level since records started being kept in January, 1963. Still, up is good and the rise in purchases was spread across most of the nation."
The median sale price of new houses sold in March was $213,800, the Census Bureau reports. The average sales price was $246,800. The seasonally adjusted estimate of new houses for sale at the end of March was 183,000, which represents a supply of 7.3
months at the current sales rate. That's a significant decline from the 8.2 months' supply last month, but still above the 6-month supply considered normal.
Last week Florida Realtors released data showing existing home sales rising in March, in line with numbers released by the National Association of Realtors. Sales increased 3.7 percent to a seasonally adjusted annual rate of 5.10 million, 6.3 percent below the 5.44 million pace in March 2010, when the home buyer tax credit was in effect.
Another brighter spot: housing starts last month rose 7.2 percent to an annual rate of 549,000, with 594,000 building permits issued in March, an 11 percent increase.