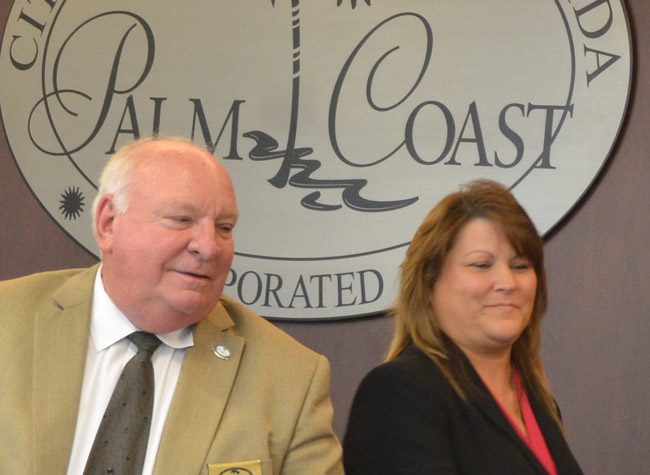 At the end of a Palm Coast City Council a month ago, former Mayor Jon Netts walked up to Council member Heidi Shipley and asked her if she intended to run again. "I don't think I want to run against you, out of curtesy," Netts told Shipley. Shipley in October had said that she would not seek re-election. She hadn't changed her mind. So she told Netts: she was not running. So Netts, who was term-limited out of office in November 2016, decided he would—for Shipley's council seat.
Then last Thursday Shipley posted a message on her Facebook page saying she'd been getting emails, calls and visits from people urging her to run again. She was soliciting opinions about the possibility, declaring herself "undecided." The response from a few dozen people was pretty one-sided: they wanted her to run. And by Sunday night', she'd pretty much decided she'd change her mind and run after all. She was still under the impression that Netts would not run if she did, though that proved not to be the case.
Today, both said they would run, even after knowing what the other's intention was. Shipley, who respects Netts, said she valued the fact that he'd asked her if she intended to run a month ago, and she couldn't very well fault him now for going ahead since she'd told him she wouldn't.
"I just wasn't feeling like I was getting anything accomplished," Shipley said of her earlier decision not to run, "but when you look at every politician up there, what's their legacy? And I don't see one for many of them." When she hears people saying "you helped me," that, Shipley said, makes a difference to her, "what happens in their front yards, what happens in their neighborhood." She'd gotten frustrated, finding herself with Steve Nobile at the losing end of 3-2 votes, and Nobile's decision not to run for re-election—he's moving out of the district—would have left her even more isolated.
"It's probably going to be a 4-1 vote when we get the new person if I get elected," she said. "I'm sure they're going to put somebody up that votes their way."
Netts would be a voice much more likely to echo rather than counter that of the recurring majority of three—Mayor Milissa Holland and Council members Nick Klufas and Bob Cuff, though he has his criticisms too. "I think there's some historical perspective missing from the city council," Netts said today. "The more I think about it, the more I think why things were done in a certain w ay, I don't think it was happenstance."
Netts didn't stay away from the city council after he left office. He was absent for a while, but he clearly missed it. He started attending meetings and workshops, lending his voice again to various issues, his 15 years on the council contrasting with current members' tenure, the longest of which are just over three years.
Last October, when Heidi spoke of leaving, Netts said he was thinking of running again either for Shipley's council seat or for that of County Commissioner Greg Hansen, who has not yet proven himself electorally: Gov. Rick Scott appointed him to fill out the term of the late Frank Meeker. Netts had applied for the seat as well. But Hansen is politically well connected, and is loading his race with money. Shipley's political connection when she first ran had been Netts himself, she said, and what money had come her way was from his supporters.
So the council seat appears a surer route. And, Netts says, one more suited to him. "I think my knowledge, my experience lends itself more to the city than to the county. There's quite a bit that I don't know about the county," Netts said, describing the county as "a strange animal," with its vastly different western and eastern, agricultural and urban demographics.
Netts had started as a council member, winning his first election by defeating Jerry Full in 2001 after being inspired—and urged—to run by the late Jim Holland, Milissa Holland's late father. Netts then won every election he ran for, never having to work too hard at it. His last looked like an attempt to do the least to win it again, defeating Charlie Ericksen in 2011 with 54 percent of the vote. (Ericksen, a cyclist, took it as his training-wheel election and went on to win a county commission seat, so far twice.)
But that was when Palm Coast elections were held in off years, and barely 10 percent of the city's voters went to the polls. Netts hasn't won an election when the contest has been held in even years, as it will be this year, when about half the electorate turns out. In a non-partisan election, however, that may only play to his strengths, as he is likely to attract establishment Republicans—like him—and a sizeable share of Democrats. Shipley ran as an independent three years ago.
As for the oddity of a mayor returning to a lowlier council seat? "After all the rhetoric goes away, there are five people on City Council and there are five votes. While being mayor may give you more influence or entrée into different areas, when it comes down to a vote, the mayor's vote is as important as a council member's and vice versa."
The more curious dynamic would be between Netts and Holland, his former protégée who's made a point of distancing herself from him down to vocally speaking of the need for new blood on the council. Her ideal candidates are more like Nick Klufas, who's not yet 30 (he turns 30 in April), than Netts, who was born a few hours before the Battle of Midway in 1942, and at 77, the age he would be if sworn-in, would immediately become the council's senior member in every way. But not Flagler's: Bunnell City Commissioner Bill Baxley is 78, and Flagler Beach City Commissioner Jane Mealy and fellow-commissioner Marshall Shupe are a year behind Netts, and all could, politically and intellectually, run circles around considerably younger officials.
Netts and Holland may have seen things eye to eye in the past more than in the present, even by Netts's estimation. Take the council's current method of choosing a new manager. Netts agrees that City Manager Jim Landon's time is done. But, he said, if it's the council's intention to let him retire in 2019, the council has started the replacement process too soon, and the way it's going about it is vague.
"I'm not sure I understand what the mayor's search for solutions is," Netts said, referring to Holland's stated aim in recruiting a new city manager. "I'm not sure what that means, but you need to have a process that can attract highly qualified individual and see if they're a match." Netts said starting this soon would also mean that many candidates who might be in the running will not wait around for Palm Coast to make up its mind. "Any candidates that are out there now are not going to be around in a year and a half, in all probability," he said: other cities will snap them up.
And council members' focus on a candidate out of the norm? "They don't want the usual approach. Well, that's what works," Netts said. "City manager are unique, they're not the same as corporate executives, they have a very different skill set, they have a very different learning curve. The issues in government are quite different than the issues in the private sector. So where do you look?" In other words, there are only so many kinds of managers: "Typically in my experience city managers have gotten to where they've gotten through a particular route, and that's what you need." (Netts was a council member in new Jersey for 12 years before his decade and a half on Palm Coast's council.)
That and other reasons, Netts said, is why "Palm Coast doesn't need another newbie on the council."
So far, only one candidate has officially announced for City Council–John E. Tipton IV, who'as running for the District 4 seat being vacated by Steven Nobile. Just two seats are up.