Red-light camera fines in Palm Coast will not jump from $158 to $408 if Mayor Jon Netts has any say about it.
"My position is that if we even think about something like that, I will violently protest it," Netts said at this morning's Palm Coast City Council meeting. "Court costs are not supposed to be money-makers. Court costs are supposed to cover the legitimate cost of hearing an appeal." The statement signals a slight but discernible shift in the mayor's thinking about red-light cameras, which take far more money away from the local economy than they leave in. (The mayor later this afternoon said he had made a "poor choice of words," and that "vehement" protest would be more accurate.)
An omnibus transportation bill awaiting Gov. Rick Scott's signature includes several pages changing the law regarding red-light cameras. The pages, largely benefiting red-light camera companies such as American Traffic Solutions—which runs Palm Coast's 43 cameras—were inserted in the very last hours of the legislative session, without review by legislative committees or analytical panels and without public comment, and approved as part of the larger bill.
The amendments once again give local governments the authority to run their own red-light hearings, with their own hearing officer, as was the case before July 2010. That year, the legislature passed a law requiring all red-light camera ticket appeals to go through an independent, court-appointed magistrate, to eliminate conflicts of interests (since it is in local governments' interest to impose as many fines as possible, to generate cash).
Palm Coast has issued a request for proposal to hire a hearing officer again.
Another amendment to the law extends an individual's window to appeal a ticket from 30 days to 60 days. And drivers would not be penalized as much for making turns on red, though such turns would still be subject to red-light camera fines. The difference is that if a driver goes past the white line then stops before making a turn, the maneuver is no longer subject to a fine, as it had been. Either way, drivers who make a rolling turn at less than 12 miles per hour are not fined.
But the most contentious part of the new rules would be an allowance granting local governments the authority "to whack these huge—in my opinion—court costs," as Netts described them Tuesday.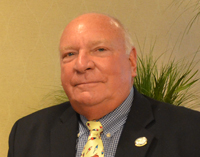 Here's how it would work: Currently, a red-light camera ticket has to be $158. That's not what local governments get, however. The state takes $83 of that–$70 for the general fund, $3 for a spinal injury trust fund, and $10 for a Department of Health trust fund. That leaves local governments with $75 per ticket.
Out of that money, local governments must pay whichever company administers its camera system. ATS's agreement with Palm Coast is a flat rate: the city gets $700 a month for every camera in place. That works out to $361,200 a year for the 43 cameras currently functioning. ATS gets the rest, or what currently amounts to roughly $1.2 million a year, assuming all tickets are paid. That's more than three times Palm Coast's take.
To increase local governments' take, the new proposal would allow cities like Palm Coast to impose new "administrative" fines: if a driver decides to contest a ticket, then cancel, there would be a charge of $50. If a driver contests a ticket and loses at the hearing, the local government may impose an additional administrative fine of up to $250, bringing the total cost of the ticket to $408. Such additional costs would presumably go into the city's coffers exclusively. The state wouldn't get a penny. Depending on how contracts are written, the company administering the cameras would not, either.
That's the additional cost Netts is opposed to.
"My understanding is that those amendments to our code [that] will be coming to this council will not include an increase" of the fines, Palm Coast Attorney William Reischmann said.
"That's fine, because I would vote against it," Netts said.
Scott has yet to sign the legislation. But the bill automatically becomes law if he doesn't sign it by week's end. Later today at a Miami school, Scott is scheduled to sign the bill that forbids texting while driving.