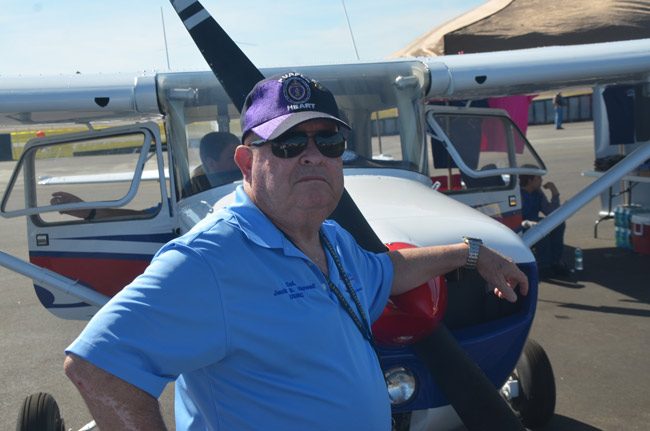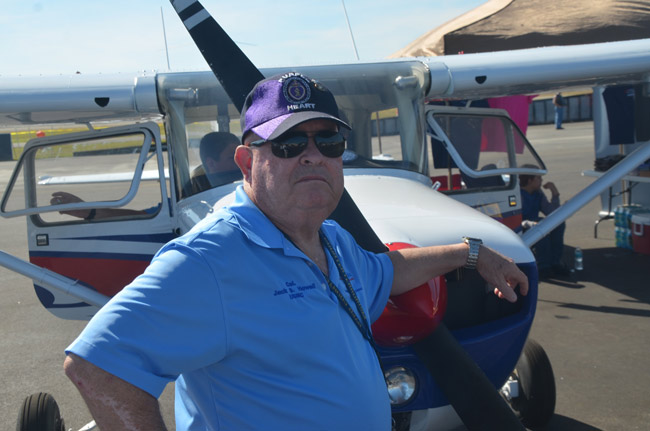 Col. Jack Howell, the retired Marine, leader of Teens in Flight for the past dozen years and a former candidate for sheriff, this morning filed his papers and declared as candidate for Palm Coast City Council, District 2—the seat Heidi Shipley is vacating. Shipley had encouraged Howell to run. He now joins former Mayor Jon Netts in the race. He may not be the last name to jump in.
Howell, 75, a centrist Republican, has an opinionated, sharp-tongued independent streak and an outsize personality tempered by self-deprecating wit and moderate politics. But he's untested politically other than his run for sheriff in 2008, when he ran as a Democrat, thinking he'd win the primary and capture the Obama wave of straight-ticket Democrats. He polled 20 percent in a four-way primary that Jim Manfre won. He hasn't been a Democrat since.
Two seats are open on the council this year with the departures of Shipley and Steve Nobile, both one-termers who felt frustrated by their inability to break out minority votes on the council. Eddie Branquinho and John Tipton are running for the District 4 seat Nobile held. The seats are designated by district, but voters from across the city cast votes for both candidates, regardless of voters' address.
If the District 4 race is between two largely unknown and relatively recent newcomers to the city, the District 4 race will feature two men who need little introduction in many circles around town.
"This is deja vu all over again," Netts said, quoting Yogi Berra. A few months ago, he was having dinner with his wife Priscilla at Steak and Shake when Howell approached him and asked him if he was going to run. When Netts said yes, Howell said he wouldn't. But Shipley's departure changed Howell's mind.
"I've not seen anything from him yet so I don't know what he says he brings to the table," Netts said of Howell, "but certainly hard working, dedicated. But I'm not sure he has any experience in local government. But then again, none of us did when we first started."
"Jon is a friend of mine and he has a wealth of knowledge," Howell said this afternoon, referring to Netts, but said he's had his time as councilman and mayor and was term-limited out. "It's time for somebody's new ideas. That's why I'm doing this." Asked how he squared his age with pledge to bring new ideas, he said: "I'm dealing with kids all the time. My mind tracks with them. I listen. And I stay young in the brain and young in the heart. I can communicate with the younger ones."
Howell cited three issues among his priorities, neither particularly new or surprising.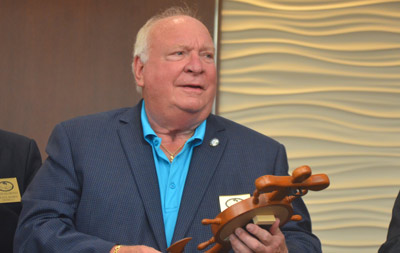 The first mirrors what most candidates, including the last three to be elected: "I want to build a détente between the city and the county," Howell said, using a word from the Kissinger era in the 1970s, when it referred to the cold war. "All of these guys on the county commission are friends of mine, two of them are Navy officers of the same rank as me, and three of us have worked in Washington," and know how to compromise, he said. "We really need to move forward. We have enough of that in Washington D.C. that we don't need to be butting head down here."
The second was jobs—not just retail or strip-mall-type jobs, but high-paying jobs, which he said the city needs to focus on and draw. "There's nothing wrong with a restaurant, but that's not my idea of well-paying jobs," Howell said. Most candidates running for city or county governments in Flagler, as in most of the nation's 5,000-odd counties, at one point or another speak of bringing jobs to their constituents. But the job of bringing jobs is among the less tractable powers of elected officials, as they quickly find out once elected. The city and the county have not been suffering for jobs, however, adding some 12,000 people with jobs since the end of the Great Recession (though a significant proportion work outside the county).
The third issue taken from the Shipley-Nobile playbook. "It's apparent that Jim Landon is a very strong personality," Howell said of the city manager, "and Jim Landon pretty much gets done anything he wants to do and the city council members shy away from open confrontation with the city manager, they just kind of go along. I believe in the chain of command. From my perspective, the city manager works for the city council, not the other way around. We're there to direct him."
That, too, has been a recurrent theme among candidates—a theme that has tended to recede once the candidate becomes a member of the council.
Howell, a resident of Fellwood Lane in Palm Coast, enlisted in the Marines in 1961, went to officer training school at Quantico, Va., in 1962 and again in 1964, went on active duty in 1966 and started a 13-month tour in Vietnam in 1967. He was wounded at Khe Sanh, one of the bloodiest battles of the war. He stayed with the Marines until March 1990, moving to Florida that year.
His first job locally was in Flagler Beach—as captain of lifeguards for the city. He then added the title of city safety officer to his credentials. When he decided he needed to make more money, he taught in the JROTC program in New York and Connecticut until his return to Flagler in 1994, where he had a house. He then started Teens in Flight, the charity that gives flight lessons to teenagers of fallen soldiers and victims of PTSD—and let them earn a pilot license for free. He ran for sheriff, unsuccessfully, in 2007.
Twice in the last few years Howell survived serious motorcycle crashes. He no longer rides, but he still flies, having logged some 500 to 600 hours of flight time just since launching Teens In Flight. One of those flights was part of a cross-country fund-raising effort he led on behalf of the victims of the Aurora cinema shooting in 2012 that left 12 dead and 70 injured.
Howell says he intends neither to put up campaign signs nor to accept donations, limiting his campaigning to appearances at political forums, civic and cultural events. Netts so far has taken in barely $100 or less, and has turned down donations, saying he'd rather wait and see what sort of tenor the campaign will develop.