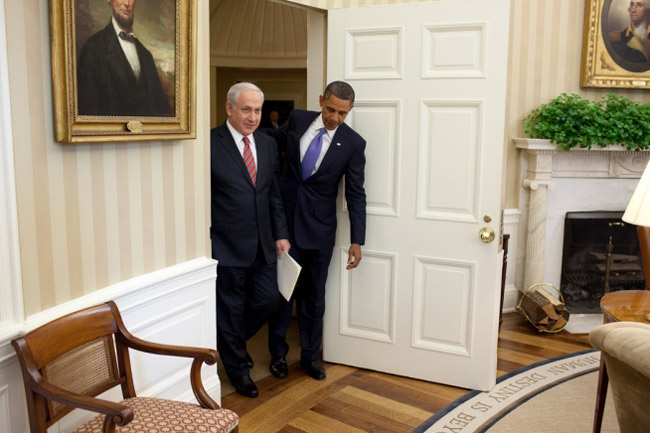 By Dan Gelber
No less an authority than Israeli Minister of Defense Ehud Barak called President Obama's commitment to Israel security "all-encompassing and unprecedented." Israel's Deputy Foreign Minister Danny Ayalon pronounced, "we have no better friend than President Obama."
How do you reconcile these unequivocal statements of support by those most knowledgeable about Israel's security with the television commercials Floridians are hearing this campaign season? How does Mitt Romney claim Obama has "put Israel under the bus" while former Israeli Mossad Director Efraim Halevy says Obama has shown "leadership of historic dimension?" How does the Republican Party run commercials suggesting Obama is a danger to Israel, when Israeli President Shimon Peres calls him "a great friend of Israel?"
In a word: Politics.

With the election just weeks away and Romney hoping to reverse his fortunes, the Republicans have begun a totally fabricated drumbeat that Obama is bad for Israel. It is an argument based in part on distortion, in part on the fact that the Internet has no truth key, and in part on fear — and yes, prejudice.
But these political attacks are false in every way.
The reason why those responsible for Israel's safety are so uniformly impressed with Obama's commitment to Israel is because this president backs up his words of support with real deeds.
President Obama's administration has provided $10 billion in military aid to Israel. In fact, the $3.1 billion requested for 2013 is the largest aid package requested by any U.S. president in history. Motivated by the Israeli victims of Palestinian rocket fire he visited with in 2008, Obama has pushed for and received hundreds of millions of dollars for short-range and longer-range missile defense through the David's Sling and Iron Dome initiatives.
Obama has vetoed anti-Israel resolutions emanating from the United Nations, opposed the Palestinian Authority's unilateral bid for statehood and intervened to save the lives of Israelis trapped in the embassy in Cairo. Regarding Iran, our president has said America will not tolerate a nuclear Iran, period.
But none of that matters if a secure Israel is less important than winning elections.
Years ago, Jews and supporters of Israel created advocacy coalitions within the two major political parties. Their purpose was to promote a more secure Israel through advocacy within each party. But over the last few elections, the Republicans have decided their "Jewish Coalition" should direct their efforts at convincing voters that Democrats are bad for Israel. That was a horrible decision because it meant achieving Election Day victory was more important than attaining a secure Israel, and that truth would take a back seat to politics.
During the last election cycle, I debated a McCain surrogate who actually claimed in public that Obama was both a Muslim and a radical Christian. This cycle you are getting distortions of Obama's Jerusalem policy; or the claim that he has not visited Israel, which he has; or that he is not fond of Israeli Leader Bibi Netanyahu.
That is not to say there are not legitimate instances where U.S. policy may differ from the policies of Israel. It has always been so over every administration and, frankly, as a parliamentary government, Israel itself hardly maintains a monolithic foreign policy. Netanyahu's recent effort at the U.N. to push our nation to accelerate a military showdown with Iran, for instance, is an example of where we might differ on the route, but never on the ultimate goal.
But these should never be justifications to politicize Israel.
There is a reason former Israeli Foreign Minister Tzipi Livni recently worried that Israel's security "cannot and should not be undermined by turning Israel into a wedge issue in political campaigns."
Deploying Israel a partisan political weapon hurts Israel because it injects a nuanced foreign policy debate into the inflammatory forum of an election cycle. Candidates and surrogates end up saying things that commit officials to intractable positions. Or the messaging of a campaign sends counterproductive signals to allies and enemies alike, who fail to comprehend that these excesses are just part of the political spin cycle.
Ultimately I believe that the Florida Jewish community will see through this as brazen and dangerous, rejecting outright the false premise that our president is anything less than stellar on Israel. President Obama has explained and, more importantly, demonstrated that his support of Israel – like our nation's historical, bipartisan support of Israel – is based on our shared democratic values, and the notion that Israel is the purest representation of those values in the Middle East.
Don't make Israel's security a casualty of partisan politics. Believe your eyes, your ears and those who really know, like Israeli Defense Minister Ehud Barak, who recently said he cannot "remember a better period of American support and backing."

Dan Gelber was a State Senator and former House Democratic Leader from Miami.