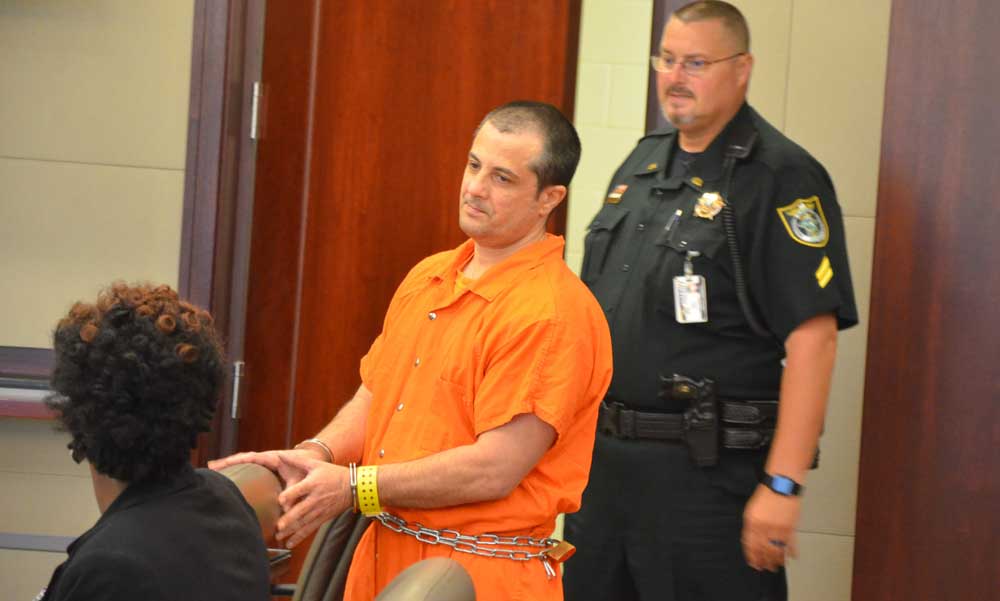 In July 2018, a Flagler County jury found Matthew Nesbitt guilty on seven counts, six of them felonies, for threatening cops with a knife as he was high on drugs and surrounded with Flagler County Sheriff's deputies, any of whom could have fired a lethal round.
Two months later Circuit Judge Terence Perkins sentenced him to 13 years in prison, a sentence Nesbitt appealed as "illegal." Perkins had sentenced him to a total of 22 years in prison, some of them concurrent, some consecutive, netting the total of 13 years, with nearly a year's credit for time he'd already served. Nesbitt in his appeal called the sentence illegal for being consecutive, a contention Perkins rejected.




On April 25, the Fifth District Court of Appeal upheld the sentence in a one-word order: "Affirmed."
It's not over. Nesbitt, who is serving his sentence at Tomoka prison in Volusia County, has filed a motion to lower or vacate his sentence.
The incident and subsequent court proceedings drew significant attention. The confrontation between Nesbitt and sheriff's deputies had started with Nesbit  driving at a deputy after Nesbitt was woken up by a deputy when he was in his car. He was pursued into the Z Section, where he fled on foot. He then confronted deputies in a thicket of brush in the subdivision, threatening to kill deputies and their dog. (See the video below.)
That confrontation was captured on video, showing Nesbitt brandishing a knife from some distance from deputies, who had faced him, guns drawn, with a K9 led by deputy Jonathan Duenas, who has since resigned. "I would venture to say that was the scariest I've been in my law enforcement career," Duenas had said during Nesbitt's sentencing hearing.
The defense challenged Duenas and other deputies about how dangerous the situation was, citing the relatively small size of the knife and the distance from where they confronted Nebitt. The defense's attempt to minimize the incident–"The reason they didn't shoot was because they realized Mr. Nesbitt was not a threat," Assistant Public Defender Regina Nunnally argued in court–led to tempers flaring in the courtroom.




The motion for a lesser sentence, called a motion for post-conviction relief, was first filed in July 2020 but was largely struck down last January by Perkins, who found it "facially insufficient" (meaning that it was insufficiently argued), but leaving open the door for an amended motion. That motion was filed in mid-February, and will be heard in court on June 7.
The court is not likely to uphold the motion, not just because Nesbitt is arguing his own case (he is, however, asking for representation): Much of his motion relies on facts and arguments already made at trial, with the additional, often-seen arguments made in such motions: that his defense attorney failed in certain regards, whether by not exploring certain avenues, not securing certain videos, and so on.
The state has requested an evidentiary hearing to refute the claim, with Nunnally as its chief witness. The evidentiary hearing will then be an occasion for former antagonists—defense and prosecutors—to be on the same side.