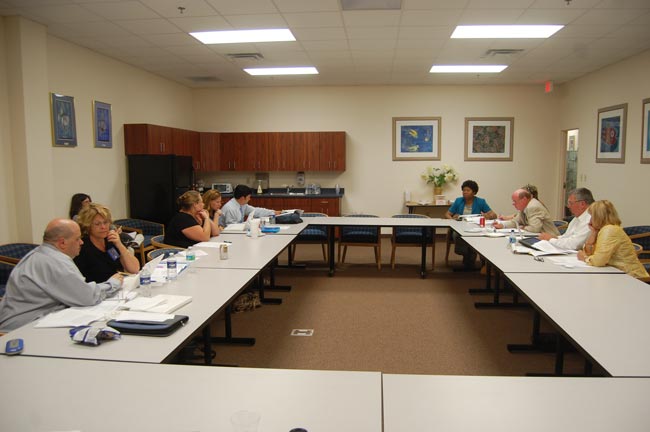 In a significant breakthrough that opens the way for deep cuts in teachers' ranks next year, Flagler County's teacher union and the school district agreed this afternoon to sweeping and experimental changes in how school days will be scheduled—and shortened.
The agreement hinged on the district accepting revised language in teachers' contracts on three counts. The revisions affect planning time, meeting schedules and the method by which the district offers jobs when they open. Three hours into the negotiating session, there was still no agreement on those provisions, which could jeopardize the rest, and far more sizable portion of the agreement. Just before 8:45 p.m. this evening, that agreement was sealed.
The negotiating session has reeled from calm to tense to  apprehensive and back. The initial agreement, if it holds, would eliminate up to 40 teaching positions in the district's four middle and high schools and shorten the school day at both levels. The district projects losing some $7.5 million out of a $100 million budget next year. It is prepared to cover $4 million of that with its $9 million reserve. But it needs to find $3.5 million in budget cuts.
That means fewer teachers, shorter and fewer classes.
The changes will have two immediate impacts. For students and parents, the school day will begin later: at 8 a.m. in high schools, a half hour later than it does today. It will also end sooner: at 2 p.m., instead of 2:15. Students are losing 45 minutes a day in instructional time, or 11 percent of their time at school. In middle school, the day will begin for students at 7:30 a.m., as it does now, but classes will dismiss at 1:30 p.m., instead of 2:15 p.m.
Teachers' overall time at school will be shortened by 15 minutes. Their planning time, usually scheduled during the day, will take place briefly before and mostly after scheduled classes.
By shifting teachers' planning periods to the beginning and end of the day, administrators are creating more flexibility with the time at hand. Students will not actually be losing a period: they'll still have a seven-period day. But teachers will go from teaching six periods to teaching seven, shorter periods. That expansion will enable the district to pare down the number of teachers overall, and with it possibly narrow down the number of course offerings overall. But students will still have seven periods. The 1500 minutes per week that students will be getting in instructional time brings the district back to the state-funded, minimum for those 1500 minutes. The current, longer day is in excess of that minimum, and the district isn't funded for it.
Eliminating 26 teachers in the district's two high schools and 16 teachers in the two middle schools would save $2.1 million. That's not enough to cover the $3.5 million the district is looking for, but it's the majority of the cuts that had, by law, to be negotiated with the union. The bulk of the remaining savings entail reducing work hours and work days for all administrators (including the superintendent, principals and assistant principals) and most non-teaching staff, such as secretaries, cooks, janitors and other service employees. The service-employee union was not part of today's negotiating session.
In order to agree to the cuts that would lead to 40 fewer teachers, the teachers union is asking for concessions of its own. The three concessions the teachers were asking for: 50 minutes of planning time generally uninterrupted by meetings or supervisory duty; a limit of one meeting per week as a norm, except when teacher and administration agree otherwise; and a change in hiring methods of coaches and other extra-curricular staff that would give qualified teachers a first crack at the job.
The union is represented by Flagler County Educators Association President Katie Hansen and Will Vargas, a service unit director with the Florida Educators Association. They were flanked by several teachers representing the various school levels.
Both Vargas and Hansen are young enough to be the district's chief negotiator's children–Jerry Copleand, a grizzled, unsentimental man who braids his words as he might a rope: to tighten his case rather than yield an opening. He was flanked by three principals (Chris Pryor, Paula St. Francis and Vernon Orndorff, the latter not technically a part of the bargaining unit) and two top administrators (Harriett Holiday and Denise Haymes).
Copeland spent 31 years as a teacher, principal, and assistant superintendent in Brevard County, before launching Educational Management Consultant Services in 1986. He negotiates on behalf of 13 counties, mixing the cordial with the prosecutorial while insisting, in tactical jabs, on the smallest details to keep his opponents off balance: when Vargas at one point explained one of his positions while looking at the rest of his team, Copeland told Vargas that he was there to bargain with him—Copeland—not the rest of his team.
"I think that we could get to where you guys need to get and save the money you need to save," Vargas told Copeland before laying out the caveats. Those caveats, Vargas said, are necessary for two reasons: the union is entitled to reopen contract negotiations anyway. But it is also being asked to make significant concessions. The district would ease the transition by making concessions of its own.
But the negotiations got hung up on the meaning of planning—whether it could or could not include meetings—and the limit on meetings. The meeting reached its lowest point when Copeland pointedly lectured the teachers about the meaning of planning, stating at one point that "planning time is for planning. It's not break time," as if to suggest that teachers were misusing their planning period.
"are you suggesting that teachers don't plan during the week?" Vargas said.
"No sir," Copeland said. But it was too late.
Hansen was offended. "I'm going to be very honest and say that I'm quite insulted you said that," she told the chief negotiator.
"Well then you didn't hear what I said. Either that or you didn't listen," Copeland said. But he did say explicitly that planning was not for breaks, it wasn't for leaving campus to cash a check, or to "chit-chat," and he did say that if teachers thought they could put in only a set number of hours at work, they'd "chosen the wrong profession."
Both sides pulled back at that point, and soon took their second caucus—a point in the negotiations when one side or the other retreats behind closed doors to consider proposals and work out counter-proposals.
That caucus was productive.
When district negotiators returned, at close to 8:30 p.m., they'd rejected the teachers' limit on meetings to four, but agreed to a limit of six–rather than "six to eight" written in the current contract, and stressing that federal, state and district mandates are such that they dictate a number of meetings that can't be precluded by an arbitrary limit. The district and the union also agreed to the preferential language given to teachers when hiring for extra-curriculars–language that's, in fact, already in school district policy, but hadn't been incorporated into the collective bargaining agreement. Now it has. The district also agreed to make every effort to ensure that teachers' planning time was respected.
Copeland thanked the bargainers. "Your cooperation won't go unnoticed, and we thank you very much, and I'll be glad to shake your hand just as soon as I get up."
Hansen was still troubled after the meeting by Copeland's comments about teachers. "I am surprised the district is represented by someone who'd make that comment," Hansen said. "The day I ever work seven and a quarter hours, walk in and walk out has never happened" in the years she's worked in Flagler schools, she said.
Copeland said that the nature of bargaining is adversarial, though bargaining sessions with the union in Flagler County, while adversarial, have been cordial lately. "The discussion for me was not intended in any context whatsoever to be offensive," Copeland said. "The comment was made to emphasize that planning is a part of the supervised workday and as such it's subject to direct observation and evaluation as any other part of the workday."