By Chet Bell
Congress has declared October as National Disability Employment Awareness Month to recognize the important role that meaningful work plays in the everyday life and recovery process of people with disabilities, and to further recognize the many contributions that people with disabilities make to our society.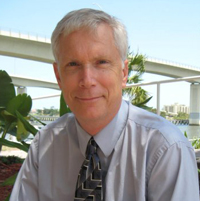 Those of us who work on behalf and alongside individuals with disabilities know that they represent an incredible pool of talent and an amazing resource. As a provider of services to persons with mental illness and other disabilities, it is common for me to deal with the barriers that impede our ability to treat and rehabilitate these individuals. However, when I review our Enrichment Program and the services they provide in the Volusia/Flagler county area, I see results worthy of recognition.
When I visit Stewart Marchman Act's Enrichment Program I am reminded that Americans with disabilities are an underutilized reservoir of ambition, talent and skill ready to make great contributions in the workplace. I see over 150 people in our Daytona and Palm Coast facilities overcoming their disabilities and producing quality work for our many contracted customers day in and day out. As these individuals grow in independence and self esteem they give back to their communities by providing needed services and return their disposable income through the goods and services they purchase. My highest accolades go to them for their commitment to self improvement.
The jobs and work they do are the result of opportunities provided by business people throughout the Volusia/Flagler area and surrounding counties. These businesses in turn have received timely, cost-effective, high quality valued-added services. State and federal entities also contract with the Enrichment Program for product assembly and janitorial and grounds keeping services, providing employment opportunities for many more individuals with disabilities.
All of us at some point in our lives have wished only for an opportunity to prove ourselves. Businesses providing that opportunity to our disabled workers deserve praise for making a difference in the lives of persons with disabilities.
Our state and federal legislators as well as the Volusia County Council, the Flagler County Commission and our municipalities also deserve praise for recognizing the needs of our disabled citizens and assisting with policy issues and financing when appropriate.
In the people advocacy business there is a tendency to echo the shortcoming or outrage of the day that fails some portion of our population. While employment barriers for persons with disabilities remain, this is the time to reflect on the gains these individuals have made in their lives and the role played by our community in making it possible.

Chet Bell is the CEO of Stewart-Marchman-Act Behavioral Healthcare. To learn more, visit Enrichment Industries or call our Program Director, Carol Collins, at 386-236-3233.