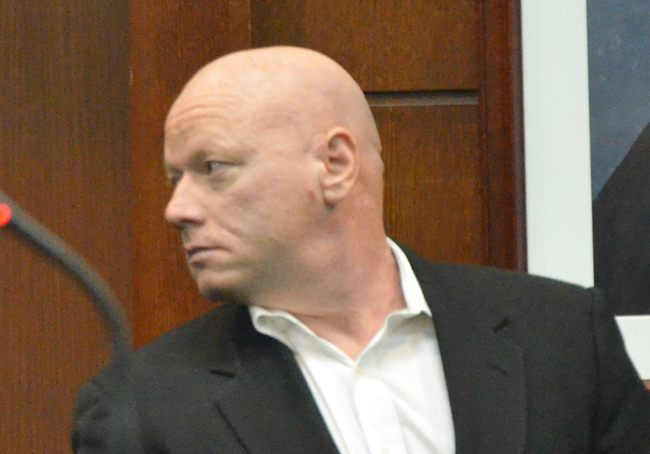 Nathaniel Juratovac, the 41-year-old ex-Flagler Beach cop who twice shot an unarmed Flagler County firefighter in what was then termed a road-rage incident by the side of U.S. 1 was sentenced this afternoon to 51 months in prison in a plea agreement. Had he been convicted at trial, he could have faced up to 25 years in prison on the attempted murder charge.
Jared Parkey, the victim–who was shot in the neck and the kidney–was in the courtroom with his wife Ashley. He looked on as the judge read the sentence with neutral expressions. He declined to comment on the sentencing. He has been back at work with Flagler County Fire Rescue, where he's been employed for seven years.
The shooting took place the evening of last March 29, just before 8 p.m., on Wildwood Drive on U.S. 1, north of the Flagler-St. Johns County line. It followed what one 911 caller had described as a game of chicken between Juratovac and Parkey as they drove north on U.S. 1 in separate cars. Both men were with their spouse. Each couple had a very young child in the car: the Parkeys' 17-month-old daughter, and Juratovac's 4-year-old daughter. (See details of the incident here.)
The Parkeys were returning from a family trip in South Florida. Juratovac and his wife, Robin, a deputy with the St. Johns County Sheriff's Office, had been house-hunting. Juratovac was first to "brake-check" Parkey as they drove north. That triggered the chain of events that culminated in the shooting. Juratovac claimed that, while he started the incident with the brake-check, Parkey escalated it by eventually throwing a water jug out the window and at Juratovac's car.
"After the water jug was thrown," a police report stated at the time, "the eyewitness advised both the defendant and the victim's vehicles collided and pulled off to the side of the roadway. Per eyewitness, after both vehicles came to a stop, the defendant existed his vehicle and walked around to the driver's side of [Parkey's] vehicle and shot the victim."
After being run off the roadway, Parkey had told an investigator after the shooting, when he was at Shands hospital in Jacksonville, Parkey "immediately got out and walked to the rear of his vehicle and was confronted" by Juratovac, according to a police report. Parkey described seeing Juratovac "holding a gun with his arms straight out, in a 'shooting stance.' The victim stated to law enforcement that he was unarmed and his arms were in an outward direction, clearly indicating he had nothing in his hands when the defendant shot him."
At the sentencing in St. Augustine, Juratovac spoke briefly, but only to say that he acted that night as, he claimed, any father or husband would act in defense of his family. "I'm at peace my with decision, and my family is safe today," Juratovac said. His tone was even. He did not proffer any apologies or contrition. He avoided all eye contact with his victim. Restitution checks were part of the plea deal.
Assistant State Attorney Russ Bausch of the 18th Judicial District in Brevard County, prosecuted the case, because Juratovac's situation as an ex-cop in Flagler Beach and his wife Robin as a current cop in St. Johns would have created a conflict of interest for prosecutors in the 7th Judicial Circuit, which covers St. Johns and Flagler. (Bausch was the prosecutor in the case that ended with the sentencing to prison last year of Jamesine Fischer in the hit-and-run death in Palm Coast of 76-year-old Francoise Pecqueur; Bausch was brought into the case because of local conflicts of interests with then-Sheriff Don Fleming, who had involved himself in the case.)
St. Augustine attorney Patrick Canan defended Juratovac.
Canan before the sentencing told Judge J. Michael Traynor that Juratovac "wanted to be able to talk to a jury and have a jury decide but the risk was too high." Canan said that prosecuting and sentencing Juratovac under the attempted murder guidelines was unfair because Juratovac had never intended that day to find a victim and terrorize him, or shoot him. "Nathaniel Juratovac and his wife and his daughter were not looking to commit a crime that day, they were out looking at a house and they did not look for a family to terrorize," the attorney said, then blaming Parkey for escalating the situation that had begun with Juratovac's brake-checking.
Bausch, one of the state's most skillful and seasoned prosecutors, countered Canan's claims point by point.
"I didn't know we were going to try the case here at the sentencing today, I thought we had all agreed what we were going to do," Bausch said. "Mr Juratovac intended to shoot Mr. Parkey, he shot him twice, OK?" There was no question about those intentions when Juratovac pulled over and retrieved his gun, Bausch said.
He described the shots in the neck and the kidney area that Parkey sustained in terms familiar to cops, who call such shots, according to Bausch, "a double tap, in other words officers are trained to shoot like that." Juratovac was putting his training to work that evening. "So the intent was there to put Mr. Parkey down and on the ground and in his grave," Bausch said. "Make no mistake that this was not anything other than an intentional act."
Juratovac, Bausch said, also had the ability to "get away from all this." His wife, as a deputy, "never pulled her weapon out, she never saw the need to pull her weapon out, so you've got somebody there on the scene who's also in law enforcement, Mr. Juratovac used to be in law enforcement, who never saw the necessity to pull her weapon out."
Traynor had little interest in debating the matter. "The status of the law is what it is," he said. "It's not my job to make new law. It's not my job to criticize or not to criticize. It's my job to apply the law."
He then added, with a stunning degree of equivalence that, in that moment, seemed to judge both men equally responsible for the outcome–as if reckless driving was equivalent to the shooting of a gun at an unarmed civilian–that it was "the actions of two people that day created a danger" not only to others in the two cars involved but to the public at large. He made the equivalence even more explicit: "We wouldn't be in this situation today if two people hadn't acted irresponsibly and recklessly on the highway."
Juratovac was then sentenced to 51 months in prison, with credit for 84 days served (he posted bail on $300,000 bond), nine months of community control and five years' probation, plus $618 in court costs.
Juratovac had repeatedly been in the news for the past decade, going back to his twin arrests of Lisa Tanner, the daughter of then State Attorney John Tanner, in a case that snowballed into a scandal involving jail-guard brutality at the Flagler County jail, numerous charges against police and deputies–including charges of perjury and falsifying documents against Juratovac, whom Lisa Tanner also accused of leering at her while she was in detention–and the interventions of two state attorneys' investigations before most of the charges were dropped or reduced to apologies. Juratovac left the Flagler Beach Police Department and eventually started his own business.
When an ordinary felon is sentenced in Flagler County, at least two bailiffs stand nearby, including one behind him at all times, and both bailiffs then stand near him as he is finger-printed and swabbed for DNA, handcuffed, then escorted out, never being left alone. The handling of Juratovac was considerably less strict, with just one bailiff finger-printing him, leaving him alone at the fingerprinting station for a considerable amount of time–without handcuffs–bantering with him as if it were a routine transaction, then walking him briefly out of the courtroom, on a side door where convicted felons are usually taken, but leaving him there and telling him simply, "someone will come and get you." Juratovac was handcuffed only at the last moment before being walked out of the courtroom, and with his hands in front of, not behind him.
"Take care of my baby," he yelled out to his wife before he was escorted out.