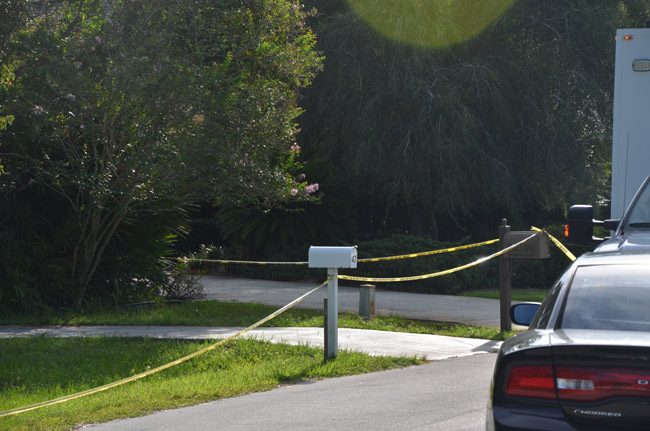 Last Updated: 4:10 p.m.
Nathan Shimmel said it happened by accident. At least at first.
His mother Michele Shimmel was threatening to throw him out of the house, according to what he told authorities Wednesday evening. She was upset that he wasn't looking for a job. He says he panicked. He grabbed a knife off the kitchen counter. And he stabbed his mother in the throat.
"She was yelling at me and she grabbed me and I just, I panicked," he said. "She just grabbed my arm and just like just tried to talk to me, I panicked… it just happened."
Sheriff Rick Staly shed more details on that moment, when he briefed the press on the incident at 3 p.m. today: immediately before he stabbed her, his mother, upset that he wasn't looking at her as they argued, had told him what billions of mothers have told billions of sons and daughters through the ages: "Look at me when I'm talking to you." Those may have been her last words, other than words of pleading that followed after the stabbing began.
"This was a very brutal, a very violent, and an apparently angry" incident," Staly said. "The mother was trying to flee out the front door. The brutal attack continued out of the house and into the front yard, at which time from our investigation he watched his mother die in the front yard and stabbed her one last time in the back in an attempt to make it look like" she had been attacked by a masked assailant.
Shimmel, who'd been living with his mother, was arrested overnight on a first-degree murder charge. The stabbing took place at 47 Woodhollow Lane in Palm Coast, just before 7:30 Wednesday evening. He's being held at the Flagler County jail on no bond since early this morning.
At 7:28 p.m. Wednesday, Nathan Shimmel, 22, himself called 911 and pretended that a masked assailant had attacked his mother, stabbing her in the back and fleeing the scene. He claimed to have been on his back porch when he'd heard screams.
In the 911 call he placed, he sounded calm, almost studied for much of the 20-minute duration. "I think he hurt my mom," he told the 911 dispatcher. "Just now I heard screaming, when I came out she was on the ground, I didn't thinks she's OK." He claimed he "got away" without helping his mother, to go to a friend's house, driving his own car. "There was a knife," he told the 911 dispatcher, and specified that it was still in her. There's a level of emotion in his voice, more obvious as the call stretches into the second minute, then the third, when the dispatcher tells him to stay on the line as help was on the way. The dispatcher asks him basic questions asked in such circumstances, such as whether he knew of people who might harm his mother. He cited his father.
Approaching the fifth minute, the dispatcher tells him authorities had reached the house.
"Is she OK?" he asked.
"I'm not sure yet, I'm sorry," the dispatcher says. She then asks him what his dad drives, and Shimmel again provides a few physical details about him. He asked again if she was OK.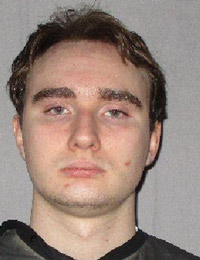 Near the 10th minute, he says, "we have dogs, they might have, like, bitten him or something." He describes the two Australian shepherds as not aggressive, but "they might have tried to protect her."
"Do you remember anything else that you saw since we've been talking?"
"No," he tells the dispatcher. The questions then again turn to his father.
There is a lot of background chatter at the 911 center as Shimmel awaits the arrival of authorities at his location, and toward the end of the call, the dispatcher tells him, "you did great."
"Thank you," he tells her, back to the monotone he's used for most of the call.
"They're here," were his last words before the 911 call ended.
The Flagler County Sheriff's Office's initial response was in search mode, but only briefly. Shimmel told the 911 dispatcher that after walking through the house he saw his mother face down in the front yard, the assailant next to her, so he fled to a friend's house at 23 Wellshire Lane, ostensibly to avoid the masked man.
His story changed quickly after that, when authorities saw him in blood-soaked clothes. "I observed blood in between Nathaniel's toes," reported Flagler Sheriff's detective George Hristakopoulos when he arrived at the Wellshire Lane house about 45 minutes after the stabbing. "Blood on his chest, on his shorts, and a substantial amount of blood on his shirt. I noticed a small cut on Nathaniel's left cheek, and on the bridge of his nose." (His glasses had been knocked off during the confrontation).
When asked how the knife had ended up in his mother's back, Shimmel said he put it there to make it look as if an assailant had done it, according to his arrest report.
"I just kept stabbing," he said, "she tried to get away so I grabbed her … I knew I was going to go to jail." Shimmel, according to the report, told a deputy that "all of the stabbing took place inside the house, and he watched Michele Shimmel as she 'bled out' and he 'watched her die.'" He said he "hit her in the jugular," and used an expletive to describe the moment. When asked how many times he thought he'd stabbed her, he said, "a lot."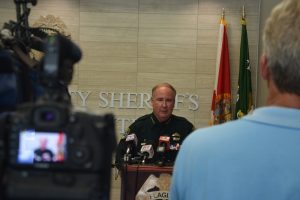 But it was also apparent that his mother had tried to defend herself and had pleaded with her son. "Oh my God the screams, she just kept yelling 'No' she looked so scared," Nathan Shimmel said. He then left the knife in her back and fled to his friend's house.
Staly described the weapon as "a large knife." (There'd been five documented calls for service by law enforcement to the address in in the past, three of them civil related, two false residential alarms. "We have not responded there for any disturbances or any domestic violence cases," Staly said.)
Shimmel was alternately interviewed by two detectives, and cried at various points, also saying that "there is no God who would forgive what he has done," according to the report. That report concludes that Shimmel's description of the incident was consistent with what authorities found at the scene. And Shimmel himself conceded that the story he'd told the 911 dispatcher was false.
Flagler County Sheriff's deputies, detectives and others worked the scene through the night, with Sheriff Rick Staly at the scene late into the night. Authorities were still there mid-morning today, with the Volusia County Sheriff's Crime Scene unit leaving only around 9:45 a.m.
"It's a tragedy that this occurred but I'm glad that we could quickly identify the suspect and take him into custody," Staly was quoted as saying in a release issued this morning. "Units within the agency worked as the dynamic team they are. Many have worked with no sleep for 24-hours or minimal sleep, away from their families. I joined them firsthand at various scenes and operations last night and this morning and I couldn't be prouder to lead such a professional group." Staly is holding a press conference at 3 p.m. on the case, the third homicide on his watch since January–the most since three murders were recorded in the county in 2013.
In the news conference this afternoon, Staly said there were no indications that Nathan Shimmel was either intoxicated or on any kind of prescription medication, nor were there indications of mental illness in his past.
"This again underscores the need for a domestic violence solution in our county," Staly said, referring to the domestic violence task force he established, and which should have a report by October.
All three killings this year appear to be the result of domestic confrontations.
The most murders recorded in Flagler County in recent memory in a single year are four. That has happened in 2000, 2006 and 2007.