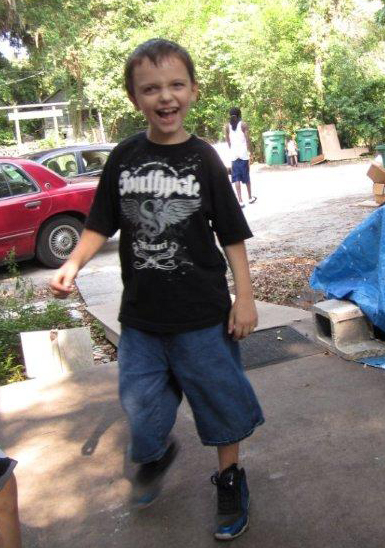 On Sept. 19, 2010, Nate Truelove, 7 at the time, was involved in a debilitating car wreck on Old Kings Road. He survived, barely, was in a long coma, then began a remarkable recovery, but at great cost to his family, who had small means. His great grandmother, Charlene Yazurlo, organized numerous fund-raisers and kept his story before the public eye with regular updates. Here's Charlene's latest.
Nate has made fantastic progress. He is walking very well. He is so proud that he's learned to swing on the swing set, and loves to show off each new skill. He is reading early 2nd grade books (he was in the second grade at the time of the accident) and some times he'll read stories to the younger children. He is very happy and is so sweet and loving, just like he always was!
Nate is still fed through a G tube, and will finally see a gastroenterologist on July 20. A Keloid has developed around his tube and will be burned off. His tube will also be replaced with a different type. Nate will be 8 years old on July 31 and has requested a Florida Seminole cake. It would be wonderful if he is able to actually eat it; if not, we'll freeze it until he can. He is really looking forward to blowing out eight candles.
Nate is long overdue for an MRI (due to local transportation's failures to show), and is now scheduled for Aug. 12. His neurosurgeon will check to see if his ventricles have gone down. If they haven't, it will be necessary to perform a shunt tap to see if any fluid comes out. If not, then his ventricles will stay the same. In a brain injury, the ventricles never do go back to the same size. Nevertheless, the doctors are amazed at his progress and can't believe how far he's come in 10 months. Praise be to God and the power of prayer.
The benefit concert which was hosted by the Unitarian Universalist Society in Ormond Beach was a wonderful experience. The spirit of love in the Sanctuary was palpable. Many tears of joy were shed. Donations were huge and supported Nate's family for many months. We are very thankful to the UU family, David Stone, Shari Farmer, and all who were able to share in this event.
Nate's "Gaga" (Heather's Mom, Leslie) is trying to arrange a poker run for the end of August or September, which will mark the 1-year anniversary of the accident that had such an impact on Nate and his family, and will celebrate his continuing recovery. Volunteers to help with this project would be greatly appreciated. Leslie can be reached at 386-439-4583.
Heather has found a job and works in the evenings for about 5 hours. This helps some towards finances, but not nearly enough. She and Mike are always struggling. Last week the air conditioner in their home broke. Extreme heat can cause seizures to Nate. So money was borrowed from many sources and the AC was fixed. Nate's over-the-counter drugs are also extremely expensive. Heather will lose her cell phone July 12; she doesn't have $65 to pay the bill. Any help will be extremely appreciated. Donations, gas cards, etc., can be sent to Heather Jenkins at 425&½ W. Howry Ave., Deland, FL 32720.
–Charlene Yazurlo

The September 2010 Wreck on Old Kings Road
[nggallery id=27]