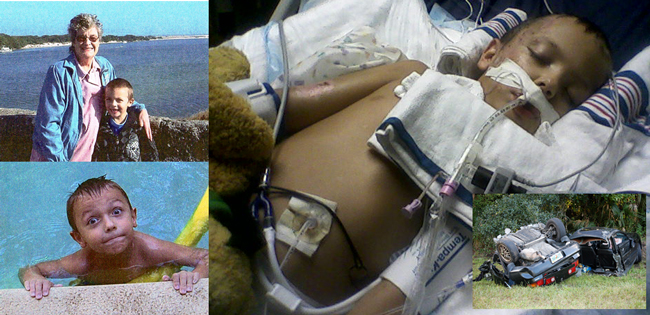 Seventeen days ago, 7-year-old  Nathaniel Truelove was in a car wreck on Old Kings Road that defies comprehension—and survival. The Honda Integra his grandmother Leslie Yazurlo was driving swerved off the road, hit twin utility poles and was sheared in half, the rear half flipping and coming to rest on its back.
Nathaniel and his grandmother survived. She had relatively light injuries and was shortly back in Flagler Beach, where she lives. Nate had massive injuries—two fractures in his skull, with bleeding in the brain, a fractured femur, a fractured hip, a lacerated liver, a fractured jaw (that fracture was discovered just this morning). He developed an infection in the hospital. And last week he had seizures, which have since subsided. He's been in critical condition at Arnold Palmer Children's Hospital in Orlando since the day of the wreck, airlifted there after he was initially transported to Florida Hospital Flagler. He's been in an induced coma, with his mother Heather at his side.
But the last 24 hours have yielded small victories. Last night (Oct. 6) the feeding tube was removed from Nate's nose and inserted through the stomach. This morning, he was off the ventilator and breathing on his own for the first time. "It's very good because we've been waiting for this forever," his great-grandmother, Charlene Yazurlo, said this evening at her Flagler Beach home. Nate also squeezed his fingers. "Yesterday," Charlene said, "when they were suctioning out his mouth, he actually opened it wide. We consider that huge even though it's a small step."
Nate has had a run of misfortunes in his young years. He was a toddler when his father Dan was killed while trying to help others who'd been in a wreck. It was Dec. 4, 2004. Dan and Heather had dropped off Nate at his paternal grandmother's, Ann Truelove, in Port Orange. They were driving north on I-95, between the Beville Road and International Speedway exits, when they pulled over to help another motorist, as had another couple. A car driven by a New Smyrna Beach woman who was driving on a suspended license lost control and struck him and the couple— Christopher Frattin, 21, and Constance Samuals, 17—killing them all but Heather. Dan was 22. He died in his wife's arms at the scene.
"So Nate lost his daddy when he was little," his great-grandmother says. Late this summer Nate was excited because when the family moved to its new home in DeLand, he finally had his own room. He'd shared a room with his little brother and sister before. They'd keep him up at nights, yammering. He wanted to sleep. He loved his school, Stark Elementary.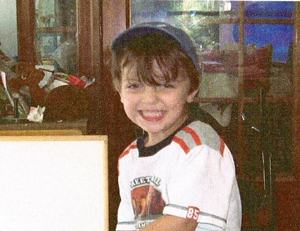 "Nate is the most wonderful boy you've ever met in your life," Charlene says. "Of course I'm not prejudiced. But he's got the best heart. He's so loving. So gentle. So loving. And happy and goofy." The pictures she shows prove the point—Nate in goofing off in Charlene's swimming pool, where he just learned to swim this summer and devised a shark swim all his own. He's into wrestling (John Cena especially) and racing (Tony Stewart). And he's in second grade.
Charlene was sitting at her dining room table this evening, surrounded by emails she's been sending, pictures of Nate—Nate at the beach, Nate over his birthday cake, Nate in the swimming pool, and two fresh ones from yesterday: Nate in his ICU bed, assaulted by tubes. Charlene was also working on small plastic containers she's been preparing and distributing at area businesses to collect money for Nate's family: his mother Heather is facing eviction from the home she'd recently moved into in DeLand. She was about to start a job, for which she'd put in her training hours, when the accident upended those plans. She's been with Nate since, as has her fiancée, David. Her two little children have been with their paternal grandmother in Daytona Beach.
They have no idea how they'll pay for it all. The eviction notice is not exactly the biggest looming problem right now. When Nate is able, they'll be going to Brooks Rehab in Jacksonville, where they plan on staying at the Ronald McDonald's House with their children. Beyond that, no one knows what will happen. The hope now is for Nate to wake up.
"Every day," Charlene says, "is a happy development. It's one more day we didn't think Nate would be with us."

The family is asking for help. Heather Jenkins has opened an account in her son's name. Checks may be made out to Heather Jenkins or Nathaniel Truelove and sent to any Bank of America by mail–or walked into any Bank of American branch. The checks will be conveyed to Jenkins' account. The Bank of America in DeLand is at 2599 South Woodland Blvd., DeLand, FL 32720.

[nggallery id=27]