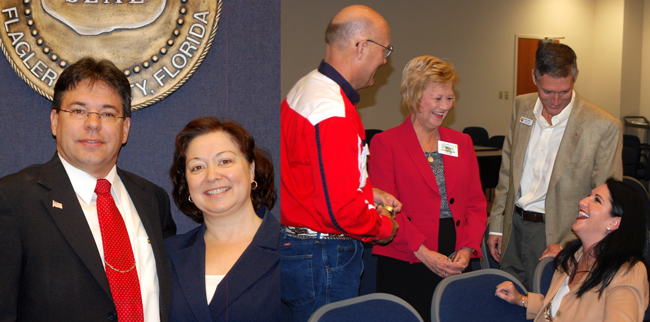 The Flagler County Commission doesn't have a helmet law. It probably should.
With Nate McLaughlin joining Milissa Holland and Alan Peterson, all of whom wear their headstrong natures and occasional tempers on their sleeves, the commission is about to get more interesting than it already was.
Circuit Court Judge Raul Zambrano—in his new role as senior judge in the county—administered the oath of office to McLaughlin and Holland Monday morning in a light-hearted ceremony caffeinated only by coffee and good feelings. But there's little question that a commission already well stocked in strong, outspoken voices is about to push that decibel meter a bit higher. Peterson is into reddened desk-pounding when the administration or others appearing before the commission give him the run-around. Holland is a combination of Rachel Maddow and Bill O'Reilly: she'll tell you what she thinks without reserve when she's not trying to get you fired. And McLaughlin, who once chaired the Palm Coast planning board, is no stranger to the occasional showdown.
Holland's advice: "It's been a learning experience for me because I'm somewhat focused and I constantly have to remind myself to take a step back and understand that it's about building a consensus, and we all bring a different perspective to the process."
Commissioner Barbara Revels is no slouch in the conviction department, either. But she puts a higher premium on caution and diplomacy. Her past history with McLaughlin should also add to the curious dynamics of the commission. McLaughlin said that when he moved to Flagler County from Maine, Revels was his real estate broker. She was more than that: she was his boss. McLaughlin worked as a construction supervisor in Revels' company. When business slowed, Revels cut down his hours and he left. Their professional history was not all roses.
"Nate is not a quiet person," Revels said Tuesday. "He's very passionate and outspoken about whatever his issue is. I don't think he'll hold back at all." Revels and Holland separately said that as new commissioners, it takes a little time to realize that "you can't change the world overnight." Revels said "it's hard to temper that enthusiasm in the beginning," but that all new commissioners go through it. Or most.
That the energetic McLaughlin is filling a deep void on the commission is likely to make the up-tempo dynamics even more pronounced. He's replacing Bob Abbott, who spent the last four years keeping a warm seat and silent voice. His impact on the commission was minimal, and his votes had the variability of weather, with little consistency other than that due his campaign contributors (Monday evening he voted to approve the large Hunter's Ridge development without disclosing that Hunter's Ridge backers had contributed 10 percent of his last campaign fund). McLaughlin won't be a seat-warmer. "I'm not long-winded," he said. "I get to the point. My style is: let's get to the heart of the matter quickly, efficiently. I'm not much for the flourishes."
McLaughlin brought his wife Kelly, his three children and several grandchildren to the ceremony, which was attended by numerous elected officials (among them Bunnell City Commissioner Elbert Tucker, the school board's Andy Dance, Tax Collector Suzanne Johnston, Property Appraiser Jay Gardner, and former Sheriff Jim Manfre).
"First question I want to answer for everybody who sits out there and wonders what's on these screens we're looking at? We're looking at ourselves," McLaughlin said, in what amounted to this first words as county commissioner. He went on: "It's a humbling experience to be placed in this position of trust. It's my endeavor to live up to your expectations and to exceed them in service to this community. I love this community.  We have a wonderful, wonderful community here of people who want to serve, do things that make this a better place to live, and it's a great place to live, and it can only go uphill from here."
Holland had no opposition—either in the primary or in the general election. "I think I worked really hard in the last four years to prove that the promises I made were followed through and kept," Holland said. "I had a ver7y clear vision when I took office and I did not sway from that vision at all. I stayed very focused. If you look at my initial campaign promises, I have met every one of my goals."
Holland won her second term unopposed. She credits that to sticking to her original campaign pledges and fulfilling them. She wanted to develop a five-year, strategic plan for the county. The county adopted the plan unanimously. She ran on a promise to re-write the county's comprehensive plan (the blue-print for long-term development and conservation), which was three years out of date when she took office. The commission approved the new comprehensive plan earlier this month. The daughter of a Palm Coast founding father and council member—the late James Holland—she was intent on ending chronic animosity between Palm Coast and the county since the city's incorporation. Relations in the last few years had improved dramatically, though this year difficulties have emerged again over old fault lines: Palm Coast's aggressive annexation  posturing.
Holland was also the commissioner who initiated the inter-governmental meetings that join all of the county's elected boards around a table once a quarter. The meetings helped ease tensions between governments in the early goings, but have lately failed to be more than meetings. Holland is trying to make December's meeting, focused on economic development, more substantial by pushing the county to have an economic development plan in place to discuss by then. That effort is running into turf issues: Enterprise Flagler, the public-private economic development partnership with government representatives on its board, is looking to take the lead on that plan, though its credibility in that regard is suspect: Enterprise Flagler is tainted by the recently failed tax referendum it pushed, and its record as an economic development engine is spotty.
The next meeting of the county commission, likely to feature a discussion on the matter as well as the appointment of a new chairman to replace George Hanns, is not until Dec. 6.