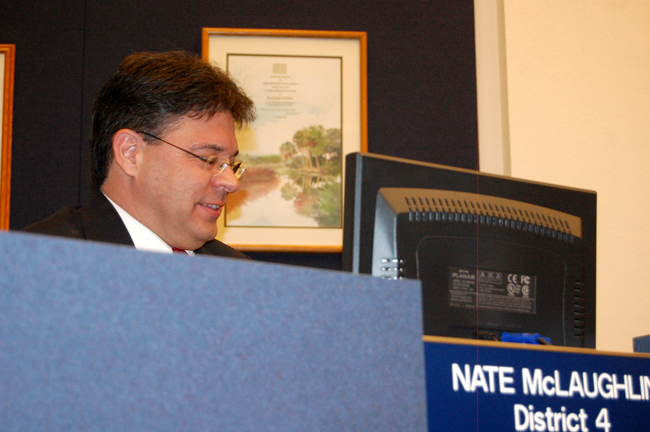 Flagler County Commissioner Nate McLaughlin is facing an ethics complaint going back to a financial disclosure form he filed last summer, while running for the commission. The state Commission on Ethics found probable cause that the form McLaughlin filed was incomplete. All elected officials fill out a financial disclosure form once a year. All candidates for office are required to fill one out as well, outlining their assets, liabilities, sources of income, interests in specified businesses and net worth. (See a 2010 form.)
McLaughlin was running against then-incumbent commissioner Bob Abbott. McLaughlin says he filed the required form on June 16. The supervisor said the proper material, including a tax return, was not filed on that day. "I know they did because they stamped the form saying everything was there," McLaughlin said.  It was stamped by the Supervisor of Elections, "and I have to assume it's complete when she stamped it."
On Aug. 3, Ed Caroe, who was managing Abbott's campaign, asked to see McLaughlin's paperwork at the Supervisor of Elections' office, including his assets and liabilities, and his tax return. McLaughlin says he left the net worth and assets portions of the form blank because he had neither: he'd filed for bankruptcy in 2008. In that filing, McLaughlin listed $188,300 in assets and $340,254 in liabilities. (See McLaughlin's bankruptcy filing here.) He says he couldn't have been hiding any assets since he didn't have any.
One item in contention: a sound system worth between $5,000 and $10,000, that McLaughlin's 70s rock band, Category 5, has used. McLaughlin, who plays guitar in the band, says the equipment belongs to his drummer, not to him, though he sometimes uses the sound system at public events. (The band hasn't played in over a year.) Since his bankruptcy, McLaughlin has moved from a house he owned to renting an 800 square-foot apartment. As a county commissioner, McLaughlin is paid $47,866 a year.
The supervisor of elections told him shortly after Caroe's inquiry about the paperwork that it was incomplete. McLaughlin said he called the Ethics Commission and was advised to file Form 6X, with his 2009 tax form, which he then filed, listing minor assets. The supervisor says those forms were filed on Aug. 5. "McLaughlin never stated to this office that paperwork he filed was lost; he simply tried to correct the matter showing great concern, and scrambled to file necessary paperwork," Kimberle Weeks, the Flagler County Supervisor of Elections, wrote in an email responding to questions about the timeline of events and McLaughlin's interpretation of those events. She noted that McLaughlin had never filed a tax return on June 16.
"Probable cause is not a finding that a violation has occurred," Kerrie Stillman, a spokesperson for the Ethics Commission, said. "It's based on a preliminary investigation. It's just saying that more likely than not a violation has occurred. So at this point Mr. McLaughlin has the option of requesting a full evidentiary hearing before an administrative law judge in an effort to exonerate himself, or he can choose to reach a settlement agreement with our prosecutor, the commission advocate. Either way whether he goes to a full hearing or whether he's able to reach a settlement agreement, the case will come back to the commission at a public session for them to determine whether or not the law was violated, and if so what the appropriate penalty might be."
Those penalties can range from a few hundred dollars to $10,000. The larger sums are not likely in this case, Stillman said. Nor is anything like removal from office a possibility. But whatever the commission decides is binding, and made so through an executive order by the governor. McLaughlin expects a fine of around $250.
If there was a mistake, McLaughlin said, it was committed by the supervisor of elections. "Nothing I can do if Kim is going to say no no, it's his own fault," McLaughlin said. "That's kind of a raunchy attitude to make me take a hit like this but it is what it is." He addded: "I'm going to do what's going to clear my name of this thing, because I haven't done anything wrong here, I followed the directions of the supervisor of elections and she kind of threw me under the bus over here."
Weeks categorically rejects the charge. "Denial will not excuse Mr. Nate McLaughlin from complying with requirements," Weeks said. "Requirements are his responsibility, and he should be honest and own up to what he failed to do, and not try to put blame on others for his mistakes. The staff in this office are very dedicated, organized and non deserving of Mr. Nate McLaughlin's false claims.
"Mr. Nate McLaughlin is correct to state 'it is what it is,'" Weeks continues. "No other candidates have experienced issues, and we have conducted smooth, fair, honest elections. The Voters are very fortunate to have the wonderful staff that currently exists in the elections office. It is unfortunate that Mr. Nate McLaughlin has attempted to use this office as a scape goat. It is unfortunate that Mr. Nate McLaughlin has tried to put the spin and blame on this office for his non compliance, rather than accept responsibility. Mr. Nate McLaughlin may be trying to run from the bus, but he has never been thrown under the bus by this office; the FACTS are what they are. I have fully cooperated with the Investigator from the Commission on Ethics, and wish Mr. McLaughlin much success in quickly resolving this matter."