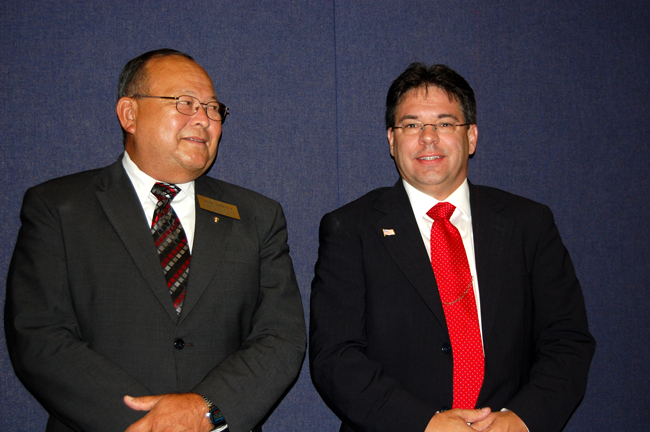 Voters have a tough choice when it comes to the only contested seat on the Flagler County Commission. The seat is held by Bob Abbott. He's being challenged by Nate McLaughlin. Both are Republicans who have made fiscal responsibility and job creation a centerpiece of their platforms.
Yet both have dismal personal financial histories, including bankruptcies and foreclosures. Both have just walked away from six-figure debts. And both claim that has no relevance to their candidacy, though Abbott concedes he made mistakes, lived beyond his means at times and regretted some decisions.
"I'll tell you truthfully we went a little overboard on some things, my wife and I," Abbott, who speaks frequently of having run successful businesses, said. "Sometimes you screw up. That's all I can say. I did do that, but it's nobody's fault but my own."
McLaughlin didn't see his financial troubles as reflecting on his personal responsibility. "I'm a real estate broker. The market just died. It started going down in '06, '07 there was nothing, we went through our savings, went through our retirement money, keeping things floating, and the money ran out. Just that simple."
McLaughlin bought a $95,000 house on Princess Rose Drive in 1997. In November 2006, he took out a $204,000 loan on the house. The court entered a default order in July 2009. He filed for bankruptcy in 2008. In the federal bankruptcy filings, McLaughlin listed $188,300 in assets and $340,254 in liabilities. McLaughlin said he'd borrowed the $204,000 "to grow the business." But in court filings, he listed McLaughlin Realty as a "Florida corporation that has no assets, never used as a business name but have paid corporate fees every year." The filing lists two additional unsecured bank loans totaling $22,000 and a debt of $57,308 from a half dozen credit cards, including $3,207 on a Home Depot card and $2,490 on a J.C. Penneys card.
McLaughlin said he wasn't living above his means.
The filing also lists another claim: a $28,443 loan. That was a link to McLaughlin's previous bankruptcy.
McLaughlin's first bankruptcy dates back to 1993. He owned McLaughlin Insulation in Maine. In December 1993, the business went bankrupt. "I had a partner who made off with the kitty, I got stuck holding the bag. I lost my business, I lost my home," McLaughlin said. Two months before the bankruptcy, McLaughlin took out a $25,000 loan that was never repaid. That matter is still pending. The lending bank sued McLaughlin in circuit court in Flagler County 2007, though McLaughlin wrote the court that the matter should have been dismissed since the loan pre-dated the business' bankruptcy. Due to lack of activity in the case, Judge Raul Zambrano has set this coming Sept. 1 as the date when the case may be dismissed.
"If you're looking for people that are perfect—I'm not. I never claimed to be," McLaughlin said on Monday.
Abbott, too, filed for bankruptcy in the mid-1990s—in April 1995, to be precise. He says medical bills he was paying on behalf of a family relation caused the bankruptcy.
When first asked on Monday if he had current financial issues, he said he had none. "Nothing more than a guy with three small children, or a teen-age girl has, every family has issue like that,"Abbott said. But he recently moved from Rosewood Street in Bunnell to a home on Banner Lane in Palm Coast. The reason, he said, was to accommodate three grandchildren, whom he has adopted as his own, and who did not want to live in the country.
That's not entirely accurate. Abbott walked away from the Rosewood Street house—and some $150,000 in debts there. "Yeah, no big deal. Look around this county, see how many people have done that," Abbott said. "It was done for financial stability, to make sure that I didn't make $2,400 in payments. I didn't want to do that." As a commissioner, Abbott earns $48,000 a year in addition to his retirement income.
Abbott said the hurricanes of 2004 took off the roof on a house he owned at the time. He moved to the Rosewood Street house and got a Small Business Administration loan of close to $100,000 that, he said, he was required to spend, in addition to a bank loan, the lot totaling $159,000. When he decided to move to Palm Coast, he asked the mortgage company to renegotiate the payments. The company refused, Abbott said. His message to the bank: "You can come and get the house, and that's the last word I heard on it."
"I'm not proud of that, but I had to make a decision, and I decided to do what was better for my children. Things like that happen," Abbott said. "I'm not making excuses. Believe me, I'm not making excuses. I did what I did, and I have to live with that. But my record when I've been a commissioner has been exemplary."
In a forum with various candidates last week, Abbott spoke of his environmental credentials by speaking of the pleasures of living in the woods. He never mentioned that he'd moved to Palm Coast, or why. On Monday, he said he hadn't meant to make it seem as if he still lived there. He said he may decide to file for bankruptcy again, "which might clear everything." Then again, he said, he may pay his bills.