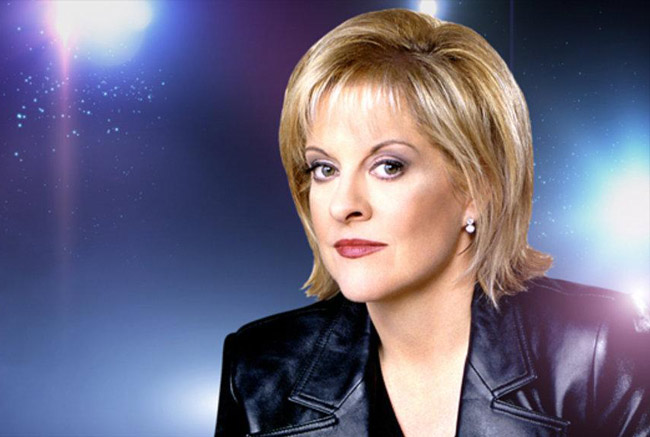 It's not enough that Palm Coast is unemployment and foreclosure central in the national eye. Add now wife-shootings by husbands dumb enough to be playing with their AK-47s during a child's bath time: I just finished taping a half-hour segment on Nancy Grace—CNN's equivalent of a prosecutorial Panzer division of one—who's taking on the case of William Merrill's shooting of his wife in tonight's show. So much for Palm Coast urging Americans to find their Florida here.
She wanted FlaglerLive to provide whatever scraps of information may not yet have been over-reported by now. None has. (The story is making the rounds of the world's time zones and should by dawn reach Voyager II in the Kuiper belt.) I was happy to oblige anyway, my previous CNN appearance having taken place in the dead air of a Saturday afternoon (during oil-spill season) when a total audience of seven in North Dakota might've been watching. So it was nice to hear FlaglerLive's name repeated a few times for a prime-time double-header (she's on at 8 and 10 p.m.) Not to worry: I declined appearing on camera, the idea of shlepping it to Jacksonville again to speak 73 words in exchange for losing four hours out of my work day having about as much appeal as, say, hearing Hannity howl for five minutes, and my Skype connection–CNN's other option–being too annoying to bother with. Stick to phone line and mug shot.
I might have dropped in three sentences here and there when she asked what we know so far—nothing you don't know by now—and a couple of words about Merrill's arsenal (he had 20 guns in his house, 14 of them rifles, counting the AK-47, including a .50-caliber piece). But Grace, who had me silenced at "20 guns," was already at the sentencing stage.
I gave an answer she did not seem eager to hear when she asked whether it was true that Merrill had changed his story: the version on record so far is that he was pointing the gun at his wife, Stefanie, and chatting up the brightness of the laser beam when he pulled the trigger, supposedly not knowing it was loaded. Somewhere along the way a TV station reported that he'd initially told detectives that he was cleaning his gun, though there's no word of that in the 7-minute 911 call where he describes himself pointing the gun at Stefanie.
Grace asked me what there was to the story. We don't know that, I told her. Cue the editing shears. She turned to one of her producers for more fleshy details about the cleaning-the gun angle, then took that and went at one of the two defense attorneys she'd invited on the show, ridiculing the oldest excuse in the book: "I was cleaning my gun." She does not like defense attorneys.
References to the AK-47 dropped like bullets in Beirut (I really should update that simile to something more current). She had a weapons expert on the show, who showed the weapon and how to chamber a bullet. When she asked him what the AK stands for, he didn't know. She filled in the answer: "It stands for assault." Close: Automatic is more like it (though it's been mis-reported as standing for Alexander, after the gun inventor's name, but there is no Alexander in "Mikhail Kalashnikov,"  and the guy got his K in there for recognition. The 47? That was the year the gun was approved for mass production in the Soviet Union by one of the century's great mass murderers: Josef Stalin. I'm surprised Nancy didn't drop his name for effect, the show being nothing if not about effect.
I would have loved to bring up a disturbing detail in Merrill's past: In July 2007 (a year after he was arrested for head-butting his wife, a case dropped when Stefanie asked the State Attorney's office to drop the charges), when he was arrested for grand theft, he told the investigating officer that he was a felon—and that he had two .22 caliber Lady Derringers at his home. The officer asked him if he knew that it was against the law to own guns as a felon. Merrill knew. "Mr. Merrill stated that he would call his wife Stefanie Miller to gather the guns and turn them over" to the officer. The officer went to the Merrill house at 61 Westminster Drive and collected two .22-caliber Lady Deringers "and several boxes of bullets."
The state attorney did not pursue charges.
One other detail, which Nancy Grace would have had no reason to be interested in, but which should be relevant to Flagler County readers: the arresting agency in the grand theft and weapons charges was the Bunnell Police Department. And the arresting and investigating officer? None other than John Murray, the same John Murray who, three days after the fatal shooting of Stefanie Merrill, copped a plea in Flagler County Circuit Court on six felony charges, down to a no-contest plea on a marijuana possession charge. He's now on 18 months' probation.
I never got the chance to tell her about "finding my Florida." In light of what William Merrill was doing, literally playing around in his Palm Coast home, the opening lyrics of that clunky little jingle now serving as Palm Coast's marketing pitch have a sound too ominous for comfort (see below). Considering the attention this case is getting, and may continue to get, the city's marketing platoon might want to think about a little rewrite of that opening line: "You can feel at home while you play as you please."
Tell that to Stefanie Merrill.
–Pierre Tristam

Palm Coast's Unfortunate Jingle: