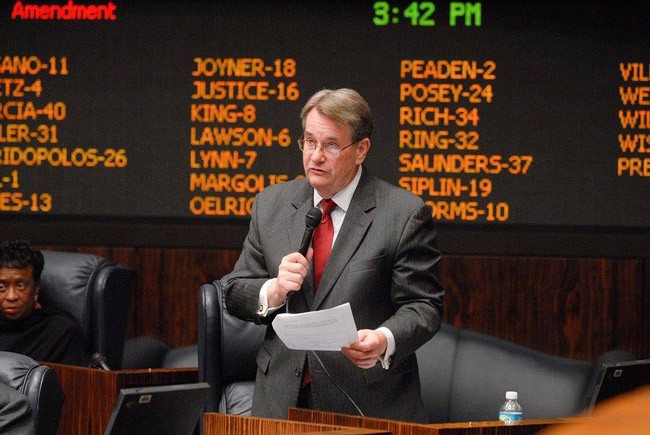 Name-calling that erupted on the Senate floor Wednesday has deepened the divide within a Republican caucus embroiled in an acrimonious feud over who will lead the chamber after next year's elections.
A 17-minute diatribe by Sen. Don Gaetz against Sen. Jack Latvala has prompted some disgruntled Republicans to call on Senate President Andy Gardiner to postpone a Dec. 2 caucus vote to designate the next president.
Latvala, R-Clearwater, has been pitted against Sen. Joe Negron in a years-long battle over who will lead the chamber starting in November 2016.
Sen. Tom Lee, who has not endorsed either leadership candidate, told The News Service of Florida on Thursday that he has asked "people who are interested in pursuing the caucus" to reconsider.
"This designation ought to be delayed," Lee, a Brandon Republican who is a former Senate president, said. "If you really care about the institution of the Senate, if you really care about your colleagues, it is not the appropriate time to twist the knife."
But Gardiner did not appear willing Thursday to delay the vote.
"The president has been clear that he believes a final resolution to the leadership race would help unify the Republican caucus moving forward," Gardiner spokeswoman Katie Betta said.
Negron, who holds a narrow lead over Latvala, and his backers pressed for the caucus vote earlier this year.
Latvala and his supporters contend that the designation should not take place until after a new Senate map — the focus of a special session currently underway — is approved by the Florida Supreme Court. The Senate passed a map with the new districts on Wednesday by a 22-18 vote, with Latvala and three other Republicans joining Democrats in opposition to the plan.
After the vote, Gaetz — who served as the Senate redistricting chairman in 2012 when the Legislature approved a previous iteration of the map — used a rare procedural maneuver to castigate Latvala, who has harshly criticized Gaetz's handling of the redistricting process. Gaetz is an ally of Negron.
"…When a bully throws a sucker punch, you hit back and never give in," Gaetz, R-Niceville, said.
Sen. Charlie Dean, who voted against the map Wednesday and is a Latvala supporter, called Gaetz's comments "shocking" and said that the floor remarks left the GOP caucus "absolutely more divided."
Dean, R-Inverness, also said Republicans should hold off on the leadership designation.
"I would be very disappointed if we are called to make any kind of decision until the court gets to look at the map, because these decisions are going to be made on the strength of the districts. How in the world can that be done on the strength of two votes, particularly after this issue has arisen to the point that it has?" Dean said, referring to Negron's two-vote edge over Latvala. "I just don't think it would be appropriate."
But Negron, R-Stuart, said Thursday the designation needs to go forward as planned.
"There's always this flurry of issues and personalities in politics. There are certain tried and true markers and procedures and milestones in how we do things … and one of those is you have a process of transition of power. You can't just have a situation where you have chaos of not knowing how things are going to be done or who is the leader of the caucus," he said. "Those are the rules of the competition and you don't change the rules based on which side is winning or losing."
Sen. Denise Grimsley, another Latvala supporter in the presidential fight, said senators need a chance to regroup before they choose their next leader.
"I'd like to see them suspend the race for a couple of months and let everybody cool off. I don't know if that's practical. I think that the members have a lot of fatigue over this issue," Grimsley, R-Sebring, said. "A lot of members feel like I do. They were embarrassed by what happened yesterday. I don't know how that folds into the race itself. At this point, I think everyone is still in shock that that happened."
But Sen. Rob Bradley, a Negron backer, said the designation ceremony will help his caucus "heal and come together."
For more than three years, the leadership clash has overshadowed much of the Senate's work, pitting Republicans against one another. Bradley, R-Fleming Island, said that he and more than a dozen other senators "inherited a lot of hard feelings" when they were elected to the chamber in 2012.
"We're ready to turn the page and move forward. … We need to focus on public policy. We need to focus on making sure that we spend our time working on ensuring that Florida is the best place to work and raise your family. It's time to set this silliness aside. It's time to turn the page," he said.
But Lee said the leadership vote will only deepen the schism within the caucus.
"If I thought this designation would be a unifying moment, I would have a different opinion. But it will not," Lee said. "We don't have maps. We don't know what they're going to look like. We're not even probably going to draw them at the end of the day. Given that we have a contested, contentious president's battle going on, and the maps will soon be in the courts, I believe this ought to be delayed until such time as we have a ruling from the court."