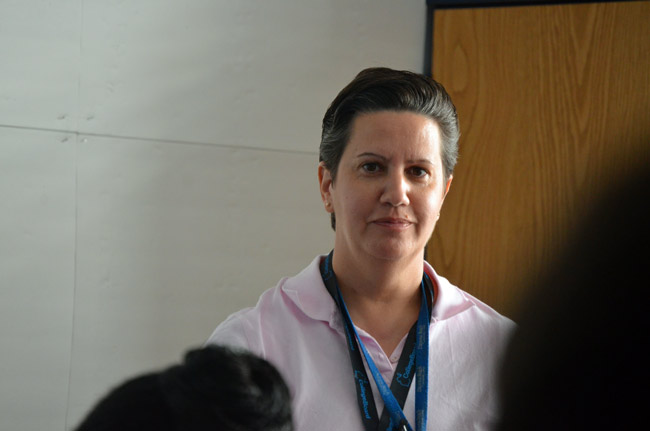 Editor's note: This is the last piece in a series by Jo Ann C. Nahirny, a veteran English teacher at Matanzas High School and FlaglerLive's Teacher's Trenches columnist, who's been chronicling her journey through cancer treatment in Gainesville since discovering that a cancer she had treated six years ago had recurred, in the form a tumor similar to the one removed in 2006. On Nov. 13, she underwent surgery to remove the tumor, after weeks of radiation therapy. She was not scheduled to return to work until the new year. She is instead returning on Monday. Nahirny will resume her regular column on FlaglerLive in the weeks ahead.

By Jo Ann Nahirny
"That's it, that's the last one," physician's assistant Tracy announced as she snipped the final surgical staple out of my abdomen.
I exhaled and loosened my vise-like grip of the examining table. I hadn't realized how tightly I'd been clutching it as she removed the curvilinear row of 26 steel staples, one by one, from the seven-inch incision that spanned from below my chest down through my navel.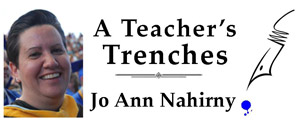 "Don't get up yet; your  belly button's oozing. Let me clean it out and cover it."
I remained reclining on the exam table in the office of Dr. Jose Trevino, the gastrointestinal surgical oncologist at Shands in Gainesville. Sixteen days earlier, he'd removed a tumor from my abdomen, a recurrence of the retroperitoneal liposarcoma I'd been diagnosed with in 2006. The first cancer surgery six years ago cost me my left kidney. This November's surgery  proved less extensive, although the pre-surgical regimen included 42 radiation treatments and months of anxiety.
As Tracy tended my stomach, I pondered all that had transpired in the last 20 weeks. Finally, the whole ordeal was drawing to a close. I'd soon be able to resume my life and get back to teaching at Matanzas High School. I wanted to put everything behind me. It seemed like a series of bad dreams I hoped to forget, but likely never would:
My eyelids flutter. I'm at Shands Hospital. I don't know if I'm in the operating room, recovery or what. I can't see through the foggy haze of an anesthesia-induced stupor, but I catch some isolated words and phrases as I fade in and out of wakefulness.
"…blood pressure's dropping…"
"….arterial line…"
"…albumin…"
Later, I momentarily awaken again. I'm cognizant of my body being washed.  I blurrily glimpse two women in scrubs wiping a mustardy liquid, probably Betadine, from my midsection.  I shiver. I'm cold.
"Mike?"  I ask in a raspy voice, forcing the word out of my parched mouth. I'm desperately thirsty. My throat burns as I struggle to swallow.
"We'll get your husband shortly, sweetie," one of the women replies. "We want to clean you up first. Then you can see him." All goes dark again.
Later, I awaken once more. White sheets and a blanket cover me up to my chest.  Blinking and beeping monitors surround me.  Three IV tubes drip medications into the underside of my left wrist, the top of my left hand and the right side of my neck. An epidural in my back keeps pain at bay.  Uncomfortable sleeve-like devices enwrap each of my calves, periodically inflating and deflating to prevent deep vein thrombosis.  I surmise I'm in the ICU.  To my left, a glass partition allows me to be observed by medical personnel scurrying through the corridor.  A small flat screen television perched on a wall in front of me is on,  tuned to "NCIS." Special Agent Leroy Jethro Gibbs has just smacked Agent Tony DeNozo in the back of the head.
Mike walks in, waves and kisses me on my forehead.
"How do you feel?"
"I'm so thirsty," I moan.
Mike asks a nurse in the hall if he is allowed to give me water. She informs us, "You can't have anything  yet, hon. You've  got an endotracheal  tube down your throat. They'll take it out tomorrow, then you can drink something.  For now, wet your lips and mouth with this."
She hands me a Styrofoam cup containing water and ice chips, and a thin, straw-like device topped with a tiny sponge which absorbs just enough water for me to moisturize my desiccated lips and tongue.  I suck the sponge greedily, longing for a diet soda.
"What time is it?"
"About 1:30," Mike responds. Six hours have elapsed since I'd been in Pre-Op.
"What happened?"
"Everything went fine," Mike assured me. "You've were in recovery for a few hours.  Dr. Trevino told me they got out the whole tumor. They didn't have to remove any of the colon or anything else."
We don't converse much because the tube down my throat hurts when I talk. Mike stays for several hours, holding my hand as I doze intermittently. An "NCIS" marathon and the novel he's brought keep him more occupied than I can. Eventually he rises, stretches and announces, "I'm going to have some dinner and get some sleep. Do you need anything?"
"Did you call my mother?"
"Yes, and I called Dr. Pryor at Matanzas, too." Chris Pryor, the principal.
He kisses me before he exits, and places a small stuffed bear clad in camouflage Army fatigues and a black beret on my pillow.
"LTC Mikey Bear will keep an eye on you until I come back tomorrow," my Army veteran husband jokes.  "Get some rest."
I "rest" only in the loosest sense of the word that night, and for the next two-and-a-half days I'm there.   What was supposed to be a one-day stint in the ICU turns into two when no beds are available on the floor where I'm supposed to go next. The ICU never sleeps, and hence, neither can its patients, since lights glare and buzzers blare incessantly.  A nonstop parade of medical personnel march in to and out of the room around the clock. Some give me Heparin injections to ward off potential blood clots. Some check my vital signs or the incision. Still others replace empty IV bags or add magnesium and phosphorous supplements to them. Some prick my fingertips to monitor my blood sugar, or struggle to find a vein from which to drain yet another vial of blood from my heavily bruised arms and hands.
When a bed finally becomes available, it's late the following night. I'm snapped to wakefulness by bright lights and the pronouncement, "They've got a room for you on five."
By midnight, after a painful shift from one bed to another, I still can't get back to sleep, despite manipulating the bed's position with the remote every few minutes. Shortly after 1 a.m., just as I start to doze, my IV's sensor begins beeping intermittently. Shortly thereafter, Lee, the nurse, enters to fix it, slips and nearly falls.
"What the heck…?"
Lee snaps on the bright, overhead lights, and quickly surmises that the two attendants who moved me a few hours earlier either didn't empty the catheter bag, or failed to attach it properly to the bed, and its contents have spread across the floor.
"Housekeeping, 5204," Lee calls over an intercom.
Ten minutes later, an exhausted-looking man with a mop and bucket reeking of bleach arrives.  He shoves the bed against the right wall, mops the floor, then rolls the bed against the window to mop the other side. When he's finished, he leaves behind the overwhelming scent of industrial cleaners, neglecting to turn off the lights or close the door. I sigh, knowing it'll be another long, sleepless night… well, morning at this rate.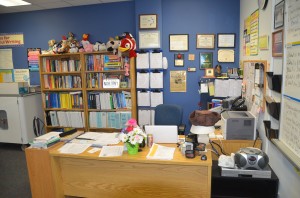 Over the next 24 hours though, things improve dramatically. I begin to feel almost human again, especially after they take that horrible tube out of my throat. I'm helped into a chair for my "breakfast" of a cherry popsicle, consommé, apple juice and Jello –the same thing I'll receive for the subsequent four meals. Throughout the day, nurses come in and disconnect two of the three IVs and the catheter. The epidural is removed from my back. Dr. Trevino comes by and tells me if I can keep down the clear liquid diet without becoming nauseous, and if I can walk around the halls and go to the bathroom on my own, then he might send me home the next day.
I immediately get to work doing whatever it takes to get out of there. Leaning heavily on the IV pole, I use it as a walker of sorts, to conquer the length of my room. That afternoon, with Mike's help, I trudge halfway down the hall. By evening, I'm plodding slowly from one end of the corridor to the other.
By the next afternoon, I'm cleared to go home, given three pages of do's and don'ts, a prescription for painkillers which I fill but never use, and  an appointment to return to Dr. Trevino's office on November 29 for a post-op evaluation. That's where I lie on the examination table now, as Tracy finishes cleaning the minor bleeding that's resulted from the staples' removal.
"That'll do it," she says, taping a square gauze pad across my navel.
Afterwards, the doctor comes in, examines me and checks his notes.  He reports, "You're healing nicely, and doing   very well.  That's just what I like to see. You can gradually resume your normal diet and activities over the next month or two. But absolutely no heavy lifting, and no heavy chores like vacuuming.  If you do stuff like that you'll wind up with a hernia!  As far your job, give it another couple of weeks, and again, as long as you promise you won't overdo it, you can go back."
He sits at the desk, enters some information into the computer, and fills out various forms, including the medical clearance I'll need to return to Matanzas.
"You'll need a CT scan in June, and then yearly thereafter, so we can monitor you," he says as he rises and opens the door to leave the room. "Right now, everything's fine. The only thing I can't tell you is if it'll ever come back again. We'll just have to wait and see."
Wait and see. The story of my life for the last six years. One nightmare ends.  The waiting game begins anew.  But I refuse to spend a moment worrying about whether cancer plans to pay me a visit again.  Lesson plans beckon. Dozens of essays await my red-inked comments. Midterms occur soon.
CT scans and an uncertain future notwithstanding, I head back to my classroom on December 10 –the  Christmas present I prayed for having  arrived a little early.

Postscript from Mrs. Nahirny: 
When I teach writing at Matanzas High School, one of the strategies I use is to model the skills I want students to develop, by writing in whatever rhetorical mode I happen to be presenting to my classes.   I never ask my students to write about a topic I wouldn't be willing to write about myself.  
In AP English Composition, for example, my students have been writing in the rhetorical mode of description, and learning how to use sensory language. I asked students to write in a way that would make their stories come alive for their reading audience, to make readers feel like they're "right there" experiencing or witnessing what the writer is recounting.
 I told students one of the ways I'd continue to teach them about writing while I was undergoing cancer treatments would be to actually write to describe the radiation sessions I underwent, and to describe the surgery. This article, and the two that preceded it (here and here), were my attempts to do that –and to let my own readers know how I've been dealing with this situation.
Now that I'm headed back into my classroom, I will resume writing about educational issues and the trials and tribulations facing our teachers in the trenches.

Jo Ann C. Nahirny, a 1985 graduate of Columbia University and a National Board Certified Teacher, teaches English at Matanzas High School in Palm Coast. Reach her by email here.