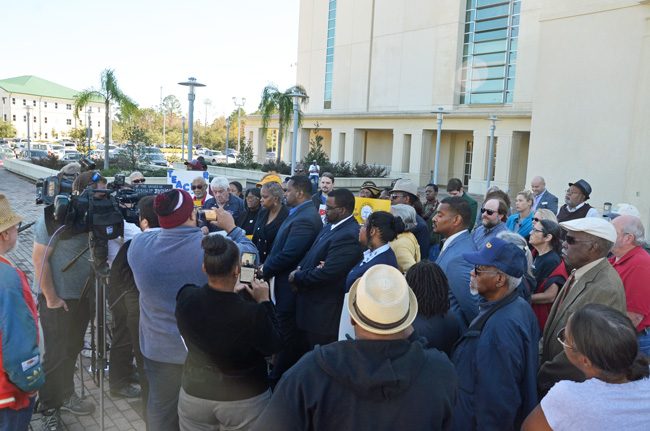 What the Flagler Branch of the NAACP billed as a "unified public support press conference" for the high school teacher targeted last week by two students' racist threats turned into a brief show for television cameras rather than a press conference this afternoon on the plaza before the county courthouse, with its organizer shutting down questions and later refusing to answer them–and physically attempting to keep a reporter from asking questions of the organization's president.
The 10-minute huddle, rimmed by several dozen people, was led by Eric Josey, an NAACP spokesman the organization's president, Linda Sharpe-Matthews, said the teacher and her husband had asked to speak on their behalf.
In his release to media ahead of today's event, Josey charged that "Flagler County Sheriff Rick Staly initially sought to bury this incident in finding no probable cause for criminal charges. He later relented and under charged the students with misdemeanor assault."
Josey repeated the charge again today: "He's sitting on this even now because he still hasn't brought the proper charges," Josey said, looking for the students in question to be charged with felony assault and hate-crime charges.
The statements prefaced today's event with a confrontational tenor at odds with its presumption of "unity," and with no evidence–other than historic trends predating him–that Staly had sat on charges: if anything, Staly and his agency have been aggressively and at times heavy-handedly arresting students on the slightest hint of a threat, intended or not (all have been unintended, or expressed as "jokes" by misjudging juveniles). Six students faced charges last week alone. Four of them were arrested.
The two racist students were charged but not arrested, though their case raises numerous questions that would make even misdemeanor charges against them difficult to uphold in court.
Josey, who tends to shoot first and ask few questions, has a history of making incendiary statements or threatening lawsuits against the Sheriff's Office, and lied on his application to work there two years ago, resulting in his resignation weeks after the sheriff at the time had given him a job. He choreographed today's event as a series of statements by himself, Sharpe-Matthews, Lee and her husband, Travis Lee–assistant principal at Rymfire Elementary–a local Democratic Party leader and an ACLU representative, intervened when questions were directed at Lee, then ended the interaction with reporters after one or two questions. For a news conference, there was little by way of news, other than the targeted teacher's presence and brief statement, the rest trending more toward grandstanding than clarity.
Flagler Palm Coast High School teacher Kimberley Lee, who is black, was the target a week ago of an online chat exchange by two students, one of them in her class, who described her in the vilest, racist terms and wrote as if they were planning her murder at her home, an act they wrote would win them applause because blacks "don't have rights." They used the more incendiary and bigoted language of lynchings, then challenged each other to outdo each other in derogatory "jokes" about blacks.
The day the threats were written the students were removed from campus but the Sheriff's Office found no grounds to charge them, charging them with assault the next day, after interviewing Lee, who said she felt her life was in danger as she and her husband acquired a gun to protect themselves. Lee wanted to press charges.
"Obviously I've never experienced something like this before, it's heartbreaking," Lee said today in the brief statement she did make. "I miss my students." She said she did not feel safe anymore and has not been back to her classroom, but did not answer repeated questions about when or whether she would be returning to teach. Asked about her status in the district, spokesman Jason Wheeler wrote in an email: "Her status with FCS is still the same as it was before the incident. She is currently a language arts teacher at FPC. She has not stopped teaching."
Sharpe-Matthews last week echoed school officials, including the current and former principals at FPC and the district's attorney, who all said racially-motivated incidents have been isolated and rare at the school.
After the moment with the cameras in front of the courthouse this afternoon, an attempt to ask Josey questions fell short when he stormed off after being asked why he would not let Lee speak, though he had invited her to stand before cameras and reporters (he said she has a pending legal case), then returned to keep a reporter from speaking with Sharpe-Matthews, then push him to a further area of the plaza, until he was threatened with legal action and Sharpe-Matthews told him to desist.
Sharpe-Matthews agreed that a zero-tolerance on any kind of threats is a "slippery slope," and acknowledged the NAACP's past efforts to move the school district away from zero-tolerance policies. But the nature of threats must be investigated individually, she said, to determine intent and, where necessary, make arrests. She said the two students who targeted Lee "absolutely" should have been arrested.
"I think it was a credible threat, I do," she said of the students' chat. "You can't wait until what happens, happens, to say oh my gosh, we should have taken this seriously."
"This is not a joking matter anymore, it's too commonplace," Sharpe-Matthews continued. She said the NAACP would have been demonstrating just as much if two other students charged in an unrelated threat incident last week had not been charged. Referring to Staly, she made a distinction with the way the students who threatened Lee were treated. "This is the first time that he has let children go home in the custody of their parents, and I truly believe that if they had been black children they would have been cuffed. You know about the disparity with black children, we filed a lawsuit with the Southern Poverty Law Center for that reason only, and that's what we know. It's not something we're guessing is going to happen. It's something that has been happening. There's a history here."
The Sheriff's Office had become aware of Josey's claim on Monday, when it issued a release of its own disputing his charge in a pre-emptive move before today's conference.
"Despite the allegations in the letter, Sheriff Rick Staly and the Flagler County Sheriff's Office never sought 'to bury the case,' the release stated. "The Sheriff's Office conducts thorough, color-blind investigations on all cases until completion, without setting time constraints on the process." The release acknowledged that the initial investigation had been "incomplete" and flawed," and assigned to the agency's investigative division "well before" the NAACP raised concerns. The investigation is continuing, with further search warrants in play.
"The Sheriff and the Flagler County Sheriff's Office have no intent to do anything other than to conduct a full and appropriate investigation, where race plays no role," Investigative Services Chief Steve Brandt was quoted as saying in the release. "It is unfortunate that a community organization chose to intervene during an active investigation and start throwing unsupported and false allegations. To make sure everyone's rights are not being violated and to ensure that all aspects of the case are accounted for, we cannot and will not be rushed to conclude this investigation. This investigation will be based on evidence, not opinion and rhetoric."
To be sure, the NAACP did not "intervene" so much as express opinions and make claims, as advocacy organizations routinely do. And there was little question, as evidenced by the sheriff's office's own pre-emptive release, that the magnitude of the case and the public response to it even beyond the NAACP was influencing the agency's response.
Hints of opportunism aside, the NAACP's sensitivity to the issue is not baseless, either: there's no question that black students in Flagler County Schools were disproportionately disciplined in the recent past, and that the intervention by the Southern Poverty Law Center in 2012 brought the matter to a head–with significant progress since then, acknowledged by the NAACP itself and a 2015 settlement.
Ultimately, last week's case of racist threats is out of the Sheriff's Office's hands as it will be State Attorney R.J. Larizza's decision as to whether and how to file charges against the two students.
In an interview, Sharpe-Matthews today said she was satisfied with the sheriff's acknowledgement that the investigation had been incomplete, and described the intent of today's conference in terms different than Josey's. "The intent today was people wanted to know who Ms Lee was, they wanted to know exactly what her feelings were," she said. As for the sheriff, "We're waiting to see what he's going to do, but we wanted him to know, we the community aren't sleeping on this." She said the issue crosses color lines.